It may seem that visiting a foreign country is not a possibility during the health crisis we are going through. But the truth is, traveling is still possible if you follow some rules and adjust your trip to certain conditions. The main requirement that Citizens from Algeria must meet is to obtain a Estonia Schengen visa.
At iVisa.com, we are ready to make your trip possible. This is why we created a trustworthy online service to allow you to apply 100% online for the Estonia Schengen visa for Citizens of Algeria. Skip those traditional procedures and save time while applying from home or a comfortable place.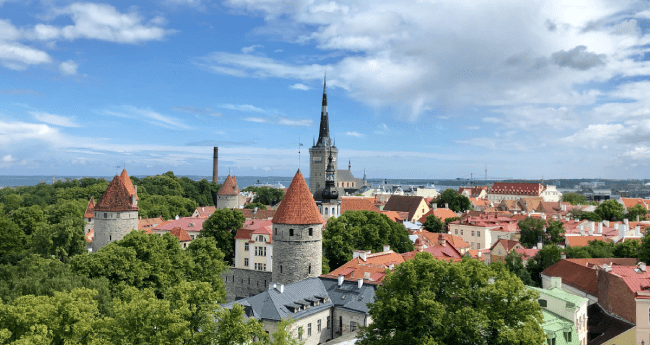 The coronavirus outbreak may have slowed down things, but iVisa.com has never stopped. Instead, we are looking every day for new ways to improve your application. We apply all of our experience and knowledge to give you the best options to get your Estonia Schengen visa for Citizens of Algeria with no worries.
In this article, you will find the most relevant changes to the requirements to apply for the Schengen visa.
How can I take advantage of the online service of iVisa.com?
Click to enter the application section and start filling out the online form.
Attach the required documents (according to the instructions found below in the FAQs section).
Analyze the options to process your application and choose one.
Wait for comments or recommendations from our expert team
If this is the case, apply changes to your application and send it back to us.
Check your Email and look for your visa
Do both: print a copy and save the file you received with your Keep a digital file of your Apply online now in your cellphone.
You can ask for assistance at any point in the process during your application for the Estonia Schengen visa for Citizens of Algeria . Just get in touch with one of our Customer service agents by clicking on the live chat button at the lower right corner of your screen.
What are the conditions to apply in advance for the Schengen visa?.
There are no special conditions. The only thing you need to take advantage of this option is time. You must start processing your application for the Estonia Schengen visa for Citizens of Algeria at least two months before starting your trip. The process is the same as if you were applying at regular times, with the advantage of having sufficient time to make corrections to the information in your application.
Also, you give iVisa.com the chance to look for the right time to process your documents and improve results.
Frequently Asked Questions
What are my options to enter Estonia during the Coronavirus outbreak?
Following a recommendation from the European council, Estonia closed its borders for most countries in mid-march 2020. At the beginning of 2021, the Estonian government eliminated some restrictions.
Now, some categories of travelers can cross the Estonian borders.
Representatives (and their family members) of a consular office in Estonia.
People working at any level in the supply chain of items considered as vital: goods, food, raw materials.
Health professionals or any people providing medical services.
Staff members of a passengers transportation company.
Specialists or technicians with specific skills, required to complete special tasks during the pandemic.
Tour guides (previous authorization required).
Volunteers providing help or special services for the Estonian government or a private institution (Certification required).
Workers hired by a company from Estonia to perform an activity considered vital during the pandemic.
People transiting through Estonia on their way to their country of residence.
In all cases, travelers must get a test before traveling. Also, they must show a valid Certificate with a negative result for Covid-19.
Would you like to ask some questions about this or any other topic related to the Estonia Schengen visa for Citizens of Algeria? Please contact our customer service team anytime.
What defines the validity of my Schengen visa?
Only the Schengen zone authorities can define the validity of your visa. Depending on the information provided with your application and your personal profile, the Estonia Schengen visa for Citizens of Algeria can allow a single-entry, double-entry, or multiple entries. Its validity could also go from a few months to 5 years.
When talking about the validity, you should also consider the 90/180 standard. This establishes that non-EU/Schengen zone citizens can stay in Estonia for a max of 90 days in a period of 180 days.
What documents are necessary to complement my application?
Cover letter - Through a signed letter, you declare the reasons for your travel to Estonia.
Valid Passport - A high-resolution copy of your valid passport is necessary.
Photo - Send with your application two passport size pictures. With iVisa.com photo. you ensure the quality of your photos.
Flight Reservation - Include the itinerary for your trip to Estonia. Avoid buying your flight tickets before you get the Estonia Schengen visa for Citizens of Algeria.
Bank statements - Proof of sufficient means of subsistence to cover the expenses of your visit to Estonia.
Health assistance - Since the Covid19 pandemic started, getting Health insurance became mandatory.
A place to stay - Proof of accommodation, whether in a hotel room or a family/friends place.
Payment method - Choose what you prefer: Debit/Credit card, PayPal.
What processing speeds are available?
We have three options available to process your application for the Estonia Schengen visa for Citizens of Algeria:
Standard Processing time (

USD 20.00

-

24 hours

): Low processing speed. Choose this option if your travel is a few weeks away.
Rush Processing time (

USD 35.00

-

8 hours

): Process your document faster and get a response sooner. Higher price.
Super Rush Processing time (

USD 60.00

-

4 hours

): Get a response in a few minutes. Pay a high fee.
Is my application safe with iVisa.com?
Safety is one of the main aspects iVisa.com is recognized for. Through the years, we have helped millions of users to get their travel documents under safe conditions. If you prefer to discover how we provide security to our customers, we suggest you a quick visit to the user's review section.
A strong security system protects you at all times during the application for the Estonia Schengen visa for Citizens of Algeria.
Is there more information available?
Yes. If you want to learn more about the Estonia Schengen visa for Citizens of Algeria before starting your application, you can get it through two different ways: