The only thing that separates Azerbaijan citizens from Estonia is a Schengen visa. The regular procedure to apply for a visa involves a lot of paperwork, long waiting rows, visits to the local consular office, or even travel to the closest embassy.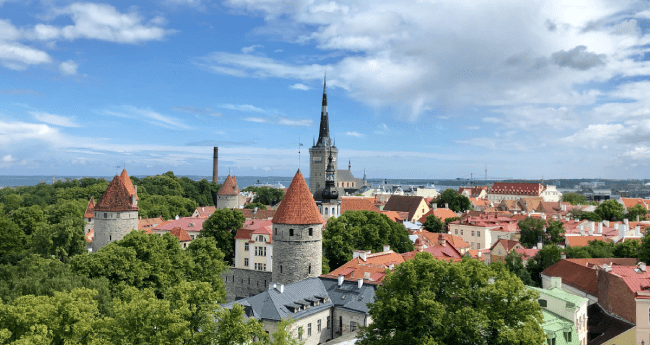 Lucky for you, the acclaimed online service of iVisa.com is available to make your application a lot easier. By following a few simple steps and gathering some basic information, you will be ready to send your application for the Estonia Schengen visa for Citizens of Azerbaijan. The process is designed to last no more than 20 minutes and can be accessed from your home, office, or any other place.
Due to the Coronavirus contingency measures, some conditions must be accomplished to visit a foreign country. The good news is, the expert team of iVisa.com brings you the latest updates and some useful tools to get your Estonia Schengen visa for Citizens of Azerbaijan.
Access the online application form
How to access the online service of iVisa.com?
Once you access the online form, type in your basic info and some relevant data of your trip.
Collect the additional documents required to support your application for the Estonia Schengen visa for Citizens of Azerbaijan**(refer to the FAQs section).
Select one of the available options to process your documents.
Wait for the recommendations from our experts.
Apply modifications to your application according to the recommendations.
Get your Schengen visa via Email.
iVisa.com suggests printing a copy of your document and also saving a copy on your smartphone.
Applying in advance? How is that?
It is simple. If you plan your trip to Estonia with sufficient time, you can apply several weeks or months before to enjoy some benefits only accessible through this option.
Manage your application for the Estonia Schengen visa for Citizens of Azerbaijan like a pro, edit your information to improve the application, ask for assistance as many times as needed, take as long as you need to fill the online form, and give to our experts enough time to find the exact moment to process your documents and increase your chances of being approved.
Frequently Asked Questions
Do the contingency measures for the Covid-19 still valid in 2021?
Some of those measures are still valid, and others were canceled. Today, only the passport holders from the following countries have regular access to Estonia: Australia, Japan, New Zealand, Singapore, South Korea, Thailand, and Uruguay.
For the rest of the countries, the Estonian government authorizes access under these conditions:
Consular office/Embassy personnel (and their immediate relatives).
Workers in the vital supply chain: food, medicine, government services, and raw materials.
Health care workers.
People involved in the transportation of passengers.
Certified professionals in a mission to perform critical tasks.
Those workers with authorization to assist groups of tourists in Estonia.
People need to cross through Estonia to get to their homeland.
Regardless of your reason to visit Estonia, you must present to authorities a Certificate with a negative COVID-19 result.
If you have a special condition that may grant you access to Estonia, contact our Customer support team to confirm your options.
Are you ready to apply for the Estonia Schengen visa for Citizens of Azerbaijan?. iVisa.com invites you to Start filling out the online form.
How long is my Estonia Schengen visa valid?
The information provided with your application determines the validity of your Estonia Schengen visa for Citizens of Azerbaijan. It may be authorized for a few months, 1 year, 3 years, and 5 years. Your visa can also be valid for a single-entry, a double-entry, or even multiple entries visa.
What do I need to know about the 90/180?
This simple rule controls the time visitors from non-Schengen zone countries can stay in Estonia. Once you obtain your Estonia Schengen visa for Citizens of Azerbaijan, you will be authorized to stay for 90 days in a period of 180 days.
What documents are necessary to apply for the Estonia Schengen visa?
Certification letter - Through this document, you present the reasons for your travel.
Valid passport - Send a copy of your valid passport with the application form. Its validity must cover 180 beyond the return date.
Updated Picture - Two passport pictures are necessary. iVisa.com photo is the perfect online tool to make your photos government compliant. We can also send them right to your email.
Travel itinerary - include a copy of your flight reservation. Do not buy your tickets until you get the Estonia Schengen visa for Citizens of Azerbaijan.
Financial means - A copy of your bank account statements from the last 6 months to ensure you possess sufficient funds to cover your stay.
Health insurance - Getting health insurance for up to 30.000 € in case of requiring medical assistance is mandatory
Hotel room booking - A valid address of the place you are staying in Estonia is required by authorities.
Payment method - Debit/Credit card, PayPal.
Have you completed the requirements shown above?. Then, you are ready to fill out the online form.
What option should I choose to process my application?
It depends on your budget and the urgency of your travel. We offer the following options:
Standard Processing (

USD 20.00

-

24 hours

) - Average speed processing for a low price.
Rush Processing alternative (

USD 35.00

-

8 hours

) - Get your document faster. Pay a higher fee
Super Rush Processing delivery (

USD 60.00

-

4 hours

): - Do not wait to receive a response. Access this service for a high fee.
Does iVisa.com offer a safe online service?
We assure you can rely on us to process your application for the Estonia Schengen visa for Citizens of Azerbaijan. Our advanced security system protects your information during the entire process. Find opinions from our satisfied customers at the user's comments section.
May I contact an iVisa.com agent to ask for more info?
Of course, you can. Our agents will always be happy to assist you. Regardless of the type of consultation, the Customer support of iVisa.com is 24/7 ready to give you the most complete information regarding the Estonia Schengen visa for Citizens of Azerbaijan.