The Schengen visa is the most common visa in Europe, this type of document allows you free movement within the whole Schengen Zone. Depending on the purpose of your journey, you should know that there are different types of visas you can apply to the occasion.
iVisa.com has created an efficient system that offers you too many guarantees at the moment you want to make this important procedure for your Estonia Schengen Visa for Citizens of Benin.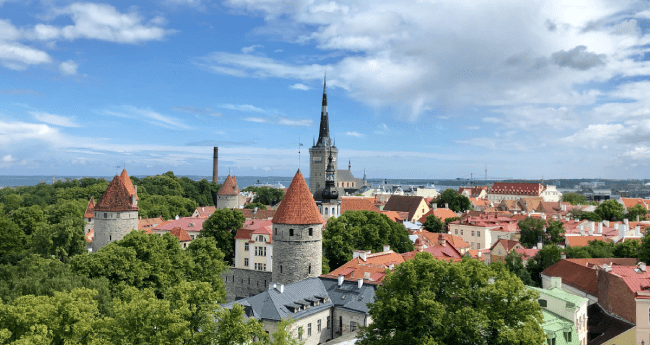 In all the procedure iVisa.com provides you speed, simplicity, and security with your personal information. Also, we count on a professional service team, who checks your data before submission to respective governments. What are you waiting for? apply now for your Estonia Schengen Visa for Citizens of Benin and have the best experience with iVisa.com.
Sometimes too much paperwork can be an obstacle to obtain this document, but with iVisa.com you do not have to collect a lot of it. Remember that this is a 100% online process.
With these simple steps below you can obtain your Estonia Schengen Visa for Citizens of Benin with iVisa.com:
Visit the application page.
Fill out some basic information about yourself and your journey.
Select a processing speed.
Our experts review your application and let you know if there are any problems.
Receive your e-Visa via Email.
Print or display your e-Visa for officials at the airport in Estonia.
Due to the Covid-19 Estonia has imposed a foreigners entry ban, we recommend you to stay updated about this country's restrictions before you apply for your Visa. Our executive service team can provide you more info about this delicate situation. Do not hesitate to contact them.
Apply in advance!
Frequently Asked Questions
How long can I stay with my visitor/tourist/business/ visa in Estonia?
On the e-visa document is stipulated how many days in the given period of time you can stay in Estonia and in the other Schengen states, and also stipulates how many times you are allowed to enter the Schengen area. The maximum stay within half a year is 90 days starting from the date of entry.
If you have any doubt about your Estonia Schengen Visa for Citizens of Benin reach out to our iVisa.com's service they will resolve any questions.
What documents are required when applying for a Schengen visa to Estonia?
iVisa.com has created a list of the required documents, you will find a short brief for each requirement.
You just need the following:
Visa application form Fully completed and signed.
A professional picture. This document can be easily obtained with iVisa.com Passport Photos's professional service.
Valid passport.
Round trip travel itinerary It must include dates and flight numbers specifying entry and exit from the Schengen area.
Travel insurance A document that proves you have travel health insurance for the whole Schengen territory.
Proof of accommodation for the entire stay This can be one of the following: Hotel/hostel booking - Rental agreement - Letter invitation.
Financial information showing means of support like debit/credit card or/and Paypal profile to proceed with the payments.
If you are ready to request your application, click on iVisa.com page.
What are the three different alternatives of payment that iVisa.com offer to process the Estonia Schengen?
iVisa.com can offer you different and easy ways to pay, and of course, the prices are according to your needs.
The three alternatives are:
Standard Processing time (

USD 20.00

-

24 hours

): this is the standard option that allows you to get your document the most affordable way possible.
Rush Processing time (

USD 35.00

-

8 hours

): Obtain your Estonia Schengen Visa for Citizens of Benin just in a few days.
Super Rush Processing time (

USD 60.00

-

4 hours

): If you want to get your visa made as soon as possible then select this one. The price may be high but the service is worth it.
How do I know if my Visa was accepted?
You can verify the status of your visa on our iVisa.com page just by clicking on the status bottom at the top right of the page, or you can contact our team support and they will provide you all the detail about your Estonia Schengen Visa for Citizens of Benin.
If I make a mistake, What should I do?
As soon as possible reach out to our team support they will assist you and provide you a workable solution. Double-check and review any typos before and after you've submitted the documents!
Is it safe to use iVisa.com's service?
Of course! iVisa.com is a 100% trustworthy platform, In iVisa.com, our system protects your data and information. You can read our reviews, left by past customers to get a clearer idea about the safety of our page.
Where can I find more information related to applying for a Schengen Visa for Citizens of BENIN?
In case you have any questions about Estonia Schengen Visa for Citizens of Benin after reading the information in this article, you can reach out to iVisa.com customer service agents or search for more information on iVisa.com's blog. You can find more details about it.
iVisa.com Recommends
On this occasion iVisa.com recommends you to visit Tallinn´s Old Town It's one of the world's most pristinely preserved Hanseatic town centers and was home to wealthy merchants from Denmark and Germany in the 13th century. The Old Town, with its cobblestone streets and medieval churches, became a UNESCO World Heritage Site in 1997.
See the art and gothic arches in the Tallinn Town Hall, checking out the churches, Russian orthodox cathedral, and the postcard-worthy view from the Patkuli platform.
Sightseeing Estonia feels like traveling back in time past!