Visa Policy for Estonia
The Estonia Visa Policy is a way to understand the requirement for a visa or travel authorization to visit the country. Several factors affect the rules and regulations to enter Estonia including the citizenship of the traveler, the intended period of stay in the country, and the purpose of the visit.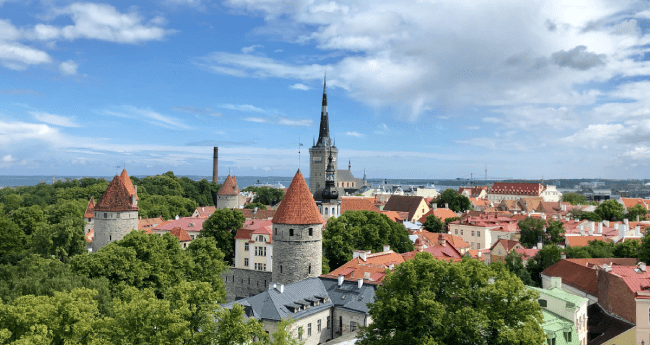 Estonia falls under the category of the Schengen countries as it has signed the Schengen Agreement for freedom of movement between the Schengen States. This is why the Estonian visa law is similar to visa laws followed by other twenty-five Schengen countries. According to the Estonia Visa Policy, every citizen of the countries in the Schengen zone can enter Estonia without any visa for an unlimited time period. The most important document to visit Estonia is a valid National ID card to show at the border checkpoint.
Citizens of other visa-free countries must present a valid passport at the port of entry to visit Estonia. They are allowed to stay for a maximum duration of 90 Days.
However, they need to apply for an ETIAS to enter Estonia and other Schengen countries from 2022 as per the latest announcement.
Citizens of the rest of the countries must apply for a visa to enter Estonia. To obtain this visa, a visit to the nearest Estonian Embassy is required prior to the departure date. Check the sections given below to get more information about the Estonia Visa Policy, Visa categories, Visa requirements, and Visa Validity.
Tourist Visa Policy for Estonia
Going through this section allows you to get a better understanding of the Estonia Visa Policy and the requirements for the visa that you need to apply for depending on your nationality.
As Estonia follows a similar visa law as the rest of the Schengen countries, travelers from another country in the Schengen zone only need a valid National ID card to enter the country for tourism and leisure activities without any time restriction.
As per the Estonia Visa Policy, around sixty-two countries are approved for visa exemption for Schengen countries. So, the citizens of these countries can visit Estonia without a visa for a maximum duration of 90 Days for tourism, business, transit, or medical purposes. However, this law is not applicable by 2022 and the citizens of these visa-free countries need to apply for an ETIAS to enter Estonia.
According to the Estonia Visa Policy, the passport holders of one hundred and fifty additional countries need to apply for a Schengen Visa to enter Estonia no matter what the reason for their visit is.
You can find more details about the Estonia tourist visa requirements for every nationality. Learn More
ETIAS for Estonia
The European Union has passed a new law for all sixty-two visa-free countries that must be followed by 2022. The European Travel Information and Authorization System or ETIAS is a newly developed travel authorization document that has been introduced to improve border security.
Once this document is operational, it is important for every eligible citizen to pre-register using an application form online prior to their trip to Estonia so that they can get an approved ETIAS linked to their passport electronically.
The application form can be filled by answering a few questions and providing a few personal, travel, and passport details. This form takes only a few minutes to complete. This travel authorization document is a multiple-entry travel authorization document that allows visitors to stay in the country for a maximum duration of 90 Days and visit other Schengen countries as well. The travelers can enter and leave the country as many times as they wish.
The validity of this document is 3 Years or until the passport of the traveler expires. Here is the list of countries that must apply for an ETIAS before traveling to Estonia by 2022:
Albania
Andorra
Antigua and Barbuda
Argentina
Australia
Bahamas
Barbados
Bosnia and Herzegovina
Brazil
Brunei Darussalam
Canada
Chile
Colombia
Costa Rica
Dominica
El Salvador
Federated States of Micronesia
Georgia
Grenada
Guatemala
Honduras
Hong Kong
Israel
Japan
Kiribati
Macau
Macedonia
Malaysia
Marshall Islands
Mauritius
Mexico
Moldova
Montenegro
New Zealand
Nicaragua
Palau
Panama
Paraguay
Peru
Saint Kitts and Nevis
Saint Lucia
Saint Vincent and the Grenadines
Samoa
Serbia
Seychelles
Singapore
Solomon Islands
South Korea
Taiwan
Timor Leste
Tonga
Trinidad and Tobago
Tuvalu
Ukraine
United Arab Emirates
United States
Uruguay
Vanuatu
Venezuela
Embassy or Consular Visa Required
As per the Estonia Visa Policy, citizens of around 150 countries are required to apply for a Schengen Visa to visit Estonia regardless of the period of stay or the reason for the visit.
Since Estonia is also a part of the Schengen zone, it is important to apply for one of the visa types that are used in the Schengen area. This visa can be obtained from the nearest Estonian Embassy by filling out the application form.
This visa application takes a much longer time to proceed as the traveler needs to visit the embassy in person. Hence, it has been advised to apply for a Schengen Visa in advance before the expected date of travel to Estonia so that the traveler can get sufficient time for processing the application.
The most important document for the application of a Schengen Visa is a valid passport with a minimum of 3 months of validity from the date of travel.
Here is the list of countries that need to apply for a Schengen Visa to enter Estonia as per the Estonia Visa Policy:
Afghanistan
Aland Islands
Algeria
American Samoa
Angola
Anguilla
Antarctica
Armenia
Aruba
Azerbaijan
Bahrain
Bangladesh
Belarus
Belize
Benin
Bermuda
Bhutan
Bolivia
Bonaire
Botswana
British Indian Ocean Territory
British Virgin Islands
Burkina Faso
Burundi
Cambodia
Cameroon
Cape Verde
Cayman Islands
Central African Republic
Chad
China
Christmas Island
Cocos Islands
Comoros
Congo
Cook Islands
Cuba
Curacao
Democratic Republic of the Congo
Djibouti
Dominican Republic
Ecuador
Egypt
Equatorial Guinea
Eritrea
Ethiopia
Falkland Islands
Faroe Islands
Fiji
French Guiana
French Polynesia
Gabon
Gambia
Ghana
Gibraltar
Greenland
Guadeloupe
Guam
Guernsey
Guinea
Guinea-Bissau
Guyana
Haiti
India
Indonesia
Iran
Iraq
Isle of Man
Ivory Coast
Jamaica
Jersey
Jordan
Kazakhstan
Kenya
Kuwait
Kyrgyzstan
Laos
Lebanon
Lesotho
Liberia
Libya
Madagascar
Malawi
Maldives
Mali
Martinique
Mauritania
Mayotte
Mongolia
Montserrat
Morocco
Mozambique
Myanmar
Namibia
Nauru
Nepal
New Caledonia
Niger
Nigeria
Niue
Norfolk Island
North Korea
Northern Mariana Islands
Oman
Pakistan
Palestinian Territory
Papua New Guinea
Philippines
Pitcairn Islands
Puerto Rico
Qatar
Reunion
Russian Federation
Rwanda
Saint Barthelemy
Saint Helena
Saint Martin
Saint Pierre and Miquelon
Sao Tome and Principe
Saudi Arabia
Senegal
Sierra Leone
Sint Maarten
Somalia
South Africa
South Georgia and the South Sandwich Islands
South Sudan
Sri Lanka
Sudan
Suriname
Svalbard and Jan Mayen
Swaziland
Syrian Arab Republic
Tajikistan
Tanzania
Thailand
Togo
Tokelau
Tunisia
Turkey
Turkmenistan
Turks and Caicos Islands
Uganda
United States Virgin Islands
Uzbekistan
Vietnam
Wallis and Futuna
Yemen
Zambia
Zimbabwe
Other Visa Information for Estonia
According to the Estonia Visa Policy, citizens of twenty-five countries in the Schengen zone don't need a visa or travel authorization to enter Estonia. These travelers can visit the country for an unlimited period of time. They just need to have a valid National ID to enter the country for tourism, medical, study, or transit purposes.
You can check the visa requirements for your nationality utilizing the Visa Checker Tool and apply for the appropriate document accordingly.