Estonia is one of the most delightful countries in Europe that you should consider if you are looking for the perfect destination for your future holidays. As part of the health rules created to stop the spread of COVID-19, there are new travel conditions that you must follow before entering this nation. That's why we advise you to see how citizens of Sweden can enter Estonia during coronavirus. Luckily, iVisa.com is here to help you with this topic.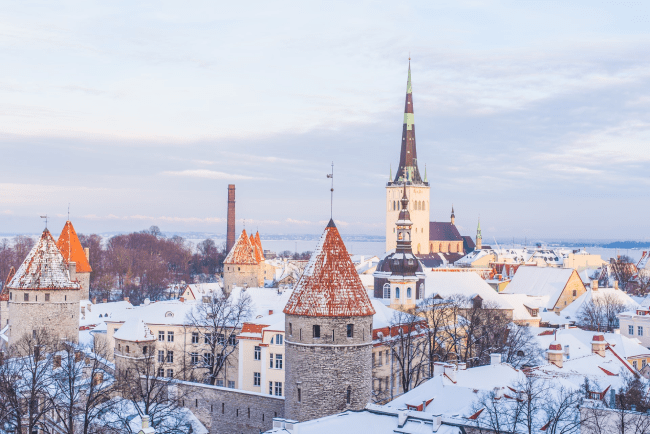 One of the new documents you will need to obtain is the Estonia Passenger Locator Form, a travel document that collects your contact information if the government needs to get in touch with you. Read the information below to learn more about this document
Frequently Asked Questions
How Citizens of Sweden Can Enter Estonia During Coronavirus
Sweden citizens will have to take a COVID-19 PCR Test and present a negative result to enter the country. However, all travelers with a COVID vaccine or who are arriving from the following countries do not need to present a negative PCR test: Australia, Bulgaria, Finland, Hungary, Iceland, Ireland, Israel, Liechtenstein, Malta, Monaco, New Zealand, Norway, Poland, Portugal, Romania, Rwanda, San Marino, Singapore, United Kingdom, and the Vatican. Otherwise, you will have to remain self-isolated.
Visitors will also have to get the Estonia Passenger Locator Form. Fortunately, you can do it with our platform to avoid any dull moment with the long questionnaires. That's how citizens of Sweden can enter Estonia during coronavirus.
Do I need a vaccine to enter Estonia?
Yes, Estonia has been taking steps to restore travel within its borders. Unless you are traveling from green countries, you'll need to display your COVID vaccine passport or vaccination certificate.
Approved vaccines are Pfizer, AstraZeneca, Spikevax, Janssen.
We remind you that information may change quickly, we advise you to follow up on the latest Estonia travel updates and/or contact your local embassy.
What documents do I need to apply for the Estonia Passenger Locator Form?
We can help you process this document easily, but for that, you will have to get these items first:
Your passport.
An email address (you must have it in use).
A valid method of payment (your usual debit/credit card).
COVID-19 PCR Test (with negative results).
A COVID-19 Vaccine (if required).
What are the processing times and also prices?
We have prepared three different options to choose from for your Estonia Passenger Locator Form. Remember that it is crucial to present it because that's how citizens of Sweden can enter Estonia during coronavirus.
Standard Processing Time:

24 hours

-

USD 20.00

Rush Processing Time:

8 hours

-

USD 35.00

Super Rush Processing Time:

4 hours

-

USD 60.00
How can I apply for the Estonia Passenger Locator Form?
To obtain this document successfully, you only have to follow a few steps. Remember that this process is completely online, so it shouldn't be challenging at all. These are the steps you have to complete in order to get the locator form safely:
First, fill out the online application. You must initially fill the form through an online process with accurate information about yourself.
Second, proceed with the payment online. Verify the given data to avoid mistakes and complete the payment of the application fee through a debit/credit card.
Third, add the required documents. Then, press the "SUBMIT" button to upload the application. Wait for your document after that.
Is iVisa.com a safe website?
We firmly believe that only if we are capable of fulfilling the requirements of each client by offering individual satisfactory travel experiences, we can obtain customer trust.
Every client wants to travel by their dreams, and we offer our services by considering each customer's affordability and urgency. Our team of specialists is well-prepared in handling travel documents of various natures. Hence, we can ensure that all the services we offer are 100% reliable.
How can I contact you if I have more questions?
Find out more about how citizens of Sweden can enter Estonia during coronavirus by getting in touch with your support agents. They will be ready to assist you at any time to clarify all your doubts. Chat with them now.
iVisa.com Recommends
Estonia is probably one of the most beautiful countries you can ever visit in Northern Europe. In this nation, you will find different things to do on your own or with family or friends. If you don't know where to go yet, don't worry because iVisa.comcan suggest a few places that you should take into account. Don't forget that the Estonia Passenger Locator Form is how citizens of Sweden can enter Estonia during coronavirus.
Would you like to discover a magical forest that you will love to explore? If that's the case, you have to visit the Tree Crosses in Rosma Forrest. You can use your imagination and discover various enchanted spots in the woods, making your travel experience even more exciting. Another fascinating and mysterious option is the Meteorite Crater Field, a place that used to be where most animal sacrifices were made centuries ago.
Have you heard about the Soviets in Estonia? Here you will find different museums that used to be the offices of many soviet officials during the Cold War. There is also the opportunity to see the missile left by them during the Second World War.
Visiting Estonia requires presenting the Estonia Passenger Locator Form. To complete it, you can use iVisa.com.