Some of the most underrated locations are the best travel destinations, like the Baltic wonder of Estonia. It's basically a hidden cave waiting to be discovered by numerous tourists. But for now, those that can visit it get to enjoy the entire country for themselves while it's still not a mass tourism destination.
After you start your journey in the classical capital of Tallinn and explore the entire city center with its medieval atmosphere, cobbled streets, and colorful buildings, it's time to see the rest of the country. Hop on a bus and head over to Viljandi to face your adventurous fears and climb on a large swing, or cross a suspension bridge while enjoying a relaxing time at the Viljandi Lake.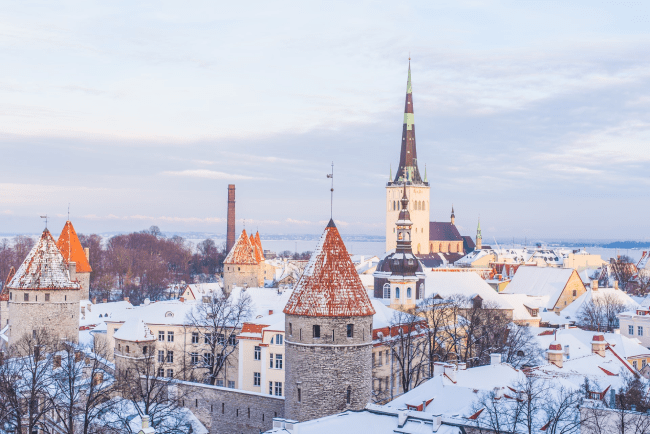 All travelers incoming to Estonia in search of adventure or historic knowledge coming from a visa-exempt country will face new requirements implemented by the Schengen governments, and that is ETIAS. It's a travel pass to prescreen every visitor and analyze their information to verify that they are not a threat to the region.
The Estonia ETIAS needed for citizens of Panama is an easy application process they must all go through if they want to visit any of the Schengen countries. Although called Estonia ETIAS in this article, the concept of the authorization pass applies for all Schengen member nations.
Read the lines below to find the most insightful FAQs about the Estonia ETIAS for citizens of Panama. The content includes the online ETIAS application process and how it can be faster with iVisa.com.
Frequently Asked Questions
Why do citizens of Panama need an Estonia ETIAS?
Currently, all citizens of Schengen visa-exempt countries may enter all the Schengen region states only needing their passport. But, the local authorities have created a travel document that will soon be implemented. These travelers will need to apply for the Estonia ETIAS if they wish to enter the region for a short journey for business or tourism purposes.
Are all citizens of Panama required to have an ETIAS?
Citizens of Panama that wish to visit Estonia or other Schengen states must request an ETIAS at least 96 hours before departing their country of origin. This document will work as a prescreening process of the traveler and validate that he's no threat to the Schengen region.
Visitors of all ages need this document, but those travelers under the age of 18, or over 70 will possibly, although it's not official at the moment, pay a lower fee for the ETIAS services.
How long can I stay in Estonia with an ETIAS?
Once you apply for the ETIAS, your information is analyzed, and the final results determine the validity of your document. Your ETIAS can be active for the days of your planned trip or 3 years. During this time, you are only allowed to stay no more than 90 days every 180 days in Estonia or any other Schengen country.
Where can I go with an Estonia ETIAS?
The ETIAS travel authorization document allows the visitors to enter any of the Schengen states within the time and validity of your ETIAS. You have multiple entries option so that you can visit more than one country on each trip, but you can't stay more than 90 days.
What information must I have for the Estonia ETIAS application?
For your Estonia ETIAS application you don't need many documents, but you will need to provide specific information related to your future Schengen travels. Additionally, the main paper and pieces of information you must have at hand are:
Your current passport : It will be needed to fill out the online application form. You may also want to have a digital copy in case your application requests one.
Your electronic address: An email is needed so you can get your ETIAS results ASAP and have them at hand when boarding.
Payment: You can choose to make the payment with your debit/credit card or by using a PayPal account.
Are there ways to speed up my ETIAS results?
Although the ETIAS application process is straightforward, the analysis and delivery of the results stage can take a bit longer. To ensure you get your results on time, you can apply with iVisa.com and specify the time in which you'd like to receive your results.
These are the three options iVisa.com has for processing speeds:
Standard alternative: This is the most affordable option for all users but takes the longest to deliver your documents.
Rush alternative: This means that you will get your results delivered in less time than the previous option, but it will cost you more money.
Super rush alternative: By being the most expensive option, it's the fastest one to getting your application revised and ETIAS results delivered.
Is there an easy way to apply for the Estonia ETIAS for citizens of Panama?
Very soon to enter any of the Schengen countries, those traveling from visa-exempt countries will need to request an ETIAS before entering the region. You can get your application done through the official website, but it can be complicated and time-consuming. For an easy process, iVisa.com offers a three-step system, in which you can additionally determine how fast you want your application to be processed.
These are the iVisa.com steps:
First, answer all questions on the online form regarding your personal details, and select the processing speed you want to apply to your documents.
Second, you must revise the provided information and be sure that it's correctly typed. Then continue to make the fee payment.
Third, is to make sure you have provided all required information and any document that has been asked to upload on the system. Once done, you can submit your application.
How safe is my information while applying for ETIAS with iVisa.com?
Using the iVisa.com platform to get the Estonia ETIAS application for citizens of Panama is highly secure. The website uses very modern and secure systems to protect the information on their digital platform and databases so that your information is safe at all times.
You can verify our statement in our clients' reviews here.
How can I solve my ETIAS questions?
If you still have any questions regarding the Estonia ETIAS for citizens of Panama, we suggest you send us a message via chat or directly at help@ivisa.com with your doubts; our customer service team will get back to you. In case you want to research on your own, you can go to the iVisa.com website where you will find broad information about the ETIAS.