Estonia, like many other European countries, has plenty of castles to share. The Narva Castle is a 13th-century complex located in the beautiful town of Narva. The impressive site holds a museum and several towers that are perfect viewpoints to the city. This is your opportunity to learn more about Estonia and the current travel guidelines to enter the country.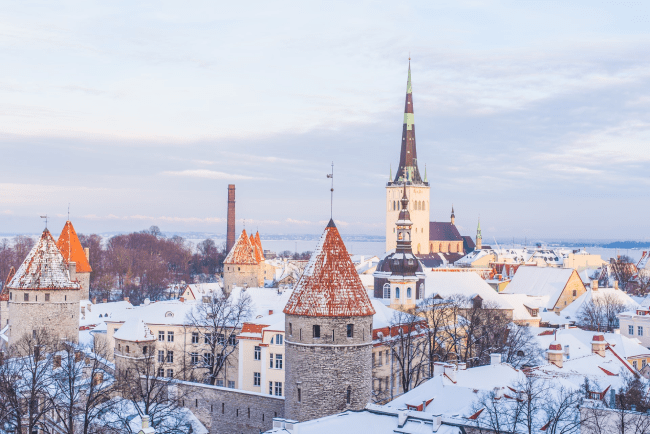 Estonia, as part of the European Union, has set up requirements for international visitors, which will come into place by 2022. International visitors outside the European Union will have to obtain a document called ETIAS. This will be mandatory if you want to visit Estonia or any Schengen country.
iVisa.com can support you with the Estonia ETIAS. Enjoy a simple, fast, and trustable service with iVisa.com.
Find out more about Estonia ETIAS with the next FAQs.
Frequently Asked Questions (FAQs)
What does ETIAS mean?
ETIAS means European Travel Information and Authorization System. ETIAS is the new electronic system implemented by the European Union that will help the process to admit incoming visitors to Estonia.
Estonia ETIAS is a 100% online application, start here.
What countries have to get an Estonia ETIAS?
Countries exempt from a Schengen visa will need to have the Estonia ETIAS. On the contrary, if your nationality requires a visa to the Schengen area, then you mightn't need to obtain the Estonia ETIAS.
You can check if you need an ETIAS or a visa with the iVisa.com Visa Checker. The tool will help you to know which travel requirements you need.
Is the Estonia ETIAS valid for all of Europe?
The Estonia ETIAS allows travelers to visit the 26 countries in the Schengen zone. Remember that not all of Europe is part of Schengen, so carefully choose the countries you would like to visit.
Do you have some questions? Get the support team to help you.
For how long is the Estonia ETIAS valid?
The Estonia ETIAS document is valid for up to 3 consecutive years. As well, ETIAS is valid for 90 days within a 6-month period when traveling to Estonia or the Schengen countries.
Estonia is waiting for you. Start applying here!
What information do I need to provide?
The ETIAS requests an online form that should have the traveler's details like name, nationality, birthplace, phone number, etc. Also, answer questions about medical records, past trips to war zones, criminal background, and previous deportations, if applicable.
Check the next requirements too:
The scan of your passport.
A valid email address, so the ETIAS document arrives safely.
Payment options, iVisa.com charges a minimum fee that you can pay with a Paypal account or use a credit/debit card.
Which are the processing times?
iVisa.com has three alternatives to process the ETIAS requirement:
Standard service, an affordable option, when you can wait an average time.
Rush service, for a higher fee, obtain the ETIAS document faster.
Super rush service, when you need your authorization as soon as possible.
Which are the steps for the ETIAS?
Any travel requirement with iVisa.com has 3 steps:
First, fill out the electronic form and pick a processing time (Standard, Rush, or Super Rush).
Second, review the information and select a payment method between a credit/debit card or Paypal.
Third, attach the scan of your passport and any other documents required.
If you have any questions, reach out to our customer support agents.
What will I get in my email?
After completing the form with the requirements explained, iVisa.com will send you the ETIAS document. You will receive the ETIAS in your email inbox, and we recommend printing it or saving it in an electronic device. As soon as you arrive in Estonia, show it to immigration officials.
I'm traveling with children, do they need an ETIAS?
Yes! Children are not exempt from getting a Estonia ETIAS. Every traveler that doesn't need a visa to the Schengen zone, must obtain an ETIAS before traveling. Start the application for your children here.
How safe is ETIAS with iVisa.com?
iVisa.com is 100% safe. iVisa.com manages tons of travel requirements using the highest security standards. Our previous clients discuss the excellent iVisa.com services in the comments page. Check them out and choose iVisa.com for your Estonia ETIAS.
I have some questions, who should I reach out?
Contact our incredible customer service team that is available 24/7. They will be happy to answer any questions about Estonia ETIAS. You could also write to help@ivisa.com.
Apply now and travel to Estonia soon!