Estonia is filled with medieval history and folklore traditions from the ethnic minorities, providing a rich and colorful cultural diversity. If given a chance, any traveler would enjoy doing some island hopping in Estonia or going for a road trip through the beautiful meadows and forests.
This small European country has every type of attraction that travelers are looking for; it's an even sweeter deal by being relatively cheap compared to its land neighbors. You can decide to visit Estonia to enjoy island life or go around nature to discover the local wildlife. But you most certainly need to make a quick stop in Tallinn to see the medieval churches and colorful cobblestones streets and try a cold glass of their local craft beer.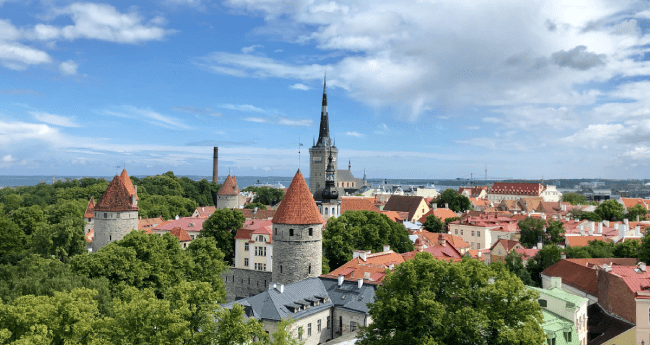 So many alternatives of what to enjoy in Estonia leaves no doubt why citizens of Montenegro are continually visiting the country. All because they're part of the Schengen visa-exempt program, giving them easy entry.
But this functional condition will soon have one small barrier, the ETIAS. It's a digital travel document mandatory for all travelers coming from visa-exempt countries and for short stays such as tourism, business, or medical visits. The visitor must apply for this Estonia ETIAS at least 96 hours before flying to ensure their documents are in place before reaching the Schengen region.
Before applying, you should know all the requirements of the Estonia ETIAS for citizens of Montenegro, so you are prepared ahead of time. Find the information in the following FAQs and tips on how iVisa.com can deliver your results faster.
Frequently Asked Questions
How does the ETIAS work?
The ETIAS is a digital travel document created by the Schengen state leaders to improve safety among borders and reduce illegal immigration. The application process will request the travelers to include information about their current professional and personal situation to verify the truth of it and have the data as a prescreening process of them before arriving. The ETIAS will only be needed by travelers that come from a Schengen visa-exempt country.
Can I stay for 6 months in Estonia with an ETIAS?
The Estonia ETIAS travel authorization allows visitors to enter Estonia and other Schengen countries for tourism, business, or medical visit purposes. It means that you can stay in one or more Schengen states for no more than 90 days in 180 days. The amount of days you can stay in a country is also related to the total validity of your ETIAS.
Does the validity of the ETIAS depend on the travelers' nationality?
The ETIAS validity does not depend on any travelers' nationality, but on the information you provide on your ETIAS application form. When you receive the ETIAS results, you will get the final validity of it; it could be only for the length of your trip or up to 3 years.
Do I need many documents to apply for the Estonia ETIAS?
While filling in your ETIAS questionnaire, you must provide necessary information about your planned travels to the Schengen region and personal information. The primary documents needed to start the application are:
Your valid passport, it must be a passport with at least 3 months left before expiring, and you might need to upload a scanned copy of the information page.
Your email address, a current and valid way to contact the traveler, is needed to ensure the ETIAS results are delivered in a timely fashion.
Way to pay, it can be your credit/debit card or your PayPal account.
What if I forget to apply? How fast can I process my ETIAS?
There is no specific time as to when you should apply for the Estonia ETIAS, but to make sure you get your results delivered on time before the flight, you can start your process with iVisa.com and request a faster speed to process the documents.
Currently, iVisa.com has the following three options:
Standard processing time: is the most common option, an affordable price for regular processing time to get the results delivered.
Rush processing time: is a faster and more expensive option to get your ETIAS.
Super rush processing time: will be the most expensive option for processing documents, but you'll have your ETIAS delivered ASAP.
Is the ETIAS application difficult for citizens of Montenegro?
The ETIAS application for all travelers requesting one is rather straightforward and can be completed on the official website. But you can also apply with the iVisa.com service to make the process easier and even request a faster procedure for your form after submission.
These are the easy three steps that you must follow when applying for ETIAS with iVisa.com:
First, you need to fill out the application form with your information, and select the processing time of your choice.
Then, you must verify that the details provided above are correct, and pay the document fee online.
Finally, you will need to upload any document that was previously requested and submit your form.
Once done, you only need to wait for the ETIAS results to be delivered in the time requested.
Is the iVisa.com service secure?
You can start the online Estonia ETIAS application on the iVisa.com platform and be sure that your data will be secured. The website uses reliable security software to protect the information of its users during the application and after submitting the form.
You can find some reviews about our services here.
How can I find more data about the Estonia ETIAS?
If you are interested in learning more about the Estonia ETIAS for citizens of Montenegro, we encourage you to look around the iVisa.com website for tips and details about it in general. You can also send a message to the iVisa.com's Customer Service team with your questions on the topic for a more punctual and guided answer on the specific information you will find valuable.