Estonia is a Baltic country that very few people know about, and most only focus on Tallinn. But, the country homes a serene riverbank, lovely old castles, mud spas, and over 2000 islands!
It's clearly not a typical European destination, but it holds a lot of adventurous attractions for any travelers' budget. You can also view a clash of worlds where the same city has 19th-century houses with wood panels while also having a modern style house in the same neighborhood.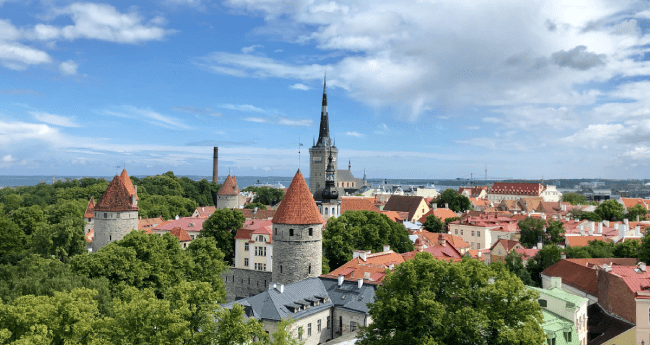 Citizens of Nicaragua are some of the fortunate ones to visit Estonia with easy access by being part of the Schengen visa-free program. And the best way for them to move around the land is by bus because it has a broader range of travel routes, while the train mostly connects only Tallinn with Tartu and Narva.
The discovery of Estonian castles, mud spas, islands, and classical architecture will soon require a mandatory travel authorization document for all incoming visitors. Only those that arrive from visa-exempt countries will be asked to apply for an ETIAS document.
The Estonia ETIAS has been created to reduce security threats and increase border controls among the Schengen region. The governments want to ensure that the system can improve the effects of these issues in the member countries.
Continue reading to understand some details about the Estonia ETIAS for citizens of Nicaragua.
Frequently Asked Questions
What is the purpose of the Estonia ETIAS?
The Estonia ETIAS is an online document for travelers visiting the Schengen region states but coming from a visa-exempt country. It has been created by the Schengen members to improve their processes at borders and reduce the illegal immigration figures. The ETIAS will only be used for short travels of tourism, business, or medical visits and visitors can't surpass a stay of 90 days in the region.
Do Nicaraguan children need to apply for the ETIAS?
Any foreigner going to the Schengen states from a visa-free country must request an ETIAS before traveling, and this includes children. An ETIAS is required for any short trip planned for tourism, business, or medical visits only.
What may be different based on ages is that travelers under the age of 18 or over 70 will be charged another fee, but still need the document.
Which countries can I visit with an Estonia ETIAS?
Your Estonia ETIAS pass gives you multiple entry access to all of the countries in the Schengen region. The only limitation is that you stay for no more than 90 days in one or more countries in 180 days, or less if your ETIAS is valid for a shorter period.
How long is the average validity of the ETIAS for citizens of Nicaragua?
There are no established criteria on how the ETIAS validity is to be decided, but it will not be directly related to any nationality. The fact will be determined by the thorough information you provide on your ETIAS application form, and you can be given between the entire stay of your scheduled trip or 3 consecutive years.
How many days can I stay in Estonia with an ETIAS?
The Estonia ETIAS document allows travelers to stay in any of the Schengen region countries for up to 90 days every 180 days. This limitation is linked to the total validity you are given for the ETIAS authorization.
How often are ETIAS applications denied?
The probability of how often any ETIAS application is denied is still not known to anyone; we do suggest that you double-check your information on the ETIAS application form so that no typing errors are sent. One slight difference in letters or numbers on your data that doesn't match the international databases might result in the application being rejected and having to apply again.
If for some reason, your application doesn't proceed, you can appeal the results, or you can reapply for ETIAS considering the mentions as to why it was rejected in the first place.
How difficult is the Estonia ETIAS application for citizens of Nicaragua?
The Estonia ETIAS application is not difficult for any world citizen; it just requires minutes of your time to fill out the online form. You can use the official website, or choose to apply through iVisa.com which requires only 3 simple steps and can allow you to speed up the processing time.
These are the iVisa.com steps to apply for ETIAS:
First you must complete the online form with your details and set a processing speed for your results.

Standard processing alternative: is the regular option for the process; it's the most affordable but takes longer than other methods.
Rush processing alternative: is a faster option than standard to get your ETIAS results delivered, but it's slightly more expensive.
Super rush processing alternative: is the most expensive option to receive your ETIAS results because it's the fastest way.

The second step is to revise that the information you have provided is correct, and make an online payment of the fee.

The third part requires that you review all the content above and add any additional document that has been requested. You may then send your form.
Why should I trust the iVisa.com website with my ETIAS application?
The iVisa.com website offers a straightforward and secure way to complete your ETIAS application. The platform and databases use a highly reliable security system to protect every piece of information you insert on your form from any digital threats.
You see some of our clients' reviews to verify it.
Is there more information about Estonia ETIAS I can read?
For more information about the Estonia ETIAS for citizens of Nicaragua, you can contact our Customer Service Team through a chat message or email. You can also choose to browse through the iVisa.com webpage for general information and tips about the ETIAS.
Review all the information about ETIAS here and start planning your trip.