If you're planning a trip to Europe, but want to add a not-so-touristy destination with different yet exciting activities, Estonia is your best option. Some travelers, such as citizens of Paraguay, can enter Estonia quickly by being part of the Schengen visa-free program, but how can one visit if they don't know what to find.
This hidden destination homes some of the biggest National Parks in the continent where you can find a great diversity of flora and fauna while you're out trying to snap a picture of the animals you encounter. You can also go for a walk around an abandoned submarine base, go bog-walking at the Soomaa National Park, or think about staying a night in a bear hide.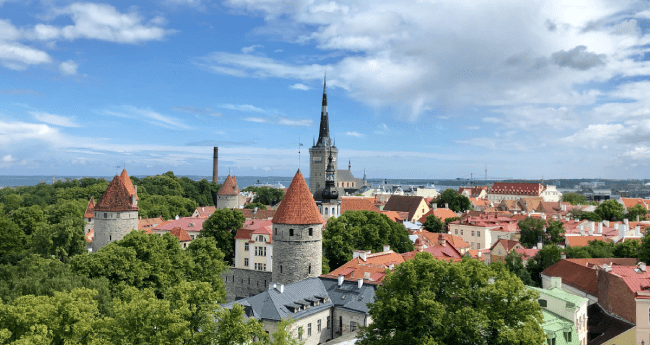 Estonia boasts classic touristic points to enjoy local history, medieval architecture, and traditional cuisine but also has these masked and entertaining activities to surprise its visitors.
And yet, convenient entry to the Schengen countries will change for all travelers who are part of the visa-exempt program. The new requirement is an Estonia ETIAS for citizens of Paraguay before they depart towards the Schengen destinations. The ETIAS has the purpose of analyzing the travelers' documents prior to their arrival and reviewing that they're not a threat to the countries. It can be seen as a basic version of a visa, only to improve the border systems.
You will find interesting and insightful FAQs below to guide you along the Estonia ETIAS process for citizens of Paraguay. The notes include tips on how iVisa.com can make your ETIAS application easier and more accessible.
Frequently Asked Questions
What is the Estonia ETIAS?
ETIAS means European Travel Information and Authorization System, and it has been created and authorized to work for the Schengen states. It's a mandatory requirement that foreigners from visa-exempt countries request and travel with an ETIAS as a pre-screening process of their information upon arrival. The Estonia ETIAS will be needed by each citizen of Paraguay that wants to visit any of the Schengen countries.
Can I visit Ireland with the Estonia ETIAS?
While you may request your ETIAS up to 96 hours before your flight, it will only allow you to enter and travel in between Schengen countries- of which Ireland is not included. The document also gives you multiple entry access to all of these during the validity of your ETIAS.
Will the ETIAS be valid for more than one trip?
Based on the ETIAS application form you submit, your document validity will be determined. There are still no official rules on how the time frame is defined, but on average will be between the the length of your trip and 3 years. While the ETIAS is valid, you can visit any of the Schengen countries multiple times for 90 days, every 180 days.
For how long can citizens of Paraguay travel around Europe with an ETIAS?
Any ETIAS holders, such as citizens of Paraguay, are given the ETIAS permit for an established period. During this time, you will be able to stay in Estonia or any other Schengen country for a total of 90 days every 180 days until the ETIAS becomes invalid.
Which documents do I need to start my ETIAS application process?
The ETIAS application process doesn't require many documents from the traveler, it's mostly focused on your passport information and any details related to your planned trip to Europe.
Some items you must have to fill out your application form are:
A valid passport : It's used to complete your application form with your information, and will possibly be asked to include a scanned copy of it.
*Your email address: It's needed so that you can receive all information regarding your ETIAS results.
Bankcard: To make the fee payment, you will need a credit/debit card or a PayPal account.
If I forget to apply for ETIAS, how fast can I get it?
At the moment, there are no specifications on the price of the ETIAS or how fast the process part of it takes. But, if you apply for the ETIAS through iVisa.com there will be an option of choosing between three options a faster way of obtaining your final results.
These are the three iVisa.com processing options:
Standard processing alternative: To obtain your ETIAS results at an average time of delivery, but it'll be the most affordable option.
Rush processing alternative: Offers you a chance to get your documents faster, for a higher price.
Super rush processing alternative: Delivers the applicant the ETIAS results in a very short time compared to previous options, but is therefore the more expensive choice.
How does the ETIAS application process work for citizens of Paraguay?
The entire Estonia ETIAS application for citizens of Paraguay is made through an online form, which can be somewhat tedious. To avoid wasting your time, the application through iVisa.com is done in a couple of simple steps, and the service includes an option to speed up the analysis of your documents.
Follow these steps:
Begin by filling out the questionnaire with your data, and pick the preferred processing alternative.
Then, double-check that the information you just typed in is correctly spelled, and continue to make online payment of service.
Finally, ensure that the requirements have all been filled out and upload any requested documentation. Being the last part, you can send your online form.
Once done, you only need to wait for the results to be delivered.
How safe is the iVisa.com platform to use for my ETIAS application?
The iVisa.com platform has been designed with the best security system to keep all pieces of information from the company and users safe. The information provided for the Estonia ETIAS for citizens of Paraguay goes to the databases after the application is submitted.
You can see some reviews about our services for more details.
Where can I get more details on the Estonia ETIAS?
If the previous information still left some questions unanswered, we suggest you contact us via chat message with your doubts. You can also look into the iVisa.com website for more information regarding the Estonia ETIAS for citizens of Paraguay.