A country like Saint Lucia in the Caribbean is one to be jealous of with their transparent waters, perfect reefs for diving, and hidden trails that take you to secret waterfalls. And yet, the ancient magic of Estonia captivates citizens of Saint Lucia to grab a flight and visit the old lands.
But like Estonia, other Schengen countries have decided that there is too much freedom to visit their lands. That's why they created the ETIAS, an online authorization process for the foreigners who used to enter the Schengen states with no more than a passport.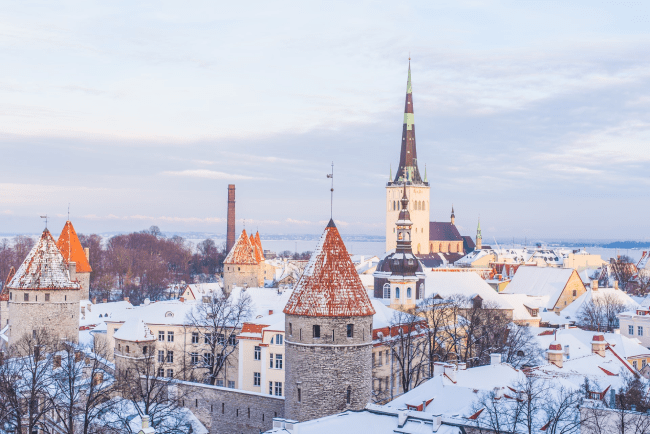 Every citizen of Saint Lucia must apply for an ETIAS travel document if they intend to visit Estonia and other countries for the purpose of leisure or business and for no more than a 3-month stay.
You will find very insightful information in this article about the Estonia ETIAS document with the guide of these FAQs. It is a short read with the necessary information for you to prepare your next trip to this ancient continent.
Find out more about your Estonia ETIAS application here.
Frequently Asked Questions
WHY IS AN ETIAS AUTHORIZATION MANDATORY?
The ETIAS (European Travel Information and Authorization System) works in a similar manner as the U.S. ESTA (Electronic System for Travel Authorization). The primary aim of introducing this document is to facilitate a firm security and background check of the applicant to ensure that the individual entering any of the Schengen countries is not a threat to the citizens or any of the fellow travelers.
DO THE CITIZENS OF SAINT LUCIA ALSO NEED AN ETIAS?
Yes. Saint Lucia, currently being a visa-free country, will need its citizens to apply for an ETIAS in the near future, whenever they intend to enter the Schengen-zone nations.
WILL THE ETIAS ALLOW SAINT LUCIA CITIZENS TO TRAVEL TO OTHER COUNTRIES?
A visitor with an approved Estonia ETIAS document can travel to any of the 26 Schengen countries. This includes most of the EU nations, but not all. Some of the countries amongst this list are Estonia, Iceland, Norway, Switzerland, and Liechtenstein.
I WANT TO GO TO ESTONIA TO STUDY, WILL I GET AN ETIAS FOR THAT?
No, the ETIAS authorization applies for travel purposes of leisure, tourism, or for business, and travel periods of no more than 90 days. If you want to go to Estonia or any other Schengen country to study, you will have to check the electronic visas that are applicable using iVisa.com's Visa Checker.
WHAT IS THE VALIDITY PERIOD FOR ESTONIA ETIAS?
The Estonia ETIAS has the same validity for any country from the Schengen Area zone that participates in this system, and the maximum validity period is up to 3 years from the date of approval. The ETIAS allows you to travel to Estonia, and other Schengen countries multiple times during a single visit - but at a stretch, one can stay for a maximum of 90 days in any of the Schengen nations.
HOW LONG CAN I STAY IN ESTONIA WITH AN ETIAS?
The Estonia ETIAS travel permit is only valid for stays of up to 90 days and for travel, medical, or business. Planning on staying more than the allowed stay period will require the traveler to apply for another visa for Estonia or whichever country you intend to visit.
HOW TO APPLY FOR AN ETIAS FOR SAINT LUCIA CITIZENS?
The ETIAS, being an online digital authorization, is simple to apply for as you will only need a desktop, tablet, or mobile phone to fill out the application form on the iVisa.com platform.
It is a simple process to apply for the documentation online, that can be classified into three phases:
1.First, fill out the online form with your personal information and select your ideal processing speed. iVisa.com provides three options on how to process the application and get your approved ETIAS:
Standard speed: After submitting the form you will get your ETIAS within 24 hours
Rush speed: You will receive your Estonia ETIAS document in 4 hours
Super rush speed: Get the ETIAS in 30 minutes.
2.You must then revise the information typed in the form so it is correct. Then, you must make the online service payment.
3.Your final step is to go over the additional iVisa.com questions about the ETIAS document requirements, and click "SUBMIT".
That's it. The next step is to wait for your inbox to alert you of the approved Estonia ETIAS in it.
Apply for your Estonia ETIAS now.
WHAT DOES THE ETIAS APPLICATION NEED?
Applying for the ETIAS is easy. Just add the information about your biometric information, for instance, your first name, last name, and date of birth. Include information about your citizenship, contact nuances, and other key information. As indicated by security methodology, you need to uncover unequivocal information, for instance, criminal records or issues.
IS IT FAST TO GET AN ETIAS DOCUMENT?
The iVisa.com ETIAS application should take you no more than 20 minutes between filling out the form and making the authorization fee payment. Once finished, your application form goes into their system to be checked, and you get your results within 1 day sent directly to your email inbox. The speed of getting your Estonia ETIAS will depend on the processing time you selected on your iVisa.com application.
IS IT SAFE TO USE IVISA.com?
iVisa.com as an online platform not only helps travelers with the application process of electronic visas but also keeps their information as confidential as possible. Our online platforms work with the most reliable security system to keep your information safe from any phishing act.
Your information is never put in danger when using our platform to apply for an online visa. You can see what some clients have said about our services here.
I NEED ADDITIONAL INFORMATION, WHERE CAN I FIND IT?
If you continue to have any doubts about ETIAS or any other visa requirements for Estonia, we're more than willing to help. Drop us a line or visit iVisa.com's website here where you can find more info.