Estonia, with its picturesque lush landscapes, magnificent lakes, mountains, and miles of beautiful coastline is regarded as one of the most beautiful yet underrated countries in the world. Steeped in rich cultural and historic heritage, its many medieval castles and structures are a treat for visitors from around the world. At the same time, it is also one of the most technologically advanced nations in the world, with kids being taught how to code at a very young age. To read more about Estonia keep scrolling to find information on how you can get an Estonia ETIAS in addition to your ticket to Europe, in a quick and simple way!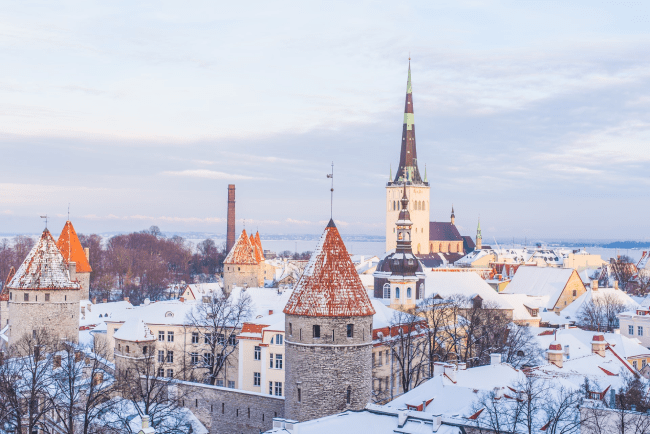 We encourage you to go through our FAQs below for a quick and easy way to plan a well-informed, structured and enjoyable trip to Estonia. All that's left is to understand is how to fill out iVisa.com's online form so let us help you to procure the Estonia ETIAS.
So get ready to embark on a holiday that will be a feast for all your senses. Are you excited already?
Frequently Asked Questions (FAQs)
DO I NEED THE ETIAS TO ENTER ESTONIA?
iVisa.com has solid procedures in place that are on par with the latest emerging trends, advancements, and improvements in technology and safety measures. With this in mind, given that Estonia has introduced an EU visa waiver scheme which will require non-Europeans to apply online for a travel authorization, iVisa.com has created a simpler and easier ETIAS application form to help you get what you need!
This would more or less be like a regular visa yet with a simpler process. This new system is called the European Travel and Information Authorisation System or ETIAS and will be in effect from 2022 onwards.
ETIAS is a new necessity for citizens from countries that are exempt from applying for the Schengen visa. Citizens of Macao soon require an ETIAS to visit Estonia. Read on to understand at length, how you can go about getting the iVisa.com application form now!
WHAT ARE THE DOCUMENTS I REQUIRE FOR THE ESTONIA ETIAS?
iVisa.com essentially requires very straightforward information. This is required to not only strengthen procedures and reduce the interim waiting period, but also address the security concerns of tourists.
Besides answering the basic background questions and travel information, the only other things you will need are a valid passport, a digital photograph and an e-mail address.
Click here to fill out your online application or read on to gain clarity and understand the procedure furthermore!
WHAT IS THE PROCESS TO GET THE ETIAS APPLICATION?
We recommend first check your eligibility for the Estonia ETIAS by clicking on iVisa.com's Visa Checking Tool or visiting the iVisa.com homepage.
Once that's done, iVisa.com will help you to get the Estonia ETIAS through 3 quick and simple steps, which are:
STEP NO.1, fill out the ETIAS application form and select the processing time you need (more on this below).
STEP NO.2, confirm the data previously entered into your application and upload the required documents related to your nationality.
STEP NO.3, simply use your credit/debit card/Paypal account to pay the fee and submit.
WHAT IS THE NORMAL PROCESSING TIME AND PRICE OF THE ETIAS THAT I CAN EXPECT?
Given below is some information to help you understand our 3 types of prices and processing time:
TYPE I: The "Standard" option takes care of all the basic needs for a moderate waiting period ie. when you're not in a rush!
TYPE II: The "Rush" option allows you a much faster option for a relatively higher price. This is for when you need to go go go!
TYPE III: The "Super-Rush" option is extremely useful if your journey begins urgently and is priced accordingly higher.
To get more information, please contact our customer agents.
IS THERE ANY ESTIMATED TIME TO RECEIVE THE ETIAS AND ITS VALIDITY?
In case all the information that has been provided by you in your online application is correct and the documents required in order, your ETIAS should get approved within your selected time frame. If there are any unexpected delays, it may take a maximum of 2 weeks time to receive it, latest Once received, the ETIAS will be valid for up to 3 years or until the end of the validity of the documents used in the application, whichever comes first.
Apply here for more information to get to know Estonia - look no further!
IS GETTING THE ETIAS FROM IVISA.com RELIABLE?
Absolutely, iVisa.com ensures very strict online travel procedures are adhered to no matter what. We have the most advanced, solid, and reliable systems in place to protect your personal information. We aim to simplify the otherwise complicated process of filling out online applications.
Check out our client reviews to obtain further information on how well it's worked out for other people!
HOW DO I GET MORE DETAILS IF I NEED IT?
The ever-supportive and well-informed support staff at iVisa.com would be more than willing to help you out. For any further queries or questions, you can contact us anytime!
You could either visit our page, contact our customer care representatives by calling them on +1 (786) 460 2707, text us via chat, or check out iVisa.com's webpage for more info.
Well now that everything is in place, you can now focus on ways to unwind and enjoy that much-awaited getaway to Estonia. Apply now for your ETIAS form via iVisa.com. Have a great holiday!