Do you want to see some castles in Estonia? Then visit Viljandi, where you can find one of the largest castles in the Baltic region. The Viljandi town has incredible scenery with wooden houses that date back to the medieval period. Go during the autumn season and enjoy some of the famous festivals. Estonia could be your next destination, so start checking the latest news about entry requirements.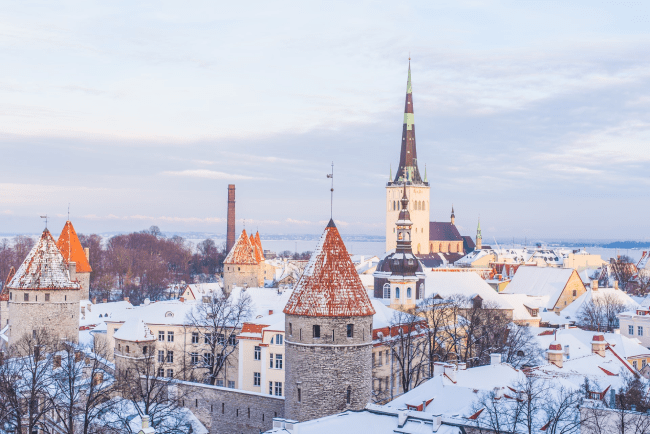 Citizens of Uruguay must keep updated with the new entry guidelines to Estonia that includes the ETIAS process. The European Union authorities have established the electronic system known as ETIAS to facilitate the entry of incoming visitors.
iVisa.com can help you with the Estonia ETIAS. Try a fast, simple, and reliable product with iVisa.com. Read more about the ETIAS requirements in the next FAQs.
Frequently Asked Questions (FAQs)
What does ETIAS mean?
ETIAS means European Travel Information and Authorization System. The ETIAS is a 100% online form that is easy to complete. You only need a few minutes to answer all the questions, and you will be ready to travel to Estonia.
The ETIAS is not a visa, it's an authorization document provided by the European Union.
Apply for your Estonia ETIAS with iVisa.com!.
I'm a citizen of Uruguay. Should I apply for an Estonia ETIAS?
Yes, as a citizen of Uruguay you can apply for an Estonia ETIAS. Uruguay is among the 62 countries around the world exempt from a Schengen visa, for this reason, they are required to apply for the ETIAS. Citizens of Uruguay must obtain the Estonia ETIAS if they want to visit Estonia or any state in the Schengen area.
Explore more about Estonia ETIAS.
Is ETIAS required for each European country?
No, the ETIAS document is valid for the 26 countries in the Schengen zone. The ETIAS is not exclusive to any country in Europe. If you obtain an Estonia ETIAS, you can visit all the countries part of the Schengen agreement.
Verify with the iVisa.com Visa Checker if you need an ETIAS for the countries you would like to visit in Europe.
Citizens of Uruguay can get the Estonia ETIAS and travel to Europe!
How long is the Estonia ETIAS valid for?
The Estonia ETIAS is valid for 3 years since the issued date. Citizens of Uruguay can stay up to 90 days in Estonia or any other Schengen with the ETIAS. The authorization document allows visitors multiple entries, so use it as many times as you want.
Estonia is ready for citizens of Uruguay. Check the application here!
What info do I need?
You need to provide personal details such as name, nationality, passport number, etc. As well, give information about medical history, previous trips, and criminal records.
Citizens of Uruguay should have these items ready:
Passport scan, iVisa.com will check your photo and information.
A valid email address to receive the ETIAS document.
Payment methods, iVisa.com charges a small fee for the service. You can pay with a Paypal account or a credit/debit card.
Reach out to our incredible support team in case you have some doubts.
What are the procedure times?
iVisa.com knows time and budget are relevant for the ETIAS process, so evaluate the next alternatives:
Standard service, in case you need an affordable method to obtain the Estonia ETIAS.
Rush service, a quicker option for a fair price.
Super Rush service, when you can't wait, you can choose the fastest option.
What steps do I need to follow?
Citizens of Uruguay need to follow these three steps:
First, fill out the information requested in the electronic form and select a processing time (Standard, Rush, or Super Rush).
Second, check the answers carefully and decide how to pay, use a credit/debit card, or a Paypal account for payment.
Third, attach the documents required, like the passport scan.
You are ready to travel! Citizens of Uruguay can start the ETIAS process here.
How will I receive the ETIAS?
iVisa.com will send the ETIAS to the email address you specified in the application. When citizens of Uruguay receive the ETIAS, they must print it or save it in an electronic device. Upon arrival, they should show the authorization document to airport officials for a smooth entry to Estonia.
Do children need an Estonia ETIAS?
For sure! Every visitor traveling to a Schengen country with a visa exemption has to acquire an ETIAS. The requirement includes children, so you will need to get an ETIAS for them too.
How safe is ETIAS with iVisa.com?
Very safe! iVisa.com works with the highest security standards and plenty of travelers have trusted iVisa.com in the past. Read more about our customers' opinions and confirm iVisa.com is your best option.
How can I get more info?
Contact our fantastic customer service team that is available 24/7 or keep exploring iVisa.com main page to know more about our travel services.
Apply and get your ETIAS!