Estonia is a great stop during a Eurotrip, but international travelers should check beforehand to make sure they are aware of the new entry requirements.
Estonia and all the countries forming part of the Schengen agreement are requesting a new entry document known as ETIAS. The ETIAS authorization needs to be obtained by citizens from countries exempt from a Schengen visa, like citizens of Tuvalu.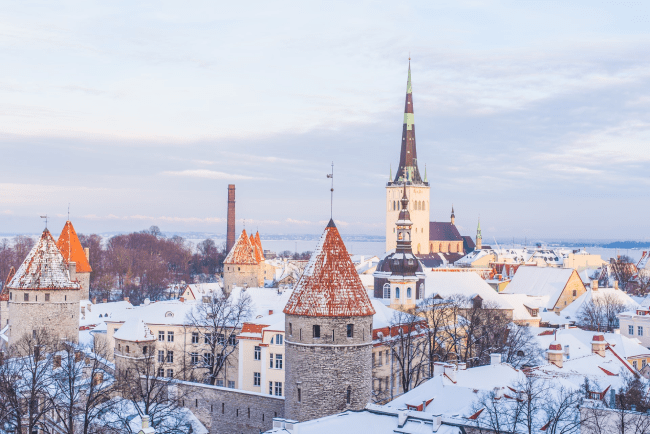 Traveling to Estonia is easy with iVisa.com, you can start the ETIAS application with iVisa.com's support and enjoy a fast, simple, and 100% reliable product.
The journey is just beginning so continue reading about Estonia ETIAS.
Frequently Asked Questions (FAQs)
WHAT IS THE ESTONIA ETIAS?
ETIAS is the European Travel Information and Authorization System. The European Union has established this new entry requirement for over 60 countries that are presently enjoying visa-free access to the Schengen zone. Among those countries is Tuvalu, which means citizens of Tuvalu will be required to apply for an ETIAS before arrival.
Due to safety concerns, the EU authorities have decided to move forward with ETIAS so they can gather information from non-EU travelers. This will give them better databases to secure European borders and detect potential threats.
It's time to travel to Estonia! Begin the application.
IS ETIAS SIMILAR TO A VISA?
No, both documents are completely different. Visas are often a long process that includes interviews at the embassy, paperwork, and extensive processing times. On the other hand, ETIAS is simple. You only need to access the application with an internet connection, complete the online form and you are ready to travel.
Remember that citizens of Tuvalu can apply for the Estonia ETIAS because they don't need a visa to enter the Schengen area.
Go to the application page and start your adventures with iVisa.com!
HOW MANY COUNTRIES CAN I VISIT WITH ETIAS?
ETIAS gives access to the 26 countries in the Schengen zone, including Estonia. Try the iVisa.com Visa Checker in case you want to know what countries require an ETIAS.
HOW LONG IS THE ESTONIA ETIAS VALID FOR?
The Estonia ETIAS is valid for up to 3 years and you can travel as many times as you want. Still, you can only stay in the Schengen area for up to 90 days.
Estonia can be your next destination, start applying here!
WHAT INFO DO I NEED FOR ESTONIA ETIAS?
You need to provide details about name, address, date of birth, citizenship, etc. Also, detailed information about criminal records, health conditions, and past travel history. The online form is easy to complete and be sure to answer with honesty as your information will be checked with other international databases.
The next requirements are relevant too:
The scan of your passport with a clear view of your details and photo.
A valid email address.
Payment options, pay for the service with a Paypal account or a credit/debit card.
Have some questions? Contact the support team for any inquiries about the Estonia ETIAS for citizens of Tuvalu.
WHAT ARE THE WAITING TIMES?
iVisa.com manages three options for waiting times, check next:
Standard, an average waiting period to get the ETIAS.
Rush, in case your trip is very soon, go for the rush option.
Super Rush, the minimum waiting time for the highest fee.
Not sure what to choose? Reach out to our customer service to give you the best advice regarding the Estonia ETIAS for citizens of Tuvalu.
WHAT IS THE PROCESS FOR THE ESTONIA ETIAS?
First, respond to the questions in the electronic form. Then pick a waiting period.
Second, review your information and correct any mistakes. Proceed to pay with a credit/debit card or using a Paypal account.
Third, upload the documents required, like the scan of your passport.
After these three steps, you will receive your Estonia ETIAS for citizens of Tuvalu! Start here!
WHAT WILL I RECEIVE IN MY EMAIL?
You will receive the ETIAS document in your email inbox. Decide to print it or keep it secured on your mobile phone. As soon as you arrive in Estonia, show your ETIAS to airport officers so you can have a smooth entry. Remember that the ultimate decision of your entry depends on border control, so keep the correct documentation with you at all times.
HOW SAFE IS IVISA.com?
It's 100% safe. iVisa.com works with high-quality systems and trains its teams with the best security guidelines so travelers' information is managed carefully. Check the customers' reviews to know more about iVisa.com and the Estonia ETIAS for citizens of Tuvalu process.
WHERE CAN I OBTAIN MORE INFO?
Connect with the support team that is available 24/7. Our amazing support agents can answer any questions you might have.
Apply now and get your Estonia ETIAS for citizens of Tuvalu!