If you're a citizen of Taiwan, then you should not have much difficulty entering Estonia, as it is a country that doesn't require many documents at the airport at the moment. However, with evolving times, it'll soon be mandatory that you have an Estonia ETIAS to enter the nation and enjoy what this stunning European country has in store for you. For this reason, we invite you to read this article to know the exact steps to apply for an Estonia ETIAS for citizens of Taiwan.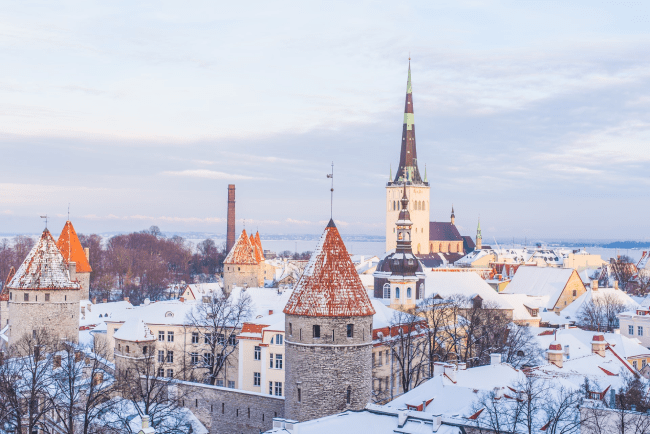 The ETIAS is a relatively new document so there might be some more updates and changes in the coming future regarding its eligibility and application process. So, you can keep an eye on this webpage to see if there's something new coming your way. Remember that in iVisa.com we focus on offering you the useful and necessary information to facilitate your travel plans in the best manner.
You should also be mindful that the ETIAS can be obtained from an official government website or with iVisa.com's online form. By choosing iVisa.com, you can rest assured that the process will be a lot simpler and less time-consuming.
Read along the below-mentioned FAQs to learn more.
Frequently Asked Questions (FAQs)
WHAT DOES THIS ETIAS MEAN?
ETIAS is an abbreviation for European Travel Information and Authorization System, a recently developed system, that provides successful applicants with an online document to facilitate the supervision of foreigners entering Schengen countries, including Estonia.
The ETIAS will be necessary to enter the Schengen Zone area, and it's mandatory for any foreign traveler to possess one. As you may already know, citizens of Taiwan are included in this as Taiwan is one of those countries that require the ETIAS.
WHICH ARE THE COUNTRIES THAT FALL UNDER THE SCHENGEN ZONE?
As we mentioned previously, the Estonia ETIAS for citizens of Taiwan can be used only in the Schengen Economic Area, which includes the following countries: Estonia, Hungary, Iceland, Italy, Austria, Denmark, Finland, Estonia, Germany, France, the Czech Republic, Liechtenstein, Lithuania, Luxembourg, Norway, Malta, Belgium, Latvia, the Netherlands, Poland, Portugal, Switzerland, Slovakia, Spain, Slovenia, and Sweden.
WHAT ARE THE REQUIREMENTS FOR ME TO RECEIVE THE ETIAS?
By using the services provided by iVisa.com, you won't need to spend long waiting hours, because you'll only need to provide the following:
A copy of your passport that has a valid expiry ensuring that it is good to go at the time of your travel.
Your email address to communicate and receive the ETIAS.
Payment alternatives like a credit/debit card or a working Paypal account.
HOW LONG ARE THE PROCESSING TIMES AND WHAT ARE THE PRICING OPTIONS FOR THE ETIAS?
Unfortunately, the exact pricing for the process of obtaining the Estonia ETIAS for citizens of Taiwan is not available yet. However, we will be updating our website as soon as we have a concrete update from the respective authorizing bodies. So keep on checking this space, to be updated on this important document. You will be informed about the same in due course of time by the iVisa.com team once you are able to start your online application process. However, what we can let you know right now, is about the 3 processing options that iVisa.com offers. They vary in price according to how fast you need your document to be processed:
Standard Processing Alternative: The least expensive that comes along with the longest waiting time.
Rush Processing Alternative: This option has an average waiting but a more expensive price than the previous alternative.
Super Processing Alternative: This is the most expensive option of all three because it has the fastest processing time.
HOW SHOULD I APPLY FOR MY ESTONIA ETIAS?
You can obtain the Estonia ETIAS for citizens of Taiwan by using an official government website. The only problem that you might encounter by doing so is an elongated process, having to answer lengthy questions in the application form providing detailed information about your personal life. Using iVisa.com's service, just perform the following steps to apply for this document in a jiffy:
First, answer a few basic questions present in the online application form. After that, you can select the processing option that fits your requirements.
Second, take a look at all the information that you have punched in, including the spellings, and then continue with the payment part by using your credit/debit card or a Paypal account.
Third, make sure that all the requirements have been double-checked, and lastly, send the online form.
After that, all that is needed is to wait for your document approval depending on the processing time you selected.
I'M TRAVELING WITH MY KIDS, WHAT ELSE DO I NEED?
If you are planning to travel to Estonia with your children, be aware that even your kids need their individual ETIAS documents. In fact, every foreign tourist from the list detailed above will need this ETIAS document to enter the country without any fuss. For further information and recent updates, you can contact our hardworking and helpful support team to gather more detailed information about this matter.
IS IT SAFE TO APPLY FOR THE ETIAS WITH IVISA.com?
iVisa.com takes all the necessary precautions to keep your information provided on the website, completely safe from any misuse or other fraudulent activities. Thus, you can be 100% sure that it's safe to apply for your ETIAS using iVisa.com's service.
I HAVE SOME OTHER QUESTIONS, WHERE CAN I GET MORE INFORMATION?
After reading through this information, if you have further questions in mind about the Estonia ETIAS for citizens of Taiwan, you can contact our customer service work team for further attention to your queries or you can also find other useful tips by checking out the iVisa.com webpage.
So, stop worrying, and start planning, iVisa.com will help you to take care of all the necessary documentation in just a few clicks to allow you to travel to Estonia here.