Timor might be the ideal destination for many travelers, with its calm lifestyle, unspoiled scenery, and brilliant diving spots. But, for the locals, visiting another country such as Estonia that has its own unique vibrant culture, and historical significance can be fascinating too.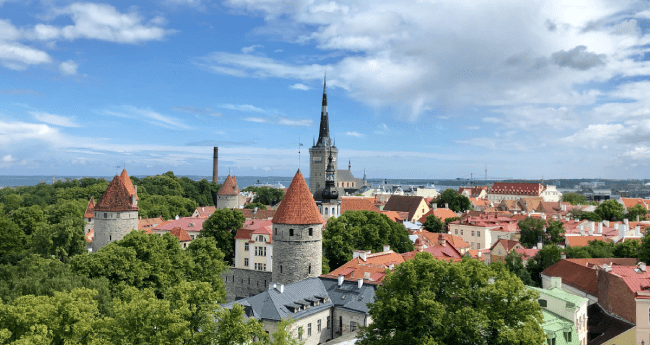 To visit Estonia in the future, citizens from Timor will need to apply for online ETIAS authorization. It's a new implementation to pre-screen visitors arriving from visa-exempt countries to any of the Schengen states, including Estonia.
As part of this article, there are many useful FAQs which will guide you through the concept and purpose of the Estonia ETIAS for citizens of Timor and give you all the relevant information and support of iVisa.com for the online application process.
Frequently Asked Questions
WHAT IS THE ETIAS FOR?
The ETIAS is a travel document that pre-screens and authorizes all citizens from Schengen visa-exempt countries who plan to arrive in the Schengen states.
CAN I VISIT MORE THAN ONE COUNTRY PER TRIP WITH ETIAS?
An Estonia ETIAS for citizens of Timor allows the traveler to visit one or more of the countries which are members of the Schengen Economic Area. Because the validity of ETIAS is for up to 3 years you can visit the countries more than once with multiple entries option. The only limitation is that you can't stay for more than 90 days in 180 days.
CAN CITIZENS OF TIMOR VISIT ALL EUROPEAN UNION COUNTRIES WITH ETIAS?
With the Estonia ETIAS for citizens of Timor, you can visit any of the ETIAS members; which includes all of the Schengen states. Therefore, you can visit any of the Schengen countries some of which are part of the European Union. Use the handy Visa Checker here to find out what documentation you need.
WHAT IS THE ETIAS VALIDITY FOR CITIZENS OF TIMOR?
Your Estonia ETIAS for citizens of Timor is valid for a maximum of 3 years, however, the final duration is determined by the ETIAS system post-application analysis. In this time, you can enter any of the Schengen countries multiple times. Your Estonia ETIAS will only lose its validity before this time if the passport it's linked to expires before.
FOR HOW LONG CAN I STAY IN DENMARK WITH ETIAS?
Your vacation to Estonia with an ETIAS can be for a maximum of 90 days in 180 days. And this applies to any country in the Schengen Area. You may decide to stay the entire 90 days in Estonia or move around the continent.
WHAT DOES THE ETIAS APPLICATION NEED?
Applying for the ETIAS approval is as simple as pie. Simply input your biometric data, for example, your first name, last name, and date of birth. Include data about your citizenship, contact subtleties, and other essential data. To conform to security methodology, you additionally need to reveal individual data, for example, criminal records or ailments.
CAN I REQUEST AN EXPRESS APPLICATION PROCESS FOR ETIAS?
If you want to get your Estonia ETIAS for citizens of Timor faster, iVisa.com can help you with that. Their system takes you through three easy steps, in which you can specify how fast you need the document to be ready.
The iVisa.com processing speeds are:
Standard processing: After the questionnaire is filled out and submitted, your ETIAS results will arrive within 24 hours.
Rush processing: It's a very fast processing speed with which you receive your ETIAS authorization in 4 hours.
Super rush processing: The fastest processing time for your application which can deliver results in 30 minutes after submitting the form.
IS THE ETIAS APPLICATION FOR CITIZENS OF TIMOR DONE ONLINE?
All Estonia ETIAS application processes are completed digitally, this includes for citizens of Timor. If you want to ensure your application goes through a fast process and will be delivered in less than 24 hours, you might want to use iVisa.com services.
The application process with iVisa.com is simple with a couple of easy steps:
Start by filling out the online form with your data, and pick a processing speed.
Check that the information on the first part is correct, and make the online payment.
The last part includes a poll. You need to answer the questions and might need to add the documents requested by the ETIAS system.
After it's all done, submit your form. You will only need to wait for the ETIAS results to appear in your email inbox.
HOW SECURE IS MY INFORMATION ON THE IVISA.com PLATFORM?
Part of our service is to make sure your application form is delivered and answered within the expected time. And yet, the most important part is to ensure the security measures of our platform and databases are watertight so your information stays well-kept online and far from digital threats.
If you're still not sure about using iVisa.com to get your Estonia ETIAS for citizens of Timor, have a glance at some of our customers' reviews about our services here.
WHO CAN I CONTACT IF I HAVE ANY MORE QUESTIONS?
There is so much information on the internet that readers often feel confused about what data to trust. Understanding this, we're always ready and willing to help you solve any doubts related to the ETIAS document and application process. Just drop us a message with your question and we can guide you through the info. You can also browse through the iVisa.com website for more information on electronic visas.