You need a Visa on Arrival or a similar document to enter Ethiopia, but you should know that these documents aren't difficult to obtain. You should also take into account that it's possible to have an Ethiopian Visa Extension, but only after you've entered the country, and to enter this country you must show other documentation first.
Unless you are from a visa-exempt country, it's still necessary to apply for an Ethiopian eVisa before entering. It's also possible that in any health emergency, you need a Health Declaration. If you want to have a better idea of ​​what you might need when entering this country, you can use iVisa.com's Checker Tool.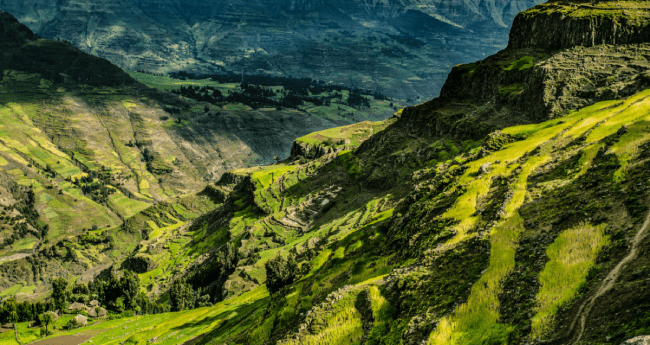 Using this tool is very easy. You just have to select your country in the drop-down menu and also select Ethiopia as your destination. Once you finish this part, you'll immediately know what kind of documents you need to enter, or even if you don't need a visa!
Regardless of the documents, you need to enter, iVisa.com can also help you process the most important, which are the Ethiopian eVisa and the Health Declaration. As a plus, you can apply for both documents using a modern platform with high-quality results that won't risk your information, and by only spending about 20 minutes completing an online form.
Frequently Asked Questions (FAQs)
We recommend you continue reading the information below to know what steps are required to safely request these documents. This way, you'll avoid any inconvenience once you arrive at Ethiopia's airport.
What do I need to enter Ethiopia?
To enter Ethiopia, you need to have an Ethiopia eVisa. The good thing is that you can get this document through an online process.
You might also need a Health Declaration at the moment of your arrival depending on the sanitary restrictions the country has. Please, remember that without any of these documents, especially the Ethiopia eVisa, you will have a denied entry. You can ask for your digital Ethiopia eVisa before traveling with the help of iVisa.com.
Apply for your documents here.
How can I get my Ethiopia eVisa?
You can get this document through an online process so you can save a lot of time. There's no need to go to the embassy, so we recommend you to use iVisa.com's service in order to get a high-quality product at an affordable price and the fastest way possible.
Can I apply for both the eVisa and the Health Declaration at the same time?
In case you need to apply for an Ethiopian Health Declaration, then you must apply for this document aside from the eVisa. Fortunately, you can check on iVisa.com's website if you need the Health Declaration and you'll probably know at once if you can apply for this document with iVisa.com's service.
What you should know for sure is that the Ethiopian eVisa must be shown to the Immigration Authorities once you arrive there to be allowed to enter the country. iVisa.com can assist you in processing this document directly, even at the airport of Ethiopia thanks to the fast service we have.
Apply for your Ethiopia eVisa and your Health Declaration on iVisa.com´s website.
What documents are required to apply online?
To obtain the Ethiopian eVisa and other documentation with iVisa.com, you'll need to provide the following list of requirements:
Valid passport: you'll need to submit a scan of your passport information page.
Applicant Photo: It's important to have a valid passport-sized photo for your process. You can check iVisa.com Photos to process your photograph the fastest way possible. You'll get your photo ready to use using this tool.
Valid Email Address: remember that you'll receive the document via email, so you must provide a valid email address.
Payment Options: you can have your document as soon as possible by paying the document's fees, and that includes iVisa.com's service. You can pay for this service with a credit/debit card.
What are your processing times and prices?
iVisa.com designed an easy-to-use process with a high-intuitive platform ready to provide you with the document quite fast. But, for you to receive it properly, you must pay a price that includes the Government's fee and also the cost of our service. However, you shouldn't be worried about it since you can choose one of the following options according to how fast you need your document:
Standard Processing Time – Your Ethiopia eVisa will be ready in

3 Business Days

by paying

USD 78.99

(this price includes the service fees).
Rush Processing Time – You'll receive your document in

2 Business Days

, and the full price for it is a total of

USD 141.99

(service fees are included).
Super Rush Processing Time – This is our fastest option, so you can have your document ready in just

12 hours

as long as you pay

USD 183.99

(all the fees included).
Get ready for your application by clicking here.
How can I apply for my Ethiopian eVisa?
Asking for your Ethiopian eVisa and Health Declaration with iVisa.com is the simplest and most trustworthy way to receive these documents from the comfort of your own home. Also, we have a platform that's quite steady and modern. You can get your document ready in a few minutes by following this process:
First, complete your application form here by replying to a short set of questions related to your trip. After that, you're ready to choose your favorite processing time.
Second, check the information you have provided so you can follow up with the payment by using your credit/debit card.
Third, upload the scanned copy of your passport as well as other documents (if required) and send the online form to finish the process.
After that, iVisa.com's work team will take care of the hardest part, which is to deliver this information to the official Ethiopian authorities so you can receive your eVisa and your Health Declaration on time.
Can I apply for family members or friends?
Yes, you can apply for family or even close friends. For this, you will need to have their basic details and the same documents that you saw previously, as this is essential to have a successful application.
Now, remember that if you travel with them, it's better to simply click "new applicant" and include their details. You'll need to pay for their documents anyway, but it'll be faster to process them and you won't have to provide the information one by one.
What should I do if I travel with children?
If you take the trip with children, then you should have a valid birth certificate and/or adoption certificate on hand to avoid any issues.
This is important for any child, whether the child is biological, adopted, or just a companion.
Is it safe to apply with iVisa.com?
You can feel sure about our service since iVisa.com's platform is totally safe and it has an updated system that avoids any information leak. Although we're not directly linked to the Ethiopian government, we are an experienced company that has a professional work team available to process your documents the fastest way possible. In case you still feel unsure about this, you can check what other people say about us on our reviews.
If I have more questions, where can I find more help?
Consider that our agents are ready to help you at any time! so you can contact them whenever you feel like you need extra assistance. Also, you can send an email to [email protected]
Start planning your dream trip to Ethiopia today by applying for your eVisa! You're just one click away from such a wonderful destination!