There are many countries that are trying to boost their tourism by trying different strategies to make that happen. One of those strategies is releasing a visa online. That is the case of Ethiopia. Nowadays, it is no longer necessary to go to the embassy to obtain a visa. With the help of iVisa, you can apply online from the comfort of your house, your office or wherever you want and we handle the rest.
Below, you will find answers for the frequently asked questions about the Ethiopian eVisa.
PLEASE NOTE that the data you will find below can change depending on your nationality. It is based on the requirements for US citizens.
Frequently Asked Questions (FAQs)
Do I need a visa to visit Ethiopia?
It depends on your nationality. For that, you have to verify if you're eligible or not for an Ethiopian eVisa on this page. Once you are on that page, select your home country and the country you will travel and you'll get all the information that you need.
If you are required to apply for an Ethiopian eVisa, you can do it by clicking here.
What is an electronic visa?
This e-visa is a legal permission that authorizes you to enter Ethiopia.
How long can travelers with an eVisa remain in Ethiopia?
Voyagers can stay in the nation of Ethiopia only for 30 days in Total. This is a Tourist Visa, this means, you can travel to Ethiopia only for business or tourism purposes. It is forbidden to seek for paid work or employment.
Can you tell me the requirements to apply?
Prior to application, we recommend that you gather all the documents you are required to provide. This is a short list, and it is probable that you already have everything you need.
Applicant Photo

Passport Personal Details Scan

Last Page of Passport (if applicable)
What is the validity of the Ethiopian e-Visa?
It has a validation for 30 days after arrival.
What are the processing times and prices?
We have created 3 alternatives,so you can choose one that suits your needs:
Standard processing – your visa application is processed in 3 Business Days, and the price is USD 75.99 (service fees included).

Rush processing – you will receive your visa within 2 Business Days, and the total price of it is USD 141.99 (service fees included).

Super rush processing – this is the fastest option. You will get your Ethiopian eVisa in only 12 hours, and you will be charged USD 183.99 (service fees included).
Click here to start your request.
How does the Ethiopian eVisa work?
The Ethiopian eVisa is issued electronically by the Ministry of Foreign Affairs of the Ethiopian Government.
Travelers, travel agents, airlines and specialist service providers like us around the world can use the Ethiopian eVisa system to process an eVisa. We enter the applicant's information into the Ethiopian eVisa system and after they review it, we are advised of the outcome of the eVisa application.
How long do I need to request an Ethiopia e-visa?
You will need 10 minutes. That's all you need to do, iVisa will handle the rest! Then, we'll let you know via email about your request.
What are the steps to follow to apply for an Ethiopia e-Visa?
You just need to follow three simple steps:
In the first place, fill in your general information. You also need to pick the procedure time.

In the second place, review your form and make the corresponding payment.

Finally, you have to complete the questions about yourself and attach the documents. In some cases, you will asked to upload additional documents.
Click here to begin. After you are done, send it and wait for your visa to arrive. In case you need assistance to fill your application, iVisa has an excellent support service that you can call 24/7.
What should I do once I have already applied?
Once the application is done, you'll get the Ethiopia e-Visa through email. No need to deal with the embassy. We do it for you so you don't lose valuable time.
Remember that when you travel to Ethiopia, you have to show your electronic visa together with your passport.
How many entries do I have with an Ethiopia eVisa?
You'll obtain a Single Entry.
Do my children need to obtain an eVisa from Ethiopia? ?
For sure. Every visitor who wants to go to Ethiopia must obtain a visa, including children.
How can I apply for my family or friends?
First, gather all the requirements. Then, apply here. If you want to apply for more people, just click on 'Add new applicant' in the online form and fill out the information.
Do I need an eVisa if I am in transit through Ethiopia?
If you do NOT plan to leave the transit lounge at the airport while in Ethiopia, then you are NOT required to have an Ethiopia eVisa. Otherwise, if you want to leave the airport, then you HAVE TO apply for an Ethiopia eVisa.
How do I know if my visa is approved?
We will notify you by email as soon as the Ethiopian government approves your visa.
How does the Ethiopia eVisa look like?
This is how it looks like: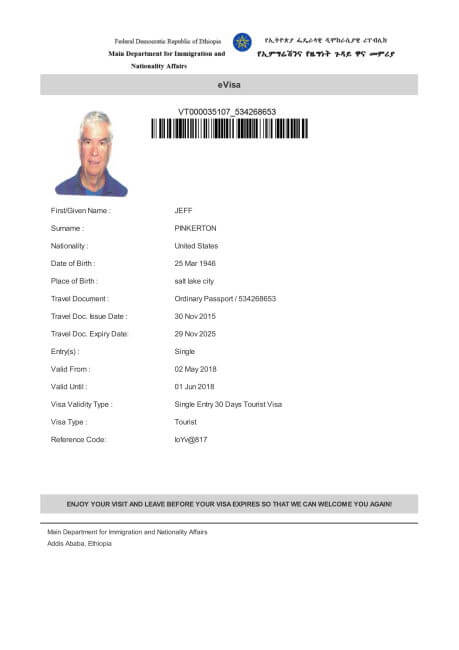 What can I do if I make a mistake in my application?
In that case, contact one of our customer service representatives as soon as you can and they will help you.
Your Ethiopia eVisa is linked to your passport number. It means that if we already submitted your request, you won't be able to make any adjustments and you'll have to apply again, but you won't pay extra money for the service fee.
Is it secure to use iVisa service to get my Ethiopia electronic visa?
It is normal for you to think that your information may be in danger and that it may be exposed to third parties. But, let me tell you that this does not happen with our services because we have an advanced system that allows you to protect the entire database avoiding any inconvenience. iVisa is a 100% trustworthy company. Read all the testimonials on this page.
I have more unresolved questions, where can I find more info?
Click here and start chatting with one of our customer service representatives. Besides, you can find additional info and FAQs here.