When it comes to traveling, it is becoming easier to go to another country and with iVisa.com it is an altogether relaxing affair. Our goal is to keep you updated to make your trip safer. And if your question is: Do I need a vaccine to travel to Ethiopia? , in this small section of questions you will find answers to any doubts you may have.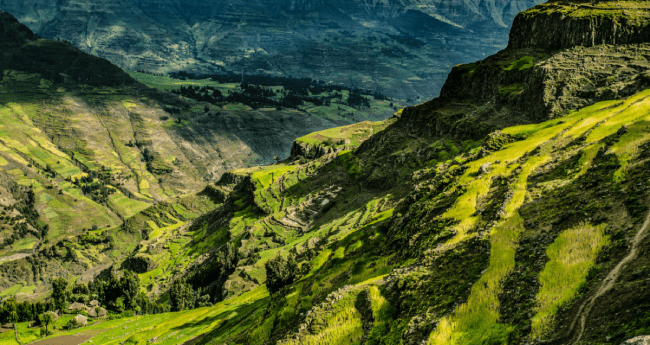 Learn more about this fascinating African country and discover all the sights it has to offer an adventurous tourist.
How do I get a visa with iVisa.com?
If you wish to have an Ethiopia eVisa with our services, we recommend you to do the following:
Complete the application form with your private information.
Review your answers to avoid mistakes and choose your preferred processing time to pay the fee.
Attach the items required , then hit submit. The document will be sent to your inbox when it has been approved and processed.
After that, you're done! We make it simple for you. Get started
Frequently Asked Questions
Do I need a COVID vaccine or vaccination certificate to enter Ethiopia?
No, you don't. As of today, COVID vaccination passports or certificates are not mandatory to enter Ethiopia.
Approved vaccines are Johnson and Johnson, AstraZeneca, Sinopharm, Sinovac, Moderna, and Pfizer. You are considered vaccinated if all doses of a vaccine against SARS-Cov-2 have been administered for at least two weeks before traveling.
Since information may change quickly, we advise you to follow up on the latest Ethiopia travel updates and/or contact your local embassy.
Do I need a COVID-19 test result to enter Ethiopia?
COVID test prior to arrival: PCR within 72 hours or antigen within 24 hours for unvaccinated travelers.
COVID test exemptions: Children under 12 and fully vaccinated travelers
Can iVisa.com help me get an Ethiopia eVisa and a Health Declaration?
Yes, we can! We're ready to help you process your document in the easiest and fastest way possible. Start the process here.
What requirements are necessary to travel to Ethiopia?
If at this moment you are keen to know Do I need a vaccine to travel to Ethiopia? , iVisa.com can tell you that you don't need any specific vaccines.
You may have to show proof of your yellow fever vaccine and are recommended to check for malaria and cholera outbreaks in the regions you plan to visit. But for now, you can relax, safe in the knowledge that you can apply for your eVisa in three simple steps:
Complete the application form with your personal information.
Pay the processing fee, making sure your details have been spelled correctly.
Upload any essential copies of your documents and apply.
Do I need to quarantine when I get to Ethiopia?
Quarantine requirements: There are no quarantine requirements.
What price ranges can I find on iVisa.com?
iVisa.com offers 3 processing speeds to help you get your Ethiopia Tourist eVisa in the timeframe that suits you. The options are as follows:
Standard Processing : This speed is perfect for those who have a lot of time available and it is the lowest price

USD 87.00

-

3 Business Days

.
Rush Processing : When your flight is approaching soon but you will have to pay a little more

USD 117.00

-

2 Business Days

.
Super Rush processing : If your trip is emergency and your flight is today, choose this option, but you will have to pay a higher rate

USD 152.00

-

12 hours

.
You can pay using a variety of methods- with a debit or credit card, as well as with Paypal.
How long can I stay in Ethiopia with an eVisa?
Applying for your travel document allows you to stay in the country for up to 30 days.
You can also use Visa Checker Tool to find out how long people of your nationality can stay in any country. This feature was created for ease of use and to provide the maximum amount of information relevant to your unique travel situation.
Don't waste time worrying Do I need a vaccine to travel to Ethiopia? We can inform you that you don't. It's always good to check with a health professional before you set off though.
What should I do if my application is rejected?
If your request to enter Ethiopia is denied, you will find the reason why it was denied in the notification email. You can appeal this decision so check your email for details. If in doubt, contact a team member through the customer service center or, depending on the reason for the denial, you can adjust your application and reapply. This applies if the names or numbers are misspelled.
That's why we recommend that you double-check your answers three times, to avoid having to charge you for another application!
Is iVisa.com safe to use?
Seeing how other major companies have experienced data theft in the past, we decided to address the security situation before it even had a chance to become a problem. The team makes your privacy its number one priority. The handling of confidential documents by you has made them security experts, and if you are unsure, check out what our users say about iVisa.com on the review page.
Where can I read more information?
If you are still not satisfied with the answers to the question: Do I need a vaccine to travel to Ethiopia?, it may be time to contact one of the customer service advisers. They are waiting to hear from you, at any time of the day or night, in the online chat. Click on the Ethiopia page for updates.
iVisa.com suggests
Many people visit Ethiopia to bear witness to the orthodox Christian movement that founded many of the stunning stone churches in Lalibela. The Simien Mountains are a wonderful destination for keen hikers, and you can also take advantage of this opportunity to see some of the local wildlife of Ethiopia.
Also, in Ethiopia, you can find many wonders both natural and man-made. A recommended place to have a good time and learn more about the wildlife of this country is the Simien National Park, located within the Amhara region. This park contains the Ras Dashen, the highest peak in Ethiopia and the fourth in Africa.
Another unforgettable place is the Blue Nile Falls, a great waterfall located in the course of the Blue Nile River, in Ethiopia, considered one of the most important in Africa. These falls are considered one of the best-known tourist attractions in Ethiopia.
If you are not afraid of volcanoes, then you can also explore the Erta Ale volcano. This basaltic shield volcano is found in the Horn of Africa, in the Afar depression region. It is currently active, although its last eruption was in 2009. To walk around its surroundings you should only do it with professional guides.
As you can see, there is much to do in Ethiopia, so prepare your trip from now on applying online for your documents.