One of the countries that opted to issue eVisas is Ethiopia. This is great news for Greek citizens who plan to travel to Ethiopia since Greece is one of the countries that can opt for the Ethiopian eVisa.
You can apply online for this document with iVisa. All you need to have is a computer or any electronic device with internet connection. You can learn more about this document with the information below.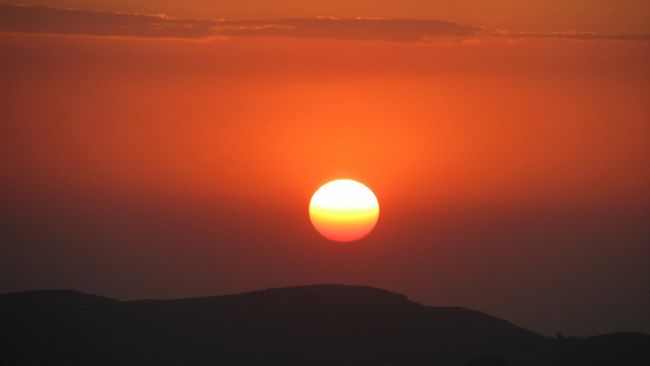 Frequently Asked Questions / FAQs
Do Greek Citizens need a visa to enter Ethiopia?
Yes, they do. Any foreign citizen entering Ethiopia needs to apply for an e-Visa.
What is an Ethiopian e-Visa for Greek Citizens?
The Ethiopian eVisa is a document that permits you to enter Ethiopia with an electronic link in your passport.
How long can Greek citizens stay in Ethiopia?
Visitors from Greece can stay in Ethiopia only for 30 days Total. During your stay you can't get paid work. All visits are limited to tourism only.
How many entries am I allowed to have with my Ethiopian e-Visa?
You can have a Single Entry.
What are the requirements for this eVisa?
The online process created by iVisa is quite simple, and you don't need much to get started. We will do most of the work but you still need to provide a few things to help with your application. Here is a list of what you need to provide:
Applicant Photo

Passport Personal Details Scan

Last Page of Passport (if applicable)
iVisa will send you a copy of your eVisa even if it is linked to your passport electronically. You will be required to show it at the immigration office. The delivery system is via e-mail in PDF format, so make sure that you provide a valid and accurate e-mail address.
You also need a valid payment option (credit/debit card or PayPal account) to pay iVisa's fees.
How long is the eVisa valid for?
This document is valid for 30 days after arrival
What are the processing times and fees?
iVisa almost always provides three processing times that fit every need and every pocket. Here are our options and the cost for each of them:
Standard Processing Time – if you choose this option, your eVisa will arrive in 3 business days days, and you will be charged USD 87.00.

Rush Processing Time – this time, your application will be ready in 2 business days, and the cost is higher, USD 117.00 to be more specific.

Super Rush Processing Time – your application will be ready in only 12 hours, but as you may expect, the cost is higher. You will spend USD 152.00.
How much time do I need to apply?
You'll only need 20 minutes to complete the online form.
How can I apply?
iVisa's online form is really simple compared to other forms that can be complicated. If you need further assistance, iVisa has an amazing 24/7 support service. You only have to give them a call so that they can help you every step of the way.
The process is divided into three simple steps:
The first one will ask you to fill in your general information like name, address, passport info, and so on. You must also choose a processing time.

The second step consists of payment and revision. You have to provide correct information since mistakes can lead to denial of the application. Once your application is processed, corrections are no longer possible, and the fee is non-refundable.

The third step consists of additional documents upload. Depending on the case, some Greeks will require to upload several things. Hit the submit button once you're done and wait for your visa to arrive via e-mail.
Remember that the Ethiopian eVisa is only for tourism and family visits.
What should I do if I travel with my children?
If you want to travel with your children, you have to ensure that you're in possession of a valid birth certificate and/or adoption certificate.
Can I enter anywhere with this e-Visa or only at certain places?
The entry point is only through Addis Ababa Bole International Airport. Other points of entry require a consular visa.
What should I do if I'm only in the International Transit Area?
In this circumstance, you won't require an e-Visa, as long as you remain in the International transit area. We suggest you stay in this area to avoid any inconvenience.
How does this eVisa look like?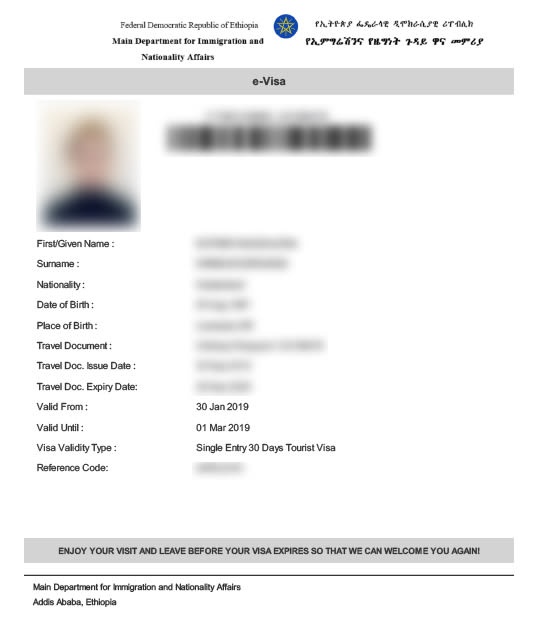 Is it ok to apply for this e-Visa with iVisa?
We've been building a trusting community with our customers, so we can guarantee that it is completely safe to apply for a visa with us. You can read our testimonials if you don't feel sure about it.
Where can I read more about Ethiopia?
Do you want to have a faster resolution? Click here and start chatting with one of our customer service agents. Remember that you can also read more info about this country here.
Start now your Ethiopian Visa process. iVisa makes it easy to apply for and receive your Ethiopian e-Visa, and the best part is that it comes with a 9.5 'Excellent' rating from over 19,000 reviewers on Trustpilot. Contact us today to apply for your Visa!