A lot of nationalities are eligible for an eVisa when traveling to Ethiopia for tourism purposes, and that includes Somali Citizens. Consequently, you can apply for your Ethiopia eVisa online, and iVisa can help you obtain it in just 12 hours. However, this e-visa is only valid if you enter Ethiopia via the Addis Ababa Bole International Airport. Any other point of entry you may use requires a consular visa.
If you want to know more details about this document, then keep reading this article.
Frequently Asked Questions // FAQs
Do Somali Citizens need a visa to enter Ethiopia?
Yes, Somali citizens need a visa to enter Ethiopia, but it can be an eVisa.
What is an Ethiopian e-Visa for Kuwaiti?
It's an authorized document that gives you permission to enter Ethiopia with an electronic link in your passport.
How long can Somali Citizens stay in Ethiopia?
You can stay in Ethiopia for 30 days in Total if you're from Somalia. During this time, you mustn't get paid work or employment.
How many entries am I allowed to have with my e-Visa?
You can have Single Entry.
What documents are required to apply?
Before you access the application page to fill in the form, we suggest that you first make sure that you have everything necessary for the process. Fortunately, you should not go through too much trouble to get what you need, which is as follows:
Applicant Photo

Passport Personal Details Scan

Last Page of Passport (if applicable)
iVisa will send you a copy of the Ethiopian eVisa via e-mail even if the visa is linked to your passport. That's why you'll also require *a valid e-mail address. Don't forget that you must pay iVisa's service with a valid payment option, which can be a Credit/Debit Card**.
What about the processing times and also the fees?
iVisa has affordable prices according to your need. The fee depends on the processing time you want. In other words, the sooner you want your eVisa, the more you have to pay. The processing times are as follows:
Standard Option – if you select this option, your visa will arrive in 3 Business Days days, and you'll have to pay USD 102.99.

Rush Option – this time, your application will be ready in 2 Business Days, and the cost is a bit higher, USD 148.99 being more specific.

Super Rush Option – your application will be ready in just 12 hours, but as you may expect, the cost is a bit higher. You will spend USD 180.99.
Keep in mind that the eVisa you obtain provides you Single Entry, and you can use it only if you fly to Ethiopia and land at Addis Ababa Bole International Airport.
How can I apply?
After you handle the requirements, you can proceed and fill in the application form. You should not have any troubles in the process, but if you need help, iVisa's customer support is at your disposal 24/7 and it is free of charge.
The form you are asked to complete consists of three steps:
The first one asks you to provide your personal information, but you also need to select a validity period for your Ethiopia eVisa, as well as a processing time for your application. Both factors establish how much money you will be charged.

The second step requires you to make the payment and review your form so that the information you provide is 100% accurate. Otherwise, you can receive an invalid visa.

And finally, the last step asks you to upload your application's supporting documents. After you do that, you can submit your request and iVisa will take it from there.
What should I do if I'm only in the transit area?
In this circumstance, you don't need an e-Visa, as long as you stay in the airport transit area. We advise you not to leave this area in order to avoid any inconvenience.
Is it ok to apply for this e-Visa using iVisa's services?
iVisa has built a trust-worthy community with different customers around the world, so we can guarantee that it is completely safe to apply for a visa with us. You can read our testimonials to receive more information.
How does this eVisa look like?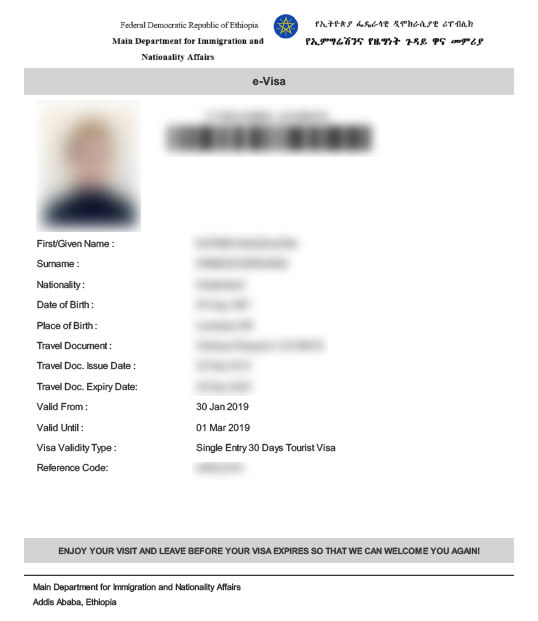 Where can I read more about this eVisa?
If you want a better resolution and you still have doubts, then you can click here and start talking to one of our customer service agents. Keep in mind that you can also read more info about this country here.
Start now your Ethiopian Online process. iVisa makes it easy to apply for and get your Ethiopian e-Visa. Contact us today to learn more about it!