As a citizen of Ghana, if you decide to travel to Ethiopia for tourism purposes, you can avoid the trip at the embassy to obtain a visa. This is possible because you're eligible for a Ethiopian eVisa.
iVisa can assist you with the online process to obtain this document. You could have it only 12 hours. However, bear in mind that the eVisa is only valid at the Addis Ababa Bole International Airport. Other points of entry require a consular visa.
To learn more about this document, keep reading the information below.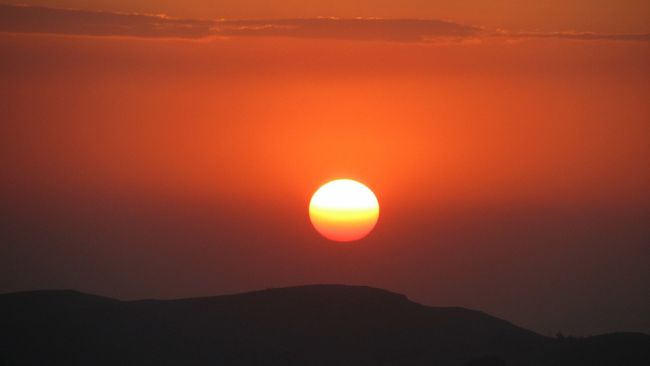 Frequently Asked Questions (FAQs)
Do Ghanaian Citizens need a visa to visit Ethiopia?
Yes, Ghanaian citizens must acquire a visa to enter Ethiopia, in this case, an eVisa, which can be obtained by applying online.
What is an Ethiopian e-Visa for Ghanaian Citizens?
It's a legal authorization that permits you to enter Ethiopia and it is linked to your passport.
How long can I stay in Ethiopia?
If you're from Ghana, then you can stay in this country for 30 days in Total. Don't forget that you mustn't get paid work or employment during your stay.
How many entries can I have with the Ethiopian e-Visa?
If you obtain your Ethiopian e-Visa, you can have Single Entry.
What are the requirements?
While the online application process is not as demanding as the one at the consulate, you still need to make sure that you meet the requirements. However, the list is not very long. Here is what you will need:
Valid passport – if you want to request an Ethiopia eVisa, your passport needs to have a validity of 6 more months from the departure date.

A passport scan – you'll have to provide a copy of your passport bio page.

Photograph – be sure that it's a recent image and meets all criteria.

Email – you will obtain your electronic visa through email. For that reason, ensure that you insert a proper email. Once you get your travel authorization, print it out.

Payment Options – just use a credit or debit card or if you have a PayPal account, you can use it, too.
How long is this eVisa valid for?
It is valid for 30 days after arrival.
What are the processing times and fees?
This will vary according to how soon you want your Ethiopian eVisa. The sooner you want it, the more expensive it is. Here are your options with iVisa:
Standard processing – this may be the slowest available option, but it is the cheapest as well. Your application is processed within 3 Business Days, and the fee is USD 87.00.

Rush processing – this time, things move a little bit faster. You receive your Ethiopia visa within 2 Business Days, but the fee goes a little bit higher. The sum of it is USD 117.00.

Super Rush processing – by selecting this alternative, you will wait 12 hours to obtain your visa and the payment will be USD 152.00.
How can I apply for the virtual form?
After you handle the matter of requirements, you can move on and fill in the application form. You should not find the task difficult, but iVisa's customer service is available 24/7 in case you need assistance.
The formulary designed by iVisa is broken down into 3 easy parts:
Enter your whole information. In addition, select the processing speed for your request. This choice will determine the amount of money you will spend. As for the latter, you are given three options:

Re-read your application and verify that it is free of errors, and then pay your online form.

In this section, you have to upload some documents. Once you're done, submit it and we will handle the rest.
To obtain an Ethiopia visa for the citizens of Ghana isn't a difficult process. It will be valid for 30 days after arrival, it gives you a Single Entry. It means that you can be there for a maximum of 30 days in Total.
What should I do after I finish my application form?
After you finish the online form you'll obtain the visa via email, so you shouldn't make any trip to the embassy unless it is strictly necessary.
Can I enter anywhere with the Ethiopian e-Visa?
No, you can't. The Ethiopian Government only allows foreign citizens with the e-Visa to enter the country at the Addis Ababa Bole International Airport. All other points of entry will require another type of visa.
What if I travel with my children?
If you have to travel with your kids, you must make sure that you have a valid birth certificate and/or adoption certificate.
What can I do if I am in the International Transit Area?
Only if you stay in the International transit zone, you don't need to request an electronic visa.
Is it ok to apply for this e-Visa with iVisa?
Yes, definitely! iVisa has been working hard to build a reliable community with different clients, that's why you can feel safe if you apply for your eVisa with iVisa. You can read our testimonials if you still have questions.
Can I see an example of the Ethiopian e-Visa?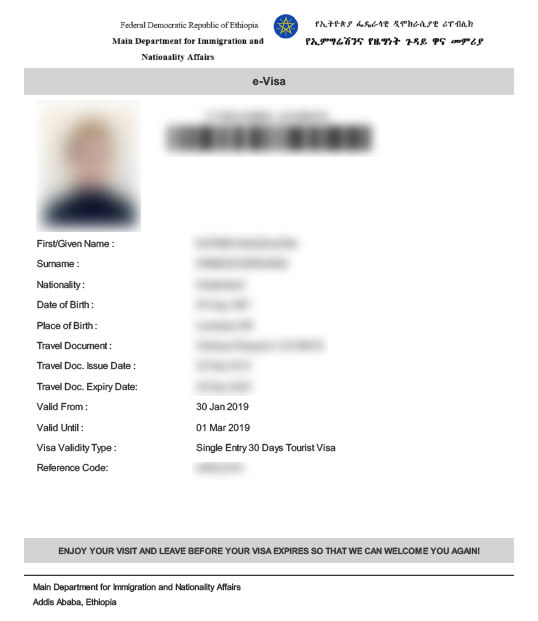 Where can I get extra details about the Ethiopian eVisa?
If you want to chat with one of our agents, enter here. Besides, if you prefer to read more about this topic, you can visit this link.
Start here your Ethiopian Visa process. iVisa simplifies this method for you to obtain your Ethiopian e-Visa as fast as you prefer, and the best part is that it comes with a 9.5 'Excellent' rating from over 19,000 reviewers on Trustpilot. Contact us today to apply for your Ethiopian eVisa!