According to Ethiopia's visa policy, the citizens of Saudi Arabia do not need a consular visa to travel to Ethiopia. If you're Saudi Arabian, you're elegible for an Ethiopian eVisa.
If you apply with iVisa, you can have the document in only 12 hours. However, this eVisa is accepted only in the Addis Ababa Bole International Airport. Otherwise, you'd still have to apply for a consular visa.
Learn more about this online document with the FAQs below.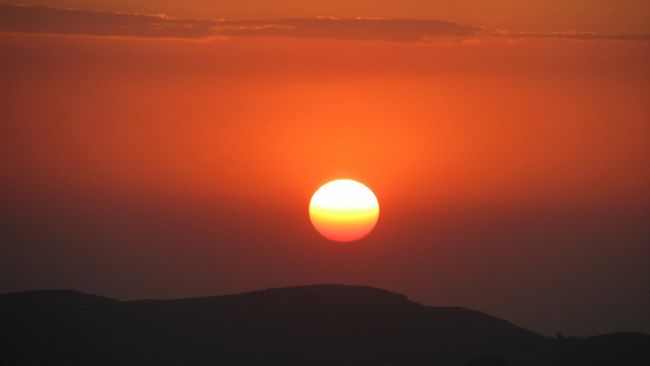 Frequently Asked Questions / FAQs
Do Saudi Arabian Citizens need a visa to travel to Ethiopia?
Yes, if you're from Saudi Arabia, you require a visa to enter Ethiopia. For your convenience, you can get this visa without going to an embassy. All you have to do is to apply online for an Ethiopian eVisa.
What is an Ethiopian e-Visa for Saudi Arabian Citizens?
It's an authorization that allows you to visit Ethiopia with an electronic system linked to your passport.
How long can I stay in Ethiopia?
If you're from Saudi Arabia, then you can stay in Ethiopia for 30 days Total. Keep in mind that you mustn't get paid work or employment while you stay in this country.
What are the requirements?
You will be happy to learn that the online application process is less demanding than any process made in the embassy. Even so, you still need to meet some requirements. They are as follows:
Applicant Photo

Passport Personal Details Scan

Last Page of Passport (if applicable)
Since the entire application process is online, you will receive your e-visa via e-mail in PDF format. Be sure to offer a valid e-mail address. You should also keep in mind that iVisa is versatile with payment methods. You can make the payment using your credit or debit card, but you can also use PayPal.
How long is this eVisa valid for?
You can use your Ethiopian eVisa for 30 days after arrival.
What are the processing times and fees?
The price of your Ethiopian eVisa will vary according to how soon you want to have it. The price will be more expensive if you want this document the fastest way possible. Here are your options:
Standard processing – It is the cheapest, but also the slowest option. Your application is ready in 3 Business Days, and the total price is USD 87.00.

Rush processing – this time, things move a bit faster. You get your Ethiopia visa in 2 Business Days, but the price goes higher too. You must pay USD 117.00.

Super Rush processing – if you need your e-Visa as fast as possible, you can select this option. Your application is ready within 12 hours. You'll have to pay USD 152.00 this time.
How much time do I need to apply?
You only need 30 minutes to complete the form. You might complete it in less time depending on how skilled you are with online forms, but don't worry, the form made by iVisa is quite easy to understand.
How can I apply?
When you consider yourself ready, you can proceed to fill in the application form. As we mentioned before, this online form is very easy to understand, but if you need help, you can contact iVisa's customer support. The service is reachable 24/7 and it is free of charge.
You have to complete the following steps to proceed with your online form successfully:
The first step focuses on personal information. You also need to make a couple of choices related to the processing time of your Ethiopia eVisa.

The second step requires you to take care of the payment and review your form to make sure that all the information provided is 100% accurate.

The third step asks you to upload a few documents if necessary. Once you finish these steps, you click on the submit button and you're ready! iVisa will handle the bureaucracy that follows.
As you can see, the online process of getting an Ethiopia eVisa doesn't involve much effort. You can start your online application here.
What should I do once I complete my application form?
Once you complete the online form, you'll have to wait for your eVisa. This document will arrive via email, so you shouldn't make any trip to the embassy unless it is rigorously necessary.
What if I travel with my children?
It's not hard to travel with children, you won't need to apply for them. However, you must take a valid birth certificate and/or adoption certificate, nothing else.
What should I do if I'm in the International Transit Area?
If you're transiting through Ethiopia then you don't need to apply for an e-Visa. We recommend you not to leave the International Transit Area.
Is it safe to apply for this e-Visa with iVisa?
Yes, defiantly! iVisa has been working hard to build a strong community with different customers, that's why you can feel secure if you apply for your eVisa with iVisa. You can read our testimonials if you still have doubts.
How does the Ethiopian e-Visa look like?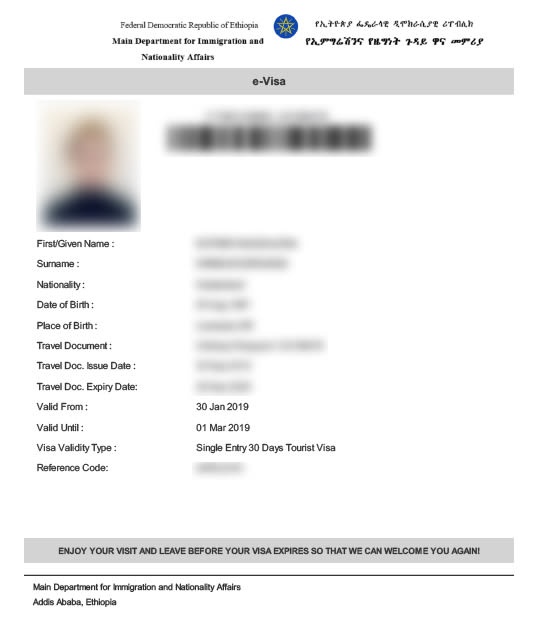 Where can I find more information?
You can click here to contact our customer service center if you want personal attention. Also, remember that you can read more info about this country here.
Start now your Ethiopian Visa process. iVisa simplifies this method for you to get your Ethiopian e-Visa as fast as you prefer. Contact us today to apply for your Ethiopian eVisa!