US citizens can now enjoy an online process to get their visas if they want to visit Ethiopia. The services are provided by iVisa, a visa expediting company that guarantees superior customer service. That, along with the efficiency of the process, attracts thousands of clients who declare themselves satisfied with the experience. You can be one of those people as well.
With iVisa you don't need to go to an Embassy anymore, you can easily receive your Ethiopia e-Visa by simply filling out an application form. But to solve some doubts, we will answer some questions in this post.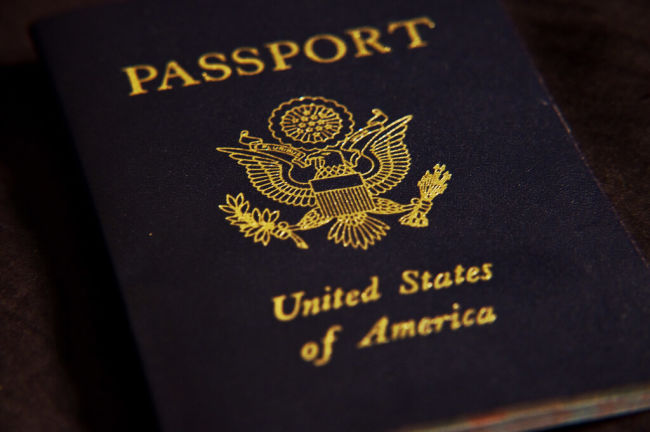 Frequently Asked Questions (FAQs)
I'm an American citizen, do I need a visa if I want to travel to Ethiopia?
Yes, you do need a visa, but basically, you can enter this country with an e-Visa too, so you don't need to visit any Consular Authority.
What is an Ethiopian e-Visa for US Citizens?
This is an authorized visa that allows you to have proper entry to Ethiopia with an electronic system. As you can guess, it works just as any consular visa, but with a special link in your passport.
How long can US Citizens stay in Ethiopia with an e-Visa?
Visitors with an American passport can stay in Ethiopia only for 30 days in Total. Don't forget that you're not able to get paid work or employment during your stay.
What do I need to apply?
You barely need anything to get started, and if you already have a passport, chances are you have everything you need. Here is a list of required documents:
Passport– you cannot go anywhere without it, and Ethiopia is no different. You need a valid passport, and it needs to maintain its validity for at least six more months from your arrival date in Ethiopia.

Digital copy of your passport – the primary interest is the information page, but you should scan it all.

Digital passport-sized photo of you – the more recent, the better.

Residence permit – this condition applies to US citizens who reside in a country other than the US. However, a letter or a visa sticker on your passport is enough.

Valid e-mail Address – So you can receive your electronic visa properly

Debit/Credit Card – This is just to pay the fees.
How many entries can I have?
One, its a Single Entry visa. At the moment, only Single Entry tourist visas can be issued online.
What fees do I have to pay?
You will be charged according to which type of visa you want and the processing time you select when you apply. There are two types of Ethiopia e-Visas: the 30-day visa and the 90-day visa. There is a difference between the price, below you will find the price of the 30-day visa. The 90-day visa could cost higher. As for the processing time, you have three options, and they are as follows:
Standard – your application will be processed within 3 Business Days and will cost you USD 78.49. It is the cheapest option you have.

Rush – your Ethiopia eVisa will be ready within 2 Business Days, and the fee is USD 139.99.

Super Rush – this is the fastest and most expensive option. Your visa will arrive in your email inbox in just 12 hours, but you will be charged USD 187.99 for it.
Delays may occur, but that does not happen often. Even so, you will be notified via email if and when that happens. Other than that, iVisa provides an excellent service, and you will be more than satisfied with the experience.
How much time do I need to apply?
By spending less than 10 minutes you can complete the form, and it could be in less time. The hardest part will be handled by iVisa.
How is the application form?
Once you put together all the documents, you can move on to the next step, which is the application form. The form is uncomplicated, but if you need any help filling it in, iVisa has an excellent 24/7 support service. Just give them a call, and they will help you every step of the way.
The application will ask you to insert a few elementary things:
First, you need to put in your basic information and select the processing time for your application.

Second, you need to revise everything and make the payment. Speaking of that, you can make the payment to iVisa using a credit or a debit card.

The third and last thing you need to do is upload additional documents (the ones listed above.) There you have it. After you finish all that, you can submit your application, and the visa will arrive via email in PDF format in the timeframe of your choosing.
What Should I do after I finish my form?
As soon as you complete your application form you'll obtain the visa via email, so you don't have to step into any Embassy.
What Should I do if I travel with my kids?
If you travel to Ethiopia with your children, then you have to make sure that you're in possession of a valid birth certificate and/or adoption certificate or at least any valid document to prove that your kids are under your legal authorization to travel.
Are there any Vaccination requirements to travel to Ethiopia?
Yes, and you should consider that before entering the country, especially if you've been in any country with Yellow Fever. To know if you have to take any Vaccination certificate, check this link: https://www.who.int/ith/ITH_Annex_I.pdf
Do I need a visa if I'm transiting through?
You do not require an Ethiopian e-Visa for transit flights/layovers in Ethiopia. If you want to leave the airport transit area to visit Addis Ababa then you must apply for a 30-day single entry visa online, or visit your nearest Ethiopian Embassy to get an in-transit visa through them.
How does this e-Visa look like?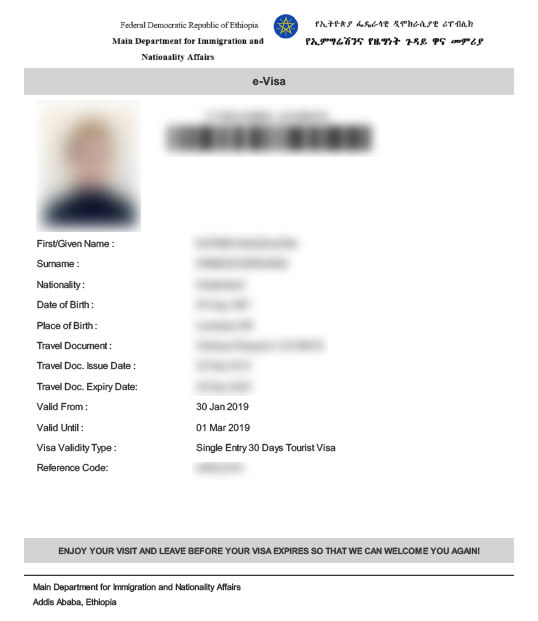 Can I enter any airport in Ethiopia with this e-Visa?
No, that's not possible. The Ethiopian Government only allows travelers with this e-Visa to enter through the Addis Ababa Bole International Airport.
Is it ok to apply with iVisa?
Yes, you can trust us! We've been building a trustful community with our customers, and we also have an updated system that can keep your information safe. It's completely secure to apply for a visa with us. You can read our testimonials if you want.
Where can I read more about it?
Do you want a better solution? Click here and start talking to one of our customer service workers. Remember that you can also read more info about this e-Visa here
As you can see American citizens can get their Ethiopia e-Visa in no time. The process is quick, not expensive, and it is highly efficient. Thousands of people used the services provided by iVisa.com and declared themselves more than satisfied, you can be one of them so plan your trip with us now!