Ugandan citizens who want to travel to Ethiopia for tourism purposes are not required to go to the nearest Ethiopian embassy to obtain a consular visa. As a Ugandan, you qualify for an electronic visa, meaning that you can apply for one online. iVisa provides a short and smooth application process so that you can acquire the travel document in just 24 hours.
Nevertheless, you should know that the Ethiopia e-visa can only be used if you enter the country via the Addis Ababa Bole International Airport. If you choose a different point of entry, you must obtain a consular visa after all.
If you want to know more about this process, then we invite you to keep reading this article.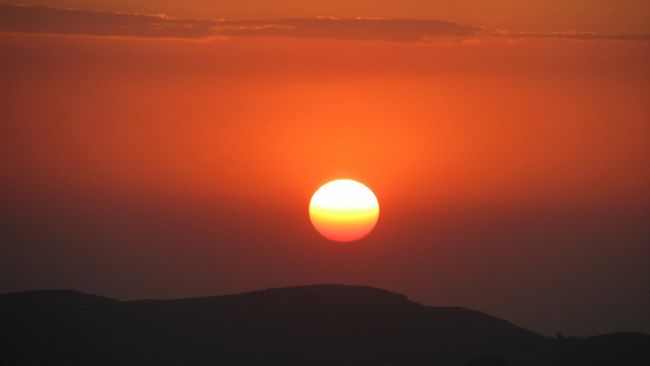 Frequently Asked Questions (FAQs)
Do Uganda Citizens require a visa to enter Ethiopia?
Yes, they do need a visa, but it can be an electronic visa, which you can have by applying online.
What is an Ethiopian e-Visa for Uganda Citizens?
It's an authorized document that gives you the proper permission to enter Ethiopia with an electronic system in your passport.
How long can Uganda stay in Ethiopia?
If you're from Uganda, then you can stay in Ethiopia for 30 days Total. Remember that you mustn't get paid work or employment during your stay.
What are the requirements for the Ethiopia Visa?
The Ethiopia Visa requirements for Ugandan citizens are the same as for everyone else. You should not go through too much trouble gathering everything necessary for the process, and chances are that you already have some of the documents that are required. The list below contains what you need for a successful application:
Valid passport – you cannot apply for an Ethiopia e-visa unless you hold a valid passport. Plus, the document has to remain valid for at least another 6 months from the day you intend to cross the Ethiopian border.
A scan of your passport's bio page – you will be required to upload it when you fill in the form.
A digital passport photo – when it comes to your picture, make sure that it is taken recently and follows all the other guidelines for a valid passport photo.
E-mail address – since the entire application process happens online, you will receive your e-visa via e-mail in PDF format. Do not forget to print out at least one physical copy.
Means of payment – when it comes to paying for services, iVisa is versatile. You can make the payment using your credit or debit card, but you can also use PayPal.
What are the processing times and fees for this?
In the case of prices, iVisa has great options for you. Also, the fee will vary according to the processing time you choose. With iVisa, you have three options, which are:
Standard – if you select this option, your electronic visa will be ready in 3 business days days, and you will have to pay USD 87.00.

Rush – this time, your application will be ready within 2 business days, and the cost is higher as you may guess, USD 117.00 to be more specific.

Super Rush – your application will be done in just 12 hours, but as you may guess, the cost goes even more expensive. You will spend USD 152.00.
How long does it take to apply for this document?
Filling out the form should take you at least 20 minutes if not less.
How is the application form?
Once you have all of your requirements, the next thing you are required to do is to fill in the application form. The task is not difficult, but if you need assistance, contact iVisa's customer support for help. The service is at your disposal 24/7 and free of charge.
The form you have to fill in consists of three steps:
The first one asks for your personal information, but this is also the moment when you have to choose a processing time for your application and a validity period for your Ethiopia visa. Remember that both choices affect the cost of your travel document.

The second step asks that you take care of the payment and review your form.

In the third step you have to upload a few documents. When you are finished, submit your application and your efforts end here. iVisa will take care of the rest of it.
Can I enter anywhere with the Ethiopia e-Visa?
No, that's not possible. The Ethiopian Government only allows foreigners with this e-Visa to enter the country through the Addis Ababa Bole International Airport. All other points of entry will require another type of visa..
What if I travel with my children to Ethiopia?
If you want to travel to Ethiopia with your kids, then you have to ensure that you're in possession of a valid birth certificate and/or adoption certificate.
What should I do if I'm only in transit?
You won't need to apply for a visa as long as you stay in the airport transit area. We recommend you not to leave this lounge.
Is it ok to apply for this e-Visa with iVisa?
Yes, of course! We've been working quite hard to build a strong community with our customers, so you'll be able to prove that is ok to apply for a visa with us. You can read all of our testimonials if you still have doubts about it.
How does this e-Visa look like?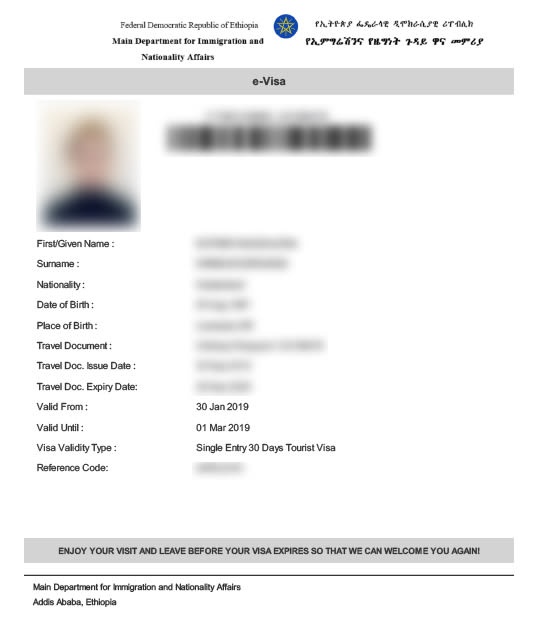 Where can I read more about Ethiopia?
Do you want to have a faster and personalized resolution for your doubts? Then you can click here to start chatting with one of our customer service workers. Also remember that you're able to read more info about this country here.
As you can see, the Ethiopia Visa requirements for Ugandan citizens are easy to acquire, and you should be able to do it in a short while. You just need a few things to proceed with the application form. Don't lose the chance to travel to this exotic country!