Ugandan citizens who wish to enter Ethiopia for tourist reasons are not required to go to the nearest Ethiopian embassy to get a consular visa. As a Ugandan, you are eligible for an electronic visa, meaning that you can apply for one online. We provide a short and uncomplicated application process so that you must obtain your visa within 24 hours.
Nevertheless, it's important that you know that the Ethiopia e-visa can only be used if you enter the country via the Addis Ababa Bole International Airport. If you want to enter the country for another point of entry, you'll have to acquire a consular visa after all.
We invite you to read this informative blog.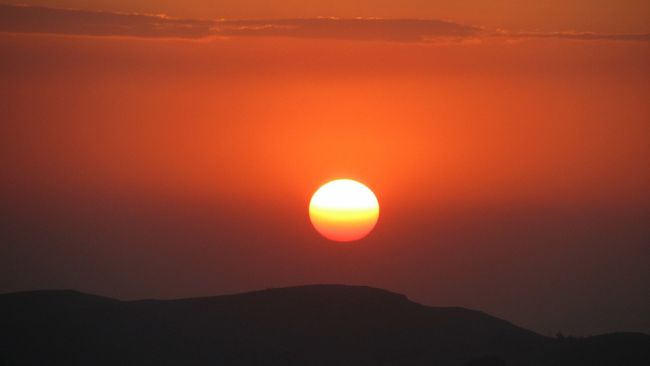 Frequently Asked Questions (FAQs)
Do Uganda Citizens require a visa to visit Ethiopia?
Sure. In that case, they have to apply for an online visa.
What is an Ethiopian e-Visa for Uganda Citizens?
It's an electronic authorization that allows you to enter Ethiopia without any problem.
How long can Uganda stay in Ethiopia?
People from Uganda can be there for 30 days in Total. Note that you cannot use this visa to work.
What are the requirements for the Ethiopia Visa?
The Ethiopia Visa documents for Ugandan citizens are the same as for everybody else. Before applying, gather everything necessary for the process. The list below contains what you need for a successful application:
Valid passport – to apply for an Ethiopia e-visa, your passport must be valid for 6 more months from your entry into the country of Ethiopia.

A passport scan – it means that your bio page must be visible and clear.

A passport photo – ensure that your picture has a good resolution.

E-mail – it is vital that you provide a valid email because we will send your visa by that email. To avoid any problems, print your visa and take it with you.

Payment – at the end of your application, you will have to use your credit or debit card.
What are the processing times and fees for this?
In the case of prices, iVisa has great options for you. Also, the fee will change depending on the delivery time you choose. Below, we will detail each of them:
Standard – this is one of the most comfortable and chosen options for our customers. It takes around 3 Business Days to get your visa and you need to pay USD 102.99.

Rush – this process allows you to have your visa approximately in 2 Business Days paying a total of USD 148.99.

Super Rush – in case you need your eVisa urgently, this option is for you because your visa will be done in 12 hours and for this you will have to pay the sum of USD 180.99.
How long does it take to apply for this electronic authorization?
It will take you 20 minutes to fill out the form.
How is the application form?
Once you have all of your requirements, the next thing you are required to do is fill in the application form. The task is not difficult. Contact our super operators in case you need to resolve some doubts. The service is at your disposal 24/7.
Now, we will show you all the steps below:
In the first part, you'll have to insert your personal data, however, this is also the moment when you have to choose a delivery time for your application and a validity period for your Ethiopia visa.

The second part asks that you pay and proofread your form.

Finally, you have to upload a few documents. When you are done, submit your application. Then, we will handle the rest of it.
Can I enter anywhere with the Ethiopia e-Visa?
No, that's impossible. All travelers with this electronic visa can enter only through the Addis Ababa Bole International Airport. So, if you plan to enter through another point, apply for another type of visa.
What if I travel with my kids to Ethiopia?
In that situation, ensure that you're in possession of a valid birth certificate and/or adoption certificate.
What can I do if I'm only in transit?
Only if you plan to leave the lounge, you'll need a visa.
Is it safe to apply using iVisa's service??
We always care about the quality of service we provide to our clients, including the protection of their personal data. So, don't feel worried about it and apply with us. If you still have doubts, you can visit our website and check all the testimonials from our clients.
How does this e-Visa look like?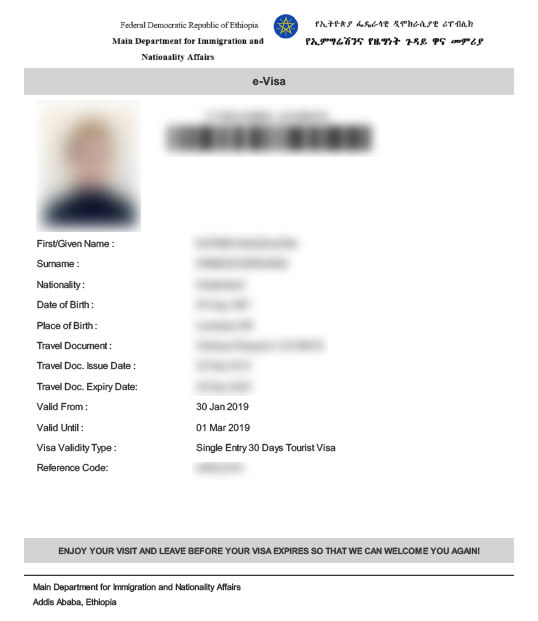 If I need to obtain more information what can I do?
If you prefer to chat or talk directly with one of our agents click here and they'll be pleased to help you at any time. Contrarily, if you prefer reading enter here for more information.
As you can see, the Ethiopia Visa requirements for Ugandan citizens are easy to acquire, and you should be able to do it in a short while. You just need a few things to proceed with the application form. Don't lose the chance to travel to this exotic country!