Traveling is always a pleasant thing for anyone, and that's why in situations like the COVID-19 Pandemic, many nations have looked for ways to continue this hobby without risking health. Such is the case of Ethiopia, a country that decided to implement the Health Declaration for tourists who currently want to enter its territory. If you want to know what is the process to obtain the Ethiopia 14 day quarantine requirement, keep reading the information below.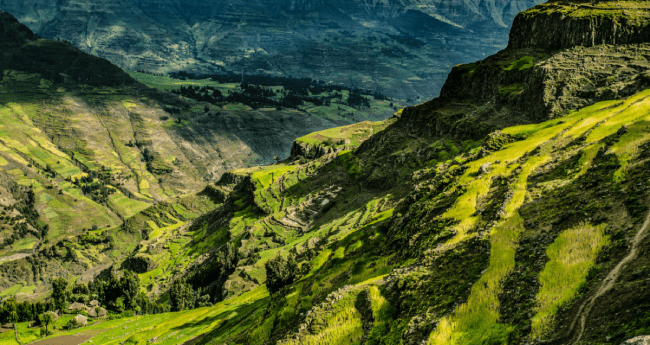 Remember that it is important to follow the steps to obtain the Ethiopia Health Declaration because only in this way you can enter the country without problems. The good news is that you can use iVisa.com's service for this task since on our page you will find an online form that you can complete in a few minutes and thus obtain your document as soon as possible.
Read the following FAQs for more information.
Frequently Asked Questions about the Ethiopia Health Declaration
Do I need a COVID vaccine or vaccination certificate to enter Ethiopia?
No, you don't. As of today, COVID vaccination passports or certificates are not mandatory to enter Ethiopia.
Approved vaccines are Johnson and Johnson, AstraZeneca, Sinopharm, Sinovac, Moderna, and Pfizer. You are considered vaccinated if all doses of a vaccine against SARS-Cov-2 have been administered for at least two weeks before traveling.
Since information may change quickly, we advise you to follow up on the latest Ethiopia travel updates and/or contact your local embassy.
Do I need a COVID-19 test result to enter Ethiopia?
COVID test prior to arrival: PCR within 72 hours or antigen within 24 hours for unvaccinated travelers.
COVID test exemptions: Children under 12 and fully vaccinated travelers
Do I need to quarantine when I get to Ethiopia?
Quarantine requirements: There are no quarantine requirements.
What is an Ethiopian Health Declaration?
The Health Declaration is a document authorized by the Ethiopian government that was created to simplify the control of tourists in the face of the COVID-19 pandemic. As you know, this virus is extremely contagious, so it was necessary to take actions that prevented increasing the number of cases.
The COVID-19 pandemic has been a difficult challenge for many nations globally. Therefore, documents like the Ethiopian Health Declaration are necessary if you want to successfully enter this country.
If you don't apply for the Ethiopian Health Declaration, you could find issues upon arrival, so we recommend you to obtain it.
Can I apply online for this Health Declaration?
One place where you can easily obtain the Ethiopian 14 day quarantine requirement is iVisa.com's web page, so the answer for you is yes, you can apply online for the Health Declaration. By using iVisa.com's service, you only have to complete an online form and follow a 3-step method to get your Health Declaration fast.
As you can see, you don't have to go to any Ethiopian Embassy to receive this document.
What documents do I need to apply online?
Although you can apply for your Health Declaration through an online service, you shouldn't forget that you must still get some important documents before completing the form. The good news is that these requirements aren't difficult and you may already have some at home:
You need a valid copy of your passport information page.
A valid email address.
Lastly, you need a Paypal account or a credit/debit card to pay the service fee.
What are the processing times and prices for this Health Declaration?
Keep in mind that if you decide to apply for this document through official government pages, you could have to wait a long time, in addition to having to investigate the prices on your own. But, with iVisa.com, you can receive your document as fast as necessary. Besides, you would only have to pay a fee that includes excellent customer service and all the professional service that safeguards your information and ensures that the document is delivered quickly.
These are the options that iVisa.com offers:
Standard Procedure: it has the longest waiting for you, but you'd still have to wait a few days and by the most affordable price.
Rush Processing: if you need to receive your document faster, then you can choose this option and pay a higher price, but still an affordable alternative for your pocket.
Super Rush Processing: in case of a rush, you can get your card the fastest way possible by choosing this option.
Remember that this is basic information for the options iVisa.com offers on the website. You'll be able to know the exact price on our application form before paying, so you can be sure that you won't be charged without knowing the exact amount.
How can I apply for this document?
You can apply from anywhere if you choose iVisa.com, even from the comfort of your home. All you have to do is to follow these steps:
The first step is to write down your basic information in the first questionnaire. Next, you can select your favorite processing option.
In the second step you'll need to verify that all the information you gave before is ok. After that, you can use your credit/debit card or Paypal account to pay for iVisa.com's service.
The third and last step consists of uploading the documents and send the online form.
Always be sure to check the information carefully, including the spelling. Remember that you'll obtain all the details about this document via email. Therefore, you must ensure to provide a valid email address.
What should I do once I get the email?
Aside from the Health Declaration, you could get other important details via email, and you should download it to have it on hand when you arrive at the Ethiopian airport.
Once you arrive at the airport, the officers will check your documentation and ask you to follow other steps. Only after the documents are verified through the security system, you can enter the country without any issues. After that, you might need to follow the 7-day quarantine. Please, always follow the requirements asked, and don't forget to stay safe with the proper actions to avoid the risk of contagion.
I'm traveling with my children, what should I do?
The Ethiopian Health Declaration is not something made only for adults, but also for children. Every child must get this document just like any adult. In case you have questions about this topic, you can chat with our customer service any time, we'll be ready to assist you.
How safe is to apply with iVisa.com?
It's totally safe because iVisa.com has updated software that permits you to correctly safeguard the information you provide. This way, you can receive an amazing product at a convenient price. In iVisa.com, we always focus on maintaining your safety, so all the information you see and also send on our website can't be leaked on the web. Do you still have doubts about it? You can check our reviews on this link for more opinions.
Where can I get more information if I have more questions?
If you have issues or questions while filling in the online form, you can contact our customer service to get personal attention. This service is available at any time, and it's also a great option if you want to know other details about travel requirements. You can also check iVisa.com's website to find more information about travel safety tips.
Get ready for your Ethiopian journey with your Health Declaration! you'll be ready in less than 20 minutes!