ETIAS is a system that has been created by the European Union for those citizens who are currently exempt from applying for a visa to travel within the Schengen Area. ETIAS means "European Travel Information and Authorization System". It is a completely automated system that allows and keeps track of visitors from countries who do not need a visa to enter the Schengen Zone.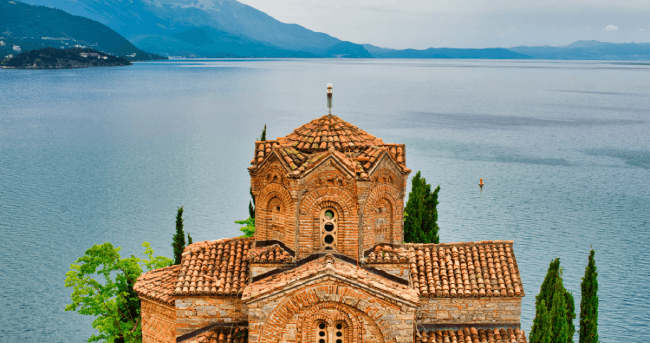 While the countries of the European Union have no visa restrictions for people coming from countries in the Schengen zone, if you want to travel to any of them as a citizen of Macedonia, you need to apply for the ETIAS for Citizens of Macedonia Here you will find the most up-to-date and complete information you need in order to help you get through the process of getting your ETIAS Authorization.
As a citizen of the country of Macedonia, you will need an ETIAS Authorization to enter any of the 26 countries of the Schengen zone. This documentation is strictly required to enter this space. So that's why at iVisa.com we can help you complete, process, and receive your ETIAS for Citizens of Macedonia. We are pleased to assist you with applying for the ETIAS for Citizens of Macedonia so that this country will welcome you in the best way.
Now you will get the complete information about how to continue. Please follow the instructions. iVisa.com is strongly committed to give you the best service and support that you need during this process.
Frequently asked questions
Which Documents do I require to apply?
To apply for ETIAS Authorization you will need the following documents:
A valid passport that has at least 6 months of validation.
Your email address for you to obtain your Visa.
Your professional photo iVisa.com professional service can help you to get one.
Valid Payment options like Debit/Credit card to pay fees.
What are the processing times and prices?
Standard processing time: Most affordable option - longest processing time.
Rush processing time Mid-priced, and faster processing of your ETIAS.
Super Rush processing time Highest price for the fastest delivery option.
Is it secure to use iVisa.com to arrange my ETIAS Authorization?
Yes, it is secure to use iVisa.com as your service provider. You can trust your data with us and be assured. You can check our reviews and get to know the quality of work we do for our customers.
I have more questions, where can I find more information?
You can always contact our customer service agents for any further questions or doubts. We are available 24/7 to answer any additional questions, guidance or any doubts. We appreciate the value of preferring iVisa.com and that is why we attempt to make you feel in good hands.
iVisa.com Recommends
26 countries in total make up the Schengen area. A space where you can find many opportunities and enjoy for around 90 days starting from the arrival date to the date of departure. You will be able to explore the history, culture, music, art, the way of living and all the traditions that these countries are presumed to have. As this community is made up of very interesting nations, in order to have a positive experience, one of the best ways to start is to be in legal terms at the moment of entering the Schengen area, since as it is well known, none of these countries requires a special visa for Macedonian residents, but the ETIAS Authorization. Once you apply and your application is approved, you will be able to enjoy the unrestricted movement of goods, services and capital across countries, in harmony with the rules.
By applying for this authorization you will be opening up many possibilities, whether your interest is to travel for business, holidays, or to explore the world, having this authorization will be very important for you to develop your projects legally. At iVisa.com you can apply and receive complete advice about the process. We will be very happy to help and guide you through this application.