The ETIAS online form will be available through a simple electronic process that will be completed swiftly. Most of the time, the ETIAS authorization should be ready in a matter of minutes. The whole online registration and application process won't demand you more than 10 minutes.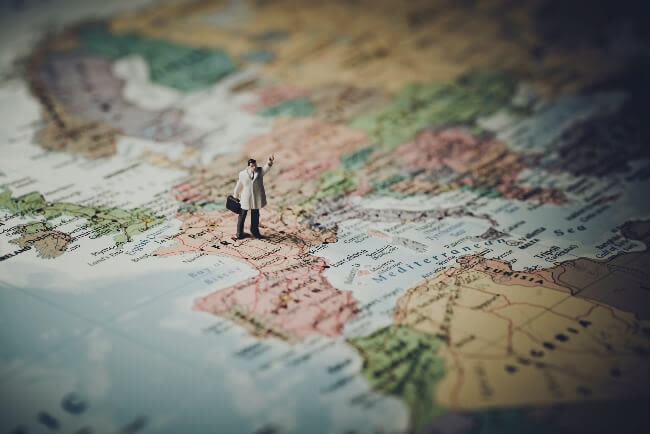 The ETIAS is a system proposed by the European Commission in April 2016, and it'll be ready to use in 2022. This process was necessary to improve border controls and also to avoid threats or dangers to European citizens and tourists.
To learn more about the ETIAS and how to apply for it, just continue reading the following blog post.
Frequently Asked Questions
What is the ETIAS(European Travel Information and Authorization System)?
The ETIAS (European Travel Information and Authorization System) will allow the EU Commission to decide the eligibility of citizens from the visa-waiver countries or ETIAS available countries. This system works with an electronic platform that screens all the relevant information of each applicant thanks to the use of biometric passports.
Every applicant will have to fill in an ETIAS form before traveling to Europe, and the information presented will be pre-screened so that the authorities can see if the applicant is a risk to the Schengen Area.
This online visa-free system gives you an electronic paper linked to your passport which will allow you to travel to any Schengen member state. You'll be able to travel in that region for 90 days per Entry.
Which countries are eligible for the ETIAS?
The ETIAS is available for at least 60 countries by now. All of them don't have to apply for a Schengen Visa or EU-Visa to visit Europe.
To see if you're eligible for this document, and also learn more about the ETIAS and how to apply, we suggest you visit our webpage. By using our web page, you'll be able to see not only if you're qualified for the ETIAS, but also if you need another document to visit any country you wish.
Are the ETIAS and the Schengen visa the same?
The method required to get a Schengen visa is more complex and troublesome than the one required for the ETIAS.
You can only receive a Schengen visa at a local embassy, while the ETIAS is obtainable through an online application form, meaning that you can apply for it at any time you want.
Besides, the ETIAS is a document needed for visa-exempt countries, while the Schengen Visa is obligatory for the other countries that aren't visa-free.
What items are required to get the ETIAS?
The ETIAS doesn't require much work on your side, so it's not hard to apply for it. Nevertheless, you still have to provide a few things so that we can give you the ETIAS as fast and as easily as possible.
Take into account that if you apply with another application service that's not ours, you'd still have to give the following items:
A biometric passport with a valid due date.
A scanned-copy of the passport's first page (information page).
An e-mail address to receive your ETIAS.
Your valid debit or debit card. You can also use a Paypal account. These are mandatory for payments.
Important: We do accept payments with Paypal, but most of the services offered online don't so keep that in mind.
If you want to check more about the ETIAS and how to apply, click on this link.
How much do I have to pay for the ETIAS document?
The stipulated price for this document has grown over time because the European Commission has had to strengthen the system to ensure everyone's safety.
That's why the estimated 7 euros may increase in the future, but it's most likely that the final price will still be affordable so that any eligible traveler can purchase it.
As for iVisa.com's services, these have extra fees so that we can guarantee high-quality and safe results. Since we don't have the total price for the ETIAS yet, we'll give you general information about what we offer:
Standard Processing Plan: in case you wish to save money because this is the option with the lowest price.
Rush Processing Plan: in case you prefer to receive your ETIAS in a quicker period, even if you have to pay a bit more.
Super Rush Processing Plan: in case you want to get your document asap regardless of the price.
What you should remember about the ETIAS and how to apply
The only official paper you really need to complete the online application is your biometric passport, as the rest of the items are necessary only to receive the document and pay for it. Biometric passports are required due to their security benefits such as preventing unauthorized reading or "skimming" of the passport data.
Aside from that, you don't need much expertise to apply for an ETIAS. However, by using the official webpage, you might require to fill in long forms and wait for the servers to be available because this website is usually very crowded.
That's why we recommend you to use our form, which will be a lot easier and faster, and you'll just have to pay a small fee to get your ETIAS:
Firstly, you'll have to finish an application form and then you'll have to choose a processing time.
The second step includes reviewing the payment option, the private details, and making the payment.
In the third step, you'll have to upload and attach all the documents required to complete the online form and get the approved ETIAS by email.
Once the ETIAS online process is complete, submitted, and approved, the ETIAS travel document will be issued and valid for 3 years.
How safe is iVisa.com?
We've been working hard to ensure a high-quality service that won't put our database in danger. Plus, we're constantly renewing our systems to keep this responsibility intact.
That's why we can guarantee that you'll be secured when using our online application.
Learn more about the ETIAS and how to apply
You still have more information available about this document on our website! Besides, you can also reach out to our customer service center if you prefer to receive personal attention, we're available with this service 24/7.