Cities like Paris are filled with spectacular museums, monuments, churches, and iconic architecture. You could be spending your complete vacation witnessing iconic structures like the Eiffel Tower, gazing at exhibitions at the Louvre, and strolling across serene green acres blooming with flowers in the Luxembourg Gardens.
Apart from this, you should still have ample time to people-watch like the locals and snack on delicious croissants in stunning cafes all throughout the day. With the sun settling down the French horizon, settle down for a sumptuous meal with some amazing wine.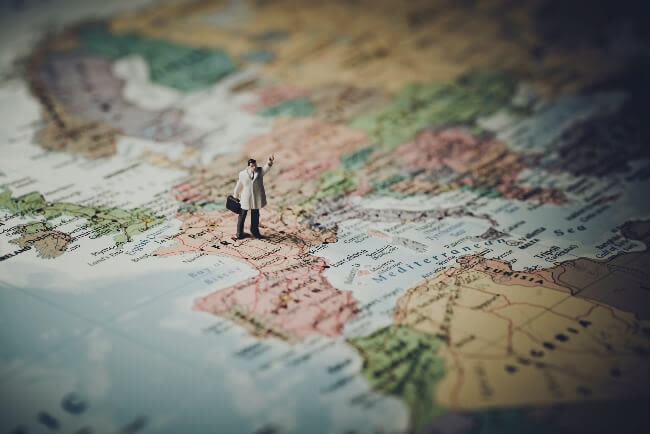 Want to know more about the travel documents needed for entering the Schengen Zone? The Visa Checker Tool at iVisa.com helps you to figure that out in a safe and secured manner.
Read this article to browse through some frequently asked questions and know more about the ETIAS for citizens of Israel.
Frequently Asked Questions
WHAT IS THE ETIAS FOR CITIZENS OF ISRAEL?
Gaining popularity all around, the ETIAS stands to be the acronym for European Travel Information and Authorization System.
This is an electronic system that grants travelers from foreign countries to travel to the Schengen Zone, especially for those who belong from visa-exempted nations.
This system is pretty similar to that of the U.S. ESTA (U. S. Electronic System for Travel Authorization) for its nature. The ETIAS program will be completely mandatory going forward from 2022 onwards.
This system lets the governing bodies prescreen travelers with a check on their travel background to ensure if a person is safe to enter the Schengen zone without posing any form of threat to fellow travelers and the local natives.
HOW MANY COUNTRIES CITIZENS NEED THE ETIAS TO TRAVEL TO THE SCHENGEN ZONE?
There are at least 62 countries that need an ETIAS to get the allowance of entering Schengen-Zone countries. Citizens from these countries are exempt from needing visas, so they don't need to apply for one separately, they simply need an ETIAS.
Israel is one among these 62 countries that require this document. So, if you have an Israeli passport, make sure that you apply for the ETIAS before traveling to any of the magnificent European destinations.
WHAT ARE THE ESSENTIALS NEEDED TO APPLY FOR AN ETIAS FOR CITIZENS OF ISRAEL?
Contrary to lengthy processes and a long list of documents at elsewhere places, iVisa.com allows you to easily obtain your ETIAS by providing the following:
A passport that's not expired within your trip's duration. It should be provided with a visible copy of the information page.
Your email address to receive the online document, once it's approved.
Payment alternatives like a credit or debit card, or a Paypal account to pay all the fees.
These are the only requirements that are needed while applying with iVisa.com, so you might need other things if you want your document to be processed with other options like the ETIAS official website.
WHAT ARE THE EXACT PRICES AND PROCESSING TIMES INVOLVED WITH THE PROCESS?
This travel authorization was recently launched, so the official pricing regarding it cannot be accurately said yet. That's why, in iVisa.com, we aren't permitted to give you an exact estimation regarding the pricing of the ETIAS for citizens of Israel, but we can give you the details of ​​the three different processing times that we offer.
Take note that the price will include the authorities fee, iVisa.com's fee:
Standard Procedure Time: This alternative has the least expensive pricing for an average wait period.
Rush Procedure Time: You wait for a shorter time span, but the price will increase a bit than the Standard processing time.
Super Rush Procedure Time: This is the fastest option available with the highest price as well.
HOW CAN I OBTAIN AN ETIAS FOR CITIZENS OF ISRAEL?
You can apply for your ETIAS document with the official documenting website but take note that with this option, you might need more time and patience to go through the entire process.
On the other hand, by using iVisa.com's website, you'll be able to save up a lot on your precious time and effort.
You will only have to go through these simple steps:
First, complete the online application form by filling up the simple questionnaire and choose an appropriate processing time.
Second, be sure that all the information that you have filled is accurate and pay for the fees.
Third, attach the relevant documentation and submit the form.
Are you ready to start your ETIAS application? Click here.
HOW MUCH TIME IS NEEDED TO APPLY FOR THIS DOCUMENT?
A great advantage of iVisa.com's online form is that it has a user-friendly platform that allows you to complete the process of the ETIAS application in just 20 minutes.
However, we suggest you complete this application when you're not in any rush, so that all the information you provide is absolutely correct.
In case that you are short of time, opt for the Super Rush processing alternative.
CAN I ENTER INTO ANY OF THE EU COUNTRIES WITH THE ETIAS AUTHORIZATION?
Remember that the ETIAS authorization is only applicable for the Schengen Zone. To use it properly, you must first enter at the borders of the arrival country that you have chosen on your online application form.
For example, if you're planning to visit any country in Europe, let's say, France, and then you want to travel further, let's say, Belgium or Germany, then you can do so easily with your approved ETIAS.
From there on, you can visit other destinations for at least a period of 90 consecutive days.
However, keep in mind that the ETIAS isn't valid in countries that don't fall under the Schengen Area, like Ireland, for instance. In these countries you cannot enter just with the authorization of an ETIAS.
You might have to apply for a visa. This is because not all the EU countries come under the Schengen Zone.
CANI TRUST THE IVISA.COM PLATFORM FOR MY ETIAS?
Yes, you can feel sure using iVisa.com's service because it was created with the primary objective to keep all of your information completely safe. It's important that you know that all of your personal and professional data that you provide on this website can't be leaked.
You can take a look at our reviews to get a confirmation of this statement.
I HAVE MORE QUESTIONS, WHERE SHOULD I GO?
If you still have doubts or questions in mind about the online process of the ETIAS for citizens of Israel, then you need not look any further than our customer service team.
Also, remember that you can take a look at iVisa.com's web page for more information on the ETIAS.