If you are into cycling you must have heard about the 'Tour de France', this worldwide event happening every July congregates professional cycling athletes in France. They compete in rounds all around the country bringing this sports event to the next level spectacle. If you were already thinking to visit France then this event will convince you.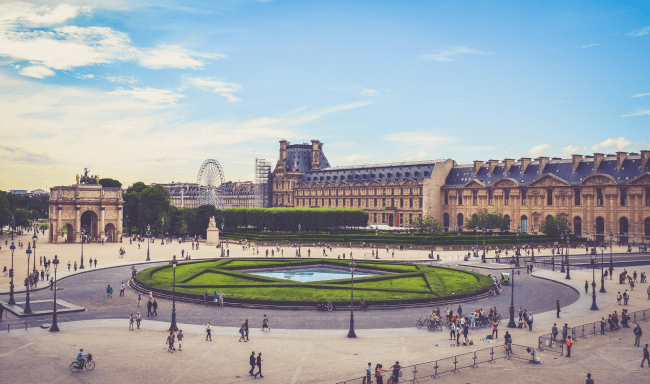 Citizens of Saint Kitts and Nevis who were thinking to be spectators of the Tour de France need to know what documents are now necessary to enter France. The European Union, which France is part of, is requesting a new electronic form call ETIAS. Saint Kitts and Nevis are among the countries that will be requested to have this document to enter France.
iVisa.com has the perfect solution for you. ETIAS is easily done through our platform here, you can get your ETIAS in a fast and safe way.
Do you want to know more about France ETIAS? Then continue on reading.
Frequently Asked Questions (FAQs)
What does ETIAS stand for?
ETIAS stands for European Travel Information and Authorization System. This new procedure will be requested to visitors from countries that are exempt from visas to the Schengen area. Saint Kitts and Nevis are currently visa-free to the Schengen area, therefore, they will be required an ETIAS to enter France. This form will gather information from the visitors and cross-checked it with other international bases, like Interpol. This will mean better control of borders and hopefully a decrease in crime rates and terrorism.
Is France ETIAS a visa?
No. France ETIAS is not a visa, on the contrary, ETIAS is just an authorization document. If your country doesn't need a visa to the Schengen countries, like the case of Saint Kitts and Nevis, they won't be requested another visa, just an ETIAS. The process is not similar either, for a visa you might need to go to the embassy and spend hours or days doing the application. ETIAS is a much easier process with an online form that you can complete here.
Is ETIAS only requested in France?
ETIAS is a new process for the 26 states part of the Schengen agreement, this means is not only valid for France but for all those countries. Whether you are unsure if you need an ETIAS or another travel document for the countries you will be visiting, we give you the option of our visa checker where you can complete the origin and destination countries. Also, you can reach out to our customer service agents to help you with any inquiries.
How long is ETIAS valid?
The ETIAS will be valid for a total of 3 years. When in the Schengen countries, ETIAS will be valid for up to 90 days in a 180-day period.
What documents do I need for France ETIAS?
The application will request all sorts of information to get your authorization approved. Expect to answer questions about names, addresses, parents' information, etc. As well, you might need to answer questions about previous trips, criminal background, and anything important for European immigration. You should also have with you:
Your passport, scan it, and make sure it shows your info and photo.
An email address , check it regularly for our final answer.
Payment options, iVisa.com gives you two alternatives to pay their services. You can use a credit/debit card or a Paypal account.
How is the process to get the ETIAS?
Firstly, complete the questionnaire with your personal details.
Secondly, review your answers and don't leave blank spots (if applicable). Proceed to pay with a credit/debit card or Paypal.
Thirdly, upload the scan of your passport and submit the application.
Now that you know your ETIAS is so easy to get, why don't you apply now!
What exactly will I get in my email?
After completing your application you should be receiving a final answer from iVisa.com with all the documentation needed it for your ETIAS. Although this will probably be linked electronically to your passport, just keep it with you in a personal electronic device. Border officials might request it at any time.
Which are your processing times to get France ETIAS?
iVisa.com brings you 3 options to get your ETIAS in the time you need it.
Standard method, the most common alternative with a reduced fee.
Rush method, faster service for your ETIAS.
Super rush method, for the highest price, you get your ETIAS with no waiting time.
How safe is iVisa.com with this process?
Super safe! We encourage ethical management of personal information and we put a great effort into updating our systems and platforms. We have been working for a long time with travel processes and our customers are the best prove our work is of high quality.
If you feel confident enough to begin, go to the application page.
How can I acquire more information?
Message our customer agents with any questions or doubts, they know very well the ETIAS' process and they can help you 24/7.