France is very well known for its exquisite cuisine and the fabulous places where important historical events have happened. Can you imagine walking around the gardens in the Palace of Versailles or enjoying some 'escargots' in a fancy restaurant in the middle of Paris? You can do all of that if you have decided to travel to France.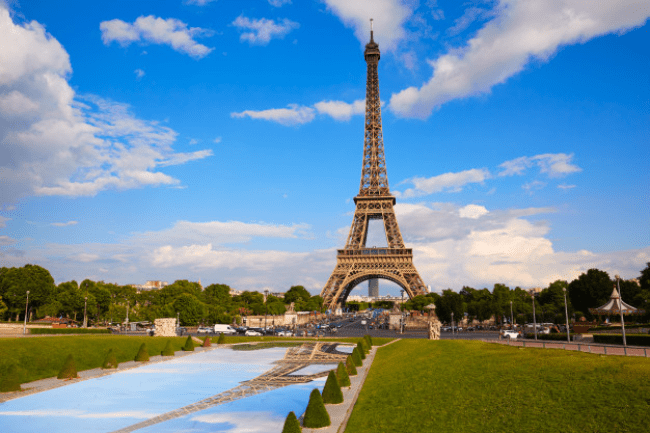 France and countries within the Schengen area have decided to establish a new entry system to better manage its borders, this is known as ETIAS. Citizens of Kiribati and any other country that doesn't need a visa to enter the Schengen area will be requested to get an ETIAS.
As always, you won't have to worry about it because iVisa.com has created a simple, trustworthy, and fast service to get your France ETIAS, so continue exploring the next questions to have a better understanding of this new system.
Frequently Asked Questions (FAQs)
What does ETIAS stand for?
ETIAS means European Travel Information and Authorization System. This is an electronic system available for any visitors from visa-free countries to the Schengen area. Taking into consideration a similar process from the US, the European Union found it essential to implement this online form only for countries, like Kiribati, that were exempt from a visa to the Schengen space.
I don't need a visa for France, should I get an ETIAS?
Yes, you must certainly need to get an ETIAS to enter France or any European country part of the Schengen area. Citizens of Kiribati are among the visitors from 62 countries that don't need a visa to enter France. But they still have to request an ETIAS. The process is simple and iVisa.com can make it faster for your needs. So don't wait any longer to get your ETIAS today, apply here!.
Is my France ETIAS valid for other EU countries?
Yes, as long as these EU countries are part of the Schengen area. There are 26 states in Europe part of that agreement and you can always check eligibility with us here. Remember that when your ETIAS is approved, it will be valid for 3 years.
I got my France ETIAS, can I visit another country first?
No, your first country to visit must be the one stated in your application. When filling out your application, you will be asked which country are you visiting first, in this case, France. Then make sure your first entry to the Schengen area, is France. Failure to comply with this rule might result in the denial of your entry.
The application is waiting for you, start now.
What information do you need for a France ETIAS?
The online form will be very detailed, so answer to the best of your knowledge. Some topics will be personal information like address, passport number, parents' information, etc. The form will request very specific information about your past employment, the visit to certain countries, among others. Remember that this application is made to assure safety within the European borders.
You will need to present:
Your passport, a scan should be enough.
Email address, check for a valid one, as your document will get arrive by email.
Payment options, from credit/debit card to Paypal, in iVisa.com we will only charge a minimum fee.
How is the process to get my France ETIAS?
We made it simple for you, go after the following steps, and get your application done.
First complete all the questions.
Second make sure your information is accurate and pay with credit/debit card or Paypal.
Third attach your passport's scan and any other document requested and submit.
There is a [support team] that can guide you and/or answer any questions you might have. So, don't hesitate to contact them or you can start the application now.
How do I know if my France ETIAS is approved?
You will receive an email confirming your application has been approved. This information will likely be linked to your passport when entering France. Still, keep this email with you at all times as it can be requested by France immigration authorities.
Which are the processing times?
We give you three options according to the time you feel suits you better.
Standard time, the most common service at a cheap price.
Rush time, less wait for your application.
Super rush time, the minimum time for a bigger price.
How secure is iVisa.com?
Very secure. iVisa.com has been handling travel procedures for a long time and continues to update its platform with the latest technology. Please, refer to our customers' reviews to feel certain you are choosing the best service in the market. Although we don't work directly with the French government, we are very knowledgeable about all the processes to have a smooth entry. Apply for your ETIAS today!
Where do I obtain further information?
We have a full group of agents waiting for your inquiries to be solved. So, continue exploring our pages or reach out to them, we are sure they will be very happy to help you.