If you want to know the beauty that France has, then you have to acknowledge the importance of some documents such as the ETIAS. With a Dominica passport on hand, it's possible to apply for the France ETIAS for the citizens of Dominica, and to do that you only need an internet device and a few minutes of your routine to complete the online process quickly and without complications.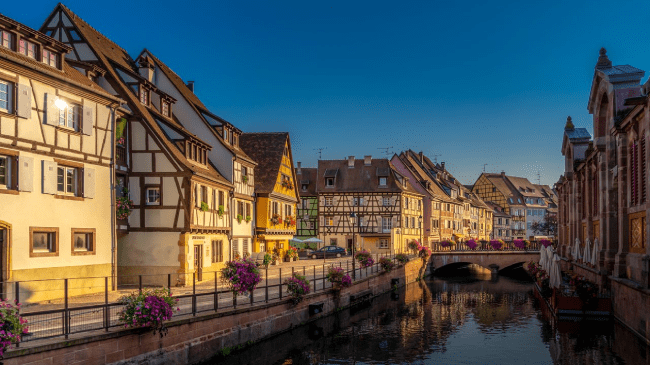 Remember that this document is important to enter France and other countries of the Schengen Zone. If you don't present it at the airport, you may not be allowed to enter, so we recommend you take caution with this issue.
The official procedure that was created to receive the ETIAS isn't complicated, but it might be easier to apply with iVisa.com's service. iVisa.com's online form has an understandable system and it can be an excellent tool for you to obtain your ETIAS as fast as you need.
If you want to learn more information about iVisa.com's online process and other details related to the France ETIAS, then keep reading this article.
Frequently Asked Questions (FAQs) about the ETIAS
What does it mean ETIAS and why do I need it?
ETIAS is the acronym used for European Travel Information and Authorization System, which is an official system that offers an electronic document to enter the Schengen zone properly. This system was created to protect Schengen Zone borders and also to mitigate illegal immigration.
As you read before, the ETIAS authorizes you to enter ETIAS countries, which are the same as the Schengen Zone. At this moment, there are 26 countries that belong to the Schengen Area.
As a citizen of Dominica, you don't need a Visa to visit Schengen countries, but you still need to apply for an ETIAS, even if you're planning to visit a popular place like France.
How many countries can apply for the ETIAS?
60 countries are eligible for this document at the moment. Many of these countries are visa-free, but as you read above, they still require to apply for the ETIAS to enter the Schengen Zone.
Will it be required to business as well?
Keep in mind that the ETIAS will ve a valid document for short-term stays, and this includes leisure and business purposes. However, if you're planning to study or work in ETIAS countries for more than 3 months (90 consecutive days), then you'll have to apply for another type of document.
Also, don't forget that once your ETIAS is approved, it can be used for at least three years or until your passport expires.
What documents are required to apply?
Although this is a simple process, it's still important to have some documents on hand to apply online.
What you should consider is that if you apply with the official page, the list of requirements becomes a bit long and tedious. Plus, you'll need a lot of time to obtain all of these requirements. With iVisa.com, the opposite happens, since we take care of working with the authorities so that you can easily obtain your document while you grant us the following:
A scanned-copy of your passport information page. Your passport must not be expired.
A valid email address so you can receive your documents.
Valid payment alternatives like a credit or debit card or a Paypal account.
What are the prices and the processing times for the ETIAS?
Sadly, we aren't allowed to offer you the exact price of the ETIAS yet because it's a recent document, and the cost of it can vary from person to person. Nevertheless, what we can offer you is the general information about the processing times with iVisa.com. This way, you can have a better idea of what to choose once the document is ready to use:
Standard Procedure Alternative: this is a very popular option because it has the most affordable cost.
Rush Procedure Alternative: this time, you'll have to wait for less but at the same time the price will be higher.
Super Rush Procedure Alternative: with this option, you'll have the fastest processing time. Therefore, the price will be the most expensive of the three.
Please note that you won't be charged until you know how much the document costs.
How can I apply for the ETIAS?
iVisa.com has an effortless 3-step process, so you'll surely complete it without any stress. However, you can contact us if you have any doubts while filling in the online application form. You can also apply with the official ETIAS webpage, but this process is usually a little bit longer.
Here's the list of steps with iVisa.com:
The First Step is to answer a few questions about your personal details like name, passport id, and so on. After that, you can select the procedure time you prefer.
The Second Step consists of payment and revision, so be sure that all the information you gave is well-written. After that, you can proceed with the payment.
The Third Step and final step is to upload the requirements that we asked at the beginning of the online form (copy of your passport) and send the online form.
Once you're ready with this application form, you'll just have to wait for your ETIAS via email according to the procedure option you selected.
How much time do I need to apply?
iVisa.com's online form is quite easy, so it can be completed in only 20 minutes. You can even finish it in less time depending on how fast you answer the questions, but remember that you can take your time to review everything, there's no need to rush the process. In case of emergency, don't forget that you can select the Super Rush procedure time to receive your document as soon as you send it.
What is the difference between the Schengen Zone and the European Union?
You might be confused about the EU and the Schengen Zone, but don't worry, we can explain to you briefly what's the difference between them.
In the case of the Schengen Zone, this is the name of a European Agreement known as the "Schengen Agreement", which allowed its members to exclude any internal border control. It means that the Schengen countries have free transit in their limits. To give you an example, some countries like France have free transit to Italy or Spain, without having to show nothing but their IDs.
The European Union isn't the same as the Schengen Zone since it is a political group that has 28 member states, completely different to the Schengen Zone that has 26 members. The EU was created to provide peace on the continent, but some EU members aren't part of the Schengen Agreement, and as you can guess, some Schengen countries aren't part of the EU.
For example, the UK and Ireland are part of the EU but they aren't part of the Schengen Zone. Another example is Iceland, Switzerland, and Norway, which are part of the Schengen Agreement but not part of the EU.
What you should remember is that the ETIAS program is available ONLY FOR SCHENGEN ZONE MEMBERS, not for all the EU countries.
Is it safe to use iVisa.com's service?
If security is your concern, then you'll be happy to know that iVisa.com has a reliable security system that safeguards your information. So as you can see, it's absolutely safe to use iVisa.com's service. If you still have doubts about our service, you can take a look at our reviews.
Where can I get more information?
Are there more questions you need to solve? Then don't worry, we can help you as soon as you need it. You can contact our customer service, or you can read more information on iVisa.com's website.
But if you feel ready to start your travel dream, then begin your ETIAS online application here!