Although there are many beauties to discover in the Caribbean, it's not strange to want to explore different places, especially when we mention European countries. In the old continent, visiting France is almost mandatory, and that is why you should know how to correctly obtain a document such as the France ETIAS for Citizens of Antigua and Barbuda. Remember that by knowing what requirements you need to enter France, you'll be able not only to explore the country properly but also to avoid tedious situations at the airport.
Before planning important things on your trips like luggage and tourist guides, you cannot forget the requirements of the government. At the end of the day, these requirements are what give you the safe pass to enter a country like France. In the case of citizens of Antigua and Barbuda, it will be essential to show a France ETIAS upon landing at the airport.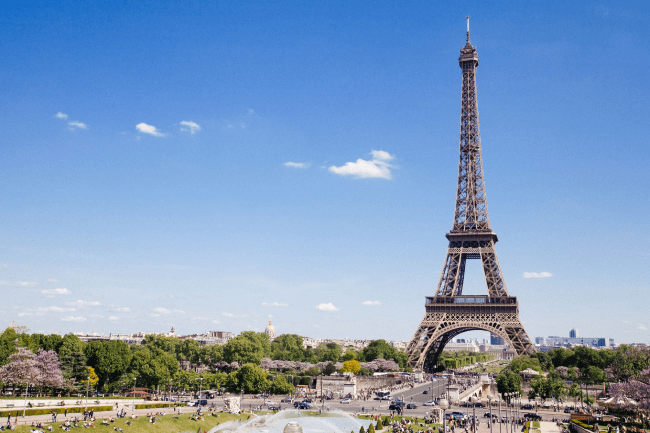 Fortunately, you can obtain this document using iVisa's services and thus save a lot of work and time that can be invested in other necessary things.
Learn more about this document and how to apply for it by reading the FAQs section below.
Frequently Asked Questions (FAQs) about the France ETIAS
What does it mean ETIAS?
The European Travel Information and Authorization System is better known as ETIAS, and it's a special document that allows you to enter the Schengen zone freely. This system is important to the authorities because it allows them to keep track of the visitors entering the country as long as they're from visa-exempt nations.
The France ETIAS is mandatory for many travelers, including Schengen visa-exempt countries as you read before. Keep this information on mind when planning your trip to this destination.
How do I know if I'm eligible for the France ETIAS?
If you want to verify if you need the France ETIAS, then take a look at iVisa's Visa Checker Tool that you'll see once you enter iVisa's webpage.
It's quite easy to use this tool because it doesn't require a lot of effort. You just have to choose "Antigua and Barbuda" as your nationality, and then select "France" as the destination country. After that, you'll know at once all the important details related to the documents you need to visit this beautiful country full of romantic restaurants and fresh bread.
What documents do I need to get to apply for my ETIAS?
Even being available with a simple electronic process, you still need to offer some documents to obtain the France ETIAS. It's not possible yet to offer you the exact list of everything required, but you can read the following shortlist to have an idea of the mandatory documents once the ETIAS is ready with iVisa's online form:
Passport and a scanned-copy of its information page.
An email address where you'll be able to get your document.
Payment alternatives like debit/credit card or a Paypal account so you can pay for iVisa's service and the Government's fee.
What are the processing times and prices for the ETIAS?
Keep in mind that this document is quite new, so it might be hard at the moment to give you an exact price because it varies from country to country. Therefore, we're going to offer you the most important information about our processing options so that you can get an idea once the document is ready:
Standard Processing Time: this is the preferred option for those who are not in a rush and it also has the least expensive price.
Rush Processing Time: this alternative will allow you to get your document faster but by paying a higher amount.
Super Rush Processing Time: this is the fastest option available so it's also the most expensive and it's recommended if you need your document as fast as possible.
How can I get my France ETIAS?
You can apply for your France ETIAS with an official government website, but remember that it might be harder this way and it can take a long time as well. But, if you use iVisa's online form, you'll save a lot of effort and time by simply following this 3-step method:
First, click on the online application form and answer the initial questions. After that, you can choose the procedure time.
Second, re-read the information you offered before to confirm that there are no mistakes and after that, pay for the service.
Third, prepare the documents required by uploading them and then attaching them to the online form. After that, simply click on the 'submit' button and send the form.
Once you complete this process, you'll be ready to obtain your France ETIAS by waiting for the period you selected in the first step.
You can begin your online application here.
How much time do I need to apply?
If you use iVisa's service to apply online, you'll only require 20 minutes to finish the online application form. You can enjoy a nice cup of tea or coffee while doing this because it'll be quicker than you might think!
What should I do if I travel with my kids?
In case you're planning this trip with children, then remember this information too because they'll also need to apply for an ETIAS. Nevertheless, this is just the general information we have at the moment. We suggest contacting our service customer center to obtain more details.
Do I need this document if I'm just passing through the country?
Even if you're just going to France to complete a stopover, you still have to apply for the ETIAS. Otherwise, you could find issues and even lose your upcoming flight. Don't forget this topic when planning your travel, even if you're just planning to go to a nearby country.
Is it safe to use iVisa to get my document?
iVisa has a reliable system with modern technology that safeguards your information, so you can be sure that it is safe. Also, our system avoids unauthorized access to the information you offer. You can feel relaxed while filling in your online form.
I have more unresolved questions, where can I get more information?
If you've come this far, then you might be ready to complete the online form or you might have other questions. If the last point is your case right now, then we're ready to help you with everything that's still causing you doubts. You can reach out to our customer service team, or you can find more important details of this process by exploring iVisa's webpage.
Plan your trip peacefully by applying for your ETIAS form here in just 3 steps! You won't regret it!