If you're a citizen of Georgia, traveling to France has never been difficult, as you don't need a visa to enter this country. Still, you should keep in mind from now on that you'll need an ETIAS when you land at the airport. The steps to follow to apply for France ETIAS for Citizens of Georgia are simple and they don't take much time, so we recommend you to keep reading this article to learn more about them.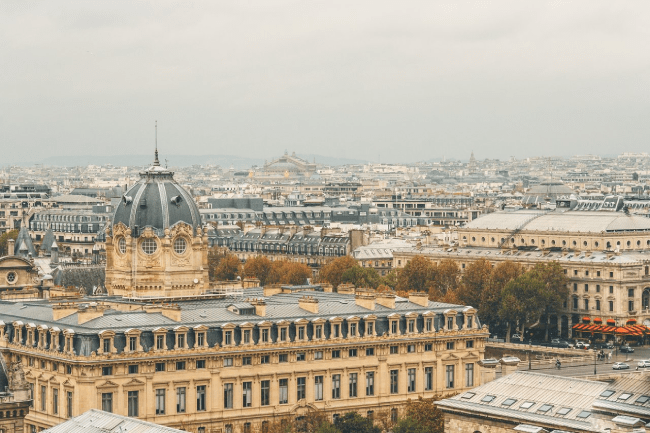 You should also consider that this document is necessary not only to travel to France but also to enter other country members of the Schengen Zone like Italy or Spain. If you don't show your ETIAS once you arrive at the airport, then you may not be allowed to land on foreign territory, so we strongly recommend you to be careful with this matter.
There's an official website to apply for your ETIAS which isn't difficult, but you can take advantage of iVisa.com's service and apply online with its special application form that was designed to provide you a faster resolution. Read the FAQs below to know more details about it.
Frequently Asked Questions (FAQs) about the France ETIAS for Citizens of Georgia
What does it mean "ETIAS"?
ETIAS is simply the acronym used for European Travel Information and Authorization System. This system was recently launched to provide a special electronic document to all the foreign citizens who wish to enter the Schengen Zone in Europe. It was also created to protect its borders and avoid any illegal immigration.
As mentioned above, this document allows you to enter ETIAS countries, also known as Schengen countries. By now, there are 26 countries that belong to the Schengen Zone.
The Citizens of Georgia don't need a Visa to visit Schengen Zone countries, but they still have to apply for an ETIAS to visit them.
How many countries can apply for the ETIAS?
There are at least 60 countries that need an ETIAS, and Georgia is one of these countries.
Do I need the ETIAS to study and work?
The ETIAS is specifically made for short-term trips regardless of the purpose. You can use it either for business or for entertainment. Nevertheless, note that if you want to study or work in Schengen Zone countries for more than 90 consecutive days (3 months), then you'll have to get another type of document.
Keep in mind that once your ETIAS is approved, it'll be valid for three years or until your current passport expires.
What documents do I need to apply?
You should know that if you apply with the official ETIAS webpage, the list of requirements will be long and you'll need a lot of time to get them. But, with iVisa.com, you can easily get your ETIAS as long as you provide us the following shortlist of things:
Your valid passport with a scanned-copy of its information page.
Your valid email address.
Payment options (it can be a credit card, a debit card, or a Paypal account).
What are the prices and the processing times for the ETIAS?
This document is quite recent, and that's why we can't give you the exact price for it yet. Remember that the price can change from traveler to traveler. What we can inform you is the processing options that iVisa.com has, which can be useful to have an idea of the upcoming alternatives once the ETIAS is ready to use:
Standard Alternative: this option has an affordable price for an average waiting time.
Rush Alternative: with this alternative, you wait less time than before, but the price increases a little.
Super Rush Alternative: this alternative is the most expensive but it's also the quickest of the three.
How can I apply for my ETIAS?
The best thing about iVisa.com's online form is that it only has 3 steps to follow. But, if you find any issues while filling in the online form, then don't worry, you can contact our service assistants to get help at the moment.
These are the 3 parts of the process:
The first part is to answer the initial questions with your personal details and choose the procedure option.
The second part is to proceed with the payment once you've reviewed all the information, making sure that it's valid and without any mistakes.
The third part is to simply upload the documents, make a final revision, and send the form.
That's all you have to do! Once you complete this process, you'll wait for your ETIAS via email and nothing else.
How much time do I need to apply?
Since iVisa.com's application form is effortless and simple, you can complete it in only 20 minutes, and sometimes less if you answer the questions quicker, but we recommend you to take enough time to process the form and avoid mistakes. Remember that if you're in a rush, you can simply select the Super Rush Procedure Time and receive the ETIAS as soon as you complete the form.
What is the difference between the European Union the Schengen Zone?
You should note the difference between these terms to avoid any issues while planning your trip. That's why we're ready to help you with that by giving you this information:
The Schengen Zone is a European Agreement called the "Schengen Agreement". It was created to allow its members to have free transit on their internal borders. It means that Schengen countries don't have internal border restrictions, its citizens can travel from country to country (as long as these countries are part of the Schengen Zone) without anything else but an ID.
Please note that the Schengen Zone is not the same as the European Union. The European Union or EU is a social and political group created with 28 member states to provide peaceful treatment on the continent. Keep in mind that certain countries from the EU aren't part of the Schengen Area, while some members of the Schengen Zone aren't part of the EU.
Such is the case of the UK, which is part of the EU but not of the Schengen Area, while Iceland and Switzerland are part of the Schengen Area but not part of the EU.
If you're wondering how the ETIAS works, then remember that the ETIAS is valid ONLY IN SCHENGEN ZONE COUNTRIES, not in all the EU countries. The confusion happens only because most of the Schengen countries are part of the EU.
Is iVisa.com's service completely secure?
It's understandable that security is the main concern for you, and that's why we can guarantee that our platform has a security system that allows your information to keep safe. We don't provide your personal information to anyone but the official authorities that can provide the required documentation (Schengen Authorities). If you still have doubts about it, you can take a look at our reviews here.
Where can I get more information if I still have doubts?
Don't stress if you still have questions in mind, we can assist you with that. Reach out to our customer service for personal attention, or explore iVisa.com's website to read other important advice about your travel arrangements.
You can start the ETIAS online application here if you're ready to complete the most important step to travel to France!