Travelling was on hold for some time due to the recent outbreak of Coronavirus that affected all citizens around the world. Now that calm has descended, and tourist authorities have been able to take in some of the damage caused by this extended pause, we're starting to see international borders open up again.
Whether you're a sun worshipper or an outdoor pursuits enthusiast, you're sure to find something to tickle your fancy. Canoe races are a typical local custom and you may be surprised to know that surfers have been riding the waves in one form or another for hundreds of years. Stone and javelin throwing as well as fruit carrying are just some of the sports you can try out on your next visit to this fascinating island country. If you're brave enough perhaps you can set your sights on coconut-tree climbing too.
As the border opened and guests were allowed to arrive in French Polynesia, local health authorities made it their priority to protect the citizens of these remote islands as well as other holiday-makers. Strict protocols have been put in place at the airport, and they start before you've even set off. iVisa.com are on top of the latest updates and news from officially recognized sources, so you can count on us to get you there.
Don't be left in a twist at the check in gate. Find out exactly how citizens of Germany can enter French Polynesia during Coronavirus with the aid of this article, which will give you an insight into the paperwork you need to start getting ready to let your hair down and enjoy your dream stay in this paradise destination.
The team at iVisa.com are on hand to answer any other queries you can think of, so sit back, relax and read this short article which will prepare you for the trip of a lifetime to French Polynesia.
Note: Since March 28th, 2022 the French Polynesia ETIS is no longer necessary to enter the country.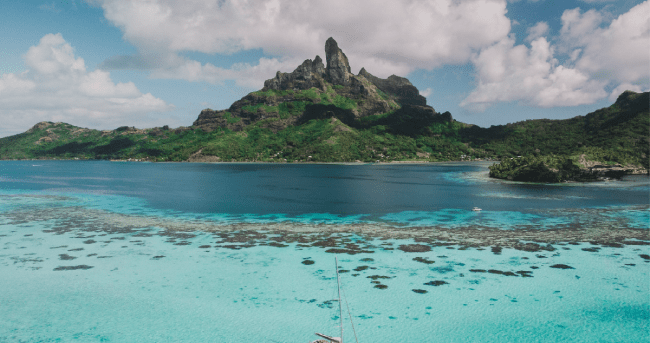 Frequently Asked Questions
How can citizens of Germany enter French Polynesia during Coronavirus?
Quite simply, German citizens need to have a negative Coronavirus test result in their hand if they even want to board a flight to French Polynesia. This will be checked by airport staff in advance, so we recommend that you fulfil this essential requirement. You can check out the list of approved testing centres online by identifying the one closest to you.
Is that it? No it's not. You also have to submit a Health Declaration which gives information about your current health condition and where you have been living over the past few months since the pandemic began.
Anything else? Yes there's more. You will be presented with another Coronavirus test to carry out when you arrive in French Polynesia. This will be given to you at the airport and must be used within the first four days of your trip to this fabulous paradise island destination.
Do I need a COVID vaccine or vaccination certificate to enter French Polynesia?
Yes, French Polynesia has been taking steps to restore travel within its borders. In order to enter French Polynesia for tourism purposes, you'll need to display your COVID vaccination certificate. If you are a COVID-19 vaccine certificate holder coming from an approved country, you won't need to follow a quarantine.
Accepted vaccines are Pfizer, Moderna, Janssen and Astrazeneca.
You are considered fully vaccinated:
7 days after your second Pfizer, Moderna and Astrazeneca dose
28 days after the Janssen vaccine
Is it obligatory to take a PCR test before entering the country?
COVID test prior to arrival: PCR within 72 hours or antigen test within 24 hours before boarding.
Do I have to quarantine upon arrival?
Quarantine requirements: There are no quarantine requirements in French Polynesia.
Where can I fill in the Health Declaration?
When we looked into how German citizens can enter French Polynesia during Coronavirus, we were pleased to discover that we could help by bringing you the essential Health Declaration form, but with a fraction of the stress. Apply here to use iVisa.com's expert processing services to ensure you don't suffer any delays as a result of mistakes or delays. You'll find the forms that iVisa.com's teams created much easier to complete than standard documents, and we make the processing charges clear from the start.
How complicated is the Health Declaration?
When you apply with iVisa.com, you know that you're choosing to make your life easier. Our digital forms can be completed in three simple steps, as follows:
Fill in the relevant sections of the Health Declaration with your personal details.
Check the information that you've entered is correct to avoid typos or spelling mistakes. Pay iVisa.com's reasonable processing fee.
Upload any scans of documents that are necessary for your application and click Submit to complete the steps.
Can my children visit French Polynesia with me?
When we looked into how citizens of Germany can visit French Polynesia in Coronavirus, we identified that all citizens must have a negative Coronavirus test result as well as a Health Declaration. If you have any questions about completing the form for your children, call iVisa.com for individually tailored advice.
Is it safe to use iVisa.com?
When it comes to online applications and formal documentation, it's essential to be aware of potential dangers and risks that arise when carrying out business online. iVisa.com places customer security at the top of its priority list, because we feel that the travel industry is at the greatest risk of hacking as your sensitive personal data is valuable. Trust iVisa.com to take care of your details, and read customer feedback here for reassurance of our merit.
Where is more information available about this topic?
Click here to visit the iVisa.com website, which is a treasure trove of all kinds of tips, advice, tools and simple forms which will make your next trip abroad a breeze. Look us up for everything from registering your trip with the embassy to eVisa applications and of course, Health declarations.