British tourists who have been waiting patiently for the world's borders to open again so they can get back to bronzing themselves on the beach or exploring uncharted underwater territories, will be relieved to see that the majority of countries have started opening up again. This is also true of the overseas French territory of French Polynesia.
This island nation said au revoir to international guests at the height of the pandemic, but has since started welcoming them back with open arms. The economy of this paradise destination is somewhat reliant on the thousands of visitors which flock to the dreamy beaches every year, so you can imagine how keen the islanders were to get them back.
Of course, the health risk that shut down French Polynesia earlier this year hasn't exactly disappeared, which means that now more than ever it is vital for visitors to follow local procedures regarding hygiene and sanitation. If you're sick of wearing a mask, at least you can start looking forward to the freedom of the open sea, where you can toss your mask aside for a while and relax in the balmy temperatures of the South Pacific Ocean.
The customers that iVisa.com have helped over the past few years have been in touch with us, all demanding to know how citizens of the United Kingdom can enter French Polynesia during Coronavirus. So, without further delay, we bring you this information that will give you a clear insight into the processes and requirements for British tourists.
Note: Since March 28th, 2022 the French Polynesia ETIS is no longer necessary to enter the country.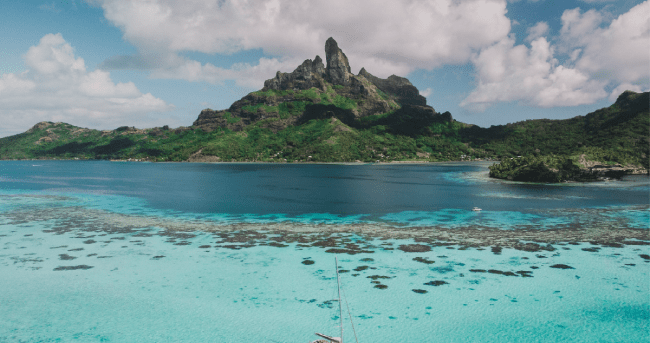 Frequently Asked Questions
What does the French Polynesian Health Declaration mean for the citizens of the United Kingdom?
If you're considering spending your honeymoon or winter vacation in the glamorous island destination of French Polynesia, then you're probably also thinking about applying for the Health Declaration with iVisa.com. This document is now essential for all visitors arriving from now on, in an effort to control the spread of the Coronavirus. This form can be filled out in a matter of minutes using iVisa.com's simple formula. You must fill it out before you arrive, so take advantage of the superb 20 USD processing fee now.
What else do citizens of the United Kingdom have to do to get into French Polynesia?
The question of how citizens of the United Kingdom can enter French Polynesia during Coronavirus is answered primarily in the form of a test. You must present a negative test result before boarding your flight. The test should be carried out in an approved test centre and the results must not be dated more than 96 hours before you set off. Speak to a helpful professional by using the iVisa.com online chat tool.
Do I need a COVID vaccine or vaccination certificate to enter French Polynesia?
Yes, French Polynesia has been taking steps to restore travel within its borders. In order to enter French Polynesia for tourism purposes, you'll need to display your COVID vaccination certificate. If you are a COVID-19 vaccine certificate holder coming from an approved country, you won't need to follow a quarantine.
Accepted vaccines are Pfizer, Moderna, Janssen and Astrazeneca.
You are considered fully vaccinated:
7 days after your second Pfizer, Moderna and Astrazeneca dose
28 days after the Janssen vaccine
Is it obligatory to take a PCR test before entering the country?
COVID test prior to arrival: PCR within 72 hours or antigen test within 24 hours before boarding.
Do I have to quarantine upon arrival?
Quarantine requirements: There are no quarantine requirements in French Polynesia.
How can British people fill in the declaration that is required to travel to French Polynesia?
Citizens of the UK can enter French Polynesia during Coronavirus if they just apply for your Health Declaration with iVisa.com by following these simple instructions.
Complete the questionnaire using your personal details and fill in the sections asking about travel history and symptoms.
Check your answers again because we can't fix any typos once your application has been submitted. Pay for your processing charge using Paypal, credit or debit card.
Upload any documents the form calls for like your passport scan and submit your application. You're done!
Can United Kingdom passport holders enter French Polynesia multiple times with a Health Declaration?
In order to keep a lid on the spread of the disease, health officials have made negative test results and Health Declarations a must-have requirement so that citizens of the United Kingdom can enter French Polynesia during Coronavirus without too many issues. If you decide to leave this dreamy island location and then want to return then you will need to produce another negative Coronavirus test result, as well as completing another Health Declaration. So what we're really saying is that multiple entries are still an option for citizens of the United Kingdom hoping to enter French Polynesia during Coronavirus.
Apply today for peace of mind whilst you get ready for a wonderful trip.
How do I know if I am eligible to apply for the Health Declaration?
If you're in any doubt about the individual requirements for your upcoming trip, we advise you to take a look at the Visa Checker Tool on the iVisa.com website. This feature was put together in order to give readers succinct and clear information. Citizens of the United Kingdom can enter French Polynesia during Coronavirus by presenting border officials with a genuine Health Declaration and negative test results.
Is it safe to use iVisa.com?
If you've ever wondered about the security practices and controls which protect your important and confidential information then we are delighted to make you aware that iVisa.com uses top of the range password protection and secure firewalls to guarantee that not one single phishing tool or hacker can ever achieve access to our client files. Read our customer feedback for real life experiences with iVisa.com.
Where can I read more information?
Travelling during a world pandemic can be a worrying and uncertain time. You may find yourself thinking of extra questions or feel keen to cover a range of topics so that you aren't caught out by surprise border control demands. Get in touch with a qualified adviser on the chat function page on iVisa.com's webpage for full support, or if you want a conversation then call the team today.