Since French Polynesia lifted its quarantine measures on 15th July, tourists have been able to enter the country for vacations and tourism. However, this relaxation of lockdown rules is not without requirements. If you thought it was as easy as hopping on a plane and slipping into a bikini then you're going to be disappointed. Visiting French Polynesia is now only possible by fulfilling a variety of measures which were put in place to protect residents of this island nation as well as other tourists. Although the motto of many islanders translates to 'Take it easy', you'll not be able to relax until you've got everything ready that you need to get your vacation in French Polynesia off to a running start.
The essential measures that are currently in place include completion of a Health Declaration as well as COVID-19 testing 96 hours before your flight as well as 4 days after arrival on the island. International travellers must also be able to show proof of travel insurance that will cover any Coronavirus treatment that may be required in the event that holders develop symptoms of the illness.
If you're planning a vacation to French Polynesia, don't be deterred by the list of travel requirements. The team at iVisa.com is on hand to answer any questions you have, and in the meantime we suggest you read the useful information provided here that provides a greater depth of insight into the measures that are assisting the re-opening of this fantastic paradise island holiday destination. By taking the necessary actions to prepare yourself for a safe and healthy getaway, you can relax and continue dreaming about the coral gardens and lagoonarium that you and your family will enjoy visiting on Bora Bora, just one of the islands that make up this nation.
Note: Since March 28th, 2022 the French Polynesia ETIS is no longer necessary to enter the country.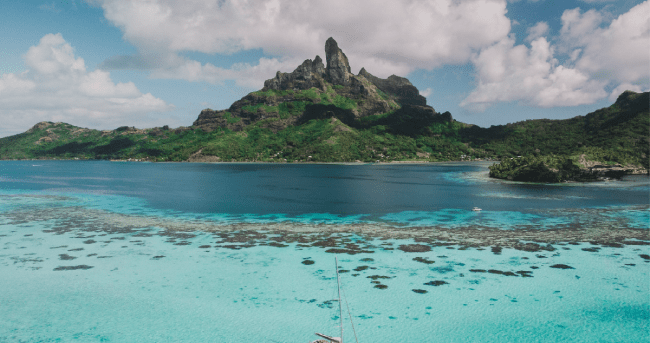 Frequently Asked Questions
What are the French Polynesia travel insurance requirements?
As well as having a negative Coronavirus test result and filling in a Health Declaration, visitors are also required to obtain comprehensive health insurance to ensure that they are covered for all eventualities whilst in French Polynesia. The type of travel insurance that you need will depend on your current health status. Of course, not all travel insurance packages are the same, so the one you choose will depend on your individual health requirements, however it is essential to make sure that COVID-19 treatment is included.
What if I don't follow French Polynesia travel insurance requirements?
If you choose not to get travel insurance for your vacation to French Polynesia, you are taking the risk that you will be denied entry on arrival. The local authorities are taking all kinds of entry requirements very seriously as the measures are paramount to protect local residents and other travellers. Border control officers will check that you are following all of the requirements and may deny you entry if they note that you are not sufficiently insured.
If you are permitted entry to French Polynesia and subsequently become unwell, you will be liable to pay for any treatment costs incurred whilst you do not have travel insurance.
Do I need a COVID vaccine or vaccination certificate to enter French Polynesia?
Yes, French Polynesia has been taking steps to restore travel within its borders. In order to enter French Polynesia for tourism purposes, you'll need to display your COVID vaccination certificate. If you are a COVID-19 vaccine certificate holder coming from an approved country, you won't need to follow a quarantine.
Accepted vaccines are Pfizer, Moderna, Janssen and Astrazeneca.
You are considered fully vaccinated:
7 days after your second Pfizer, Moderna and Astrazeneca dose
28 days after the Janssen vaccine
Is it obligatory to take a PCR test before entering the country?
COVID test prior to arrival: PCR within 72 hours or antigen test within 24 hours before boarding.
Do I have to quarantine upon arrival?
Quarantine requirements: There are no quarantine requirements in French Polynesia.
Do children need travel insurance to visit French Polynesia?
Even children must have travel insurance to visit this wonderful island nation. Most people wouldn't dream of setting off on holiday without the protection of travel insurance, especially in light of the recent events which led to the world being in lockdown. That's why we suggest you obey these French Polynesia travel insurance requirements so that you can enjoy peace of mind when you're relaxing on the beach.
Click here to review the health registration requirements that you can fulfill with iVisa.com.
Can I avoid needing a COVID-19 test if I have travel insurance?
French Polynesia travel insurance requirements are just one part of the measures introduced to protect civilians and travellers. You cannot avoid getting a COVID-19 test as it is essential to board the plane for French Polynesia. Travel insurance must be purchased in addition to the test and the Health Declaration which you can apply for using iVisa.com's services.
Is it safe to use iVisa.com's services?
iVisa.com is one of the top suppliers of document processing services for international travellers. The iVisa.com website is host to a mountain of government-issued advice and guidelines to enable easy access to holiday destinations around the world. Priding itself on providing the best services for visitors who need their processing to be carried out urgently, as well as offering advice and information for those who simply need to find answers, iVisa.com protects it's customer's information with the best firewalls on the market as well as top security measures.
Apply here for your French Polynesia health registration.
Where can I go to look for more information about French Polynesia Travel Insurance Requirements?
If you're still not sure exactly what you need to do in order to enter French Polynesia at this time, or you don't understand the travel insurance requirements detailed in this articlethen your first port of call should be the iVisa.com website. There you can find plenty of information about the requirements, as well as access to a chat function where you'll be able to speak to a team member who can guide you through the details.