If you've spent the past few months fantasizing about the borders opening again to tourists desperate to enjoy the glistening, crystalline waters and soft, frothy beaches of French Polynesia whilst clutching a iced drink and reading a soppy novel then you'll be over the moon with the news that we have to share today.
With a sprinkling of active volcanoes providing an inspirational background for all your holiday photos, as well as dormant volcanoes offering adventure-lovers a great land form to explore and discover, this destination has something for everyone.
This stunning island nation has opened its doors once more to Australian tourists. Keen to restart the vital tourist economy, its leaders have put in place a comprehensive plan to ensure that guests are welcomed back with open arms whilst maintaining a high level of sanitation and health hygiene.
The beaches are open for business, so you don't need to worry about missing out on the key attractions of this dazzling region. You may be wondering exactly what hygiene measures are in place, so the team at iVisa.com have made it their job to make sure that you are informed and educated to the highest standard. Read on to discover important actions you must take to ensure your once-in-a-lifetime South Pacfic vacation is unforgettable for all the best reasons. Click here to go directly to the application form to complete all the necessary requirements that form the basis of how citizens of Australia can enter French Polynesia during Coronavirus.
Note: Since March 28th, 2022 the French Polynesia ETIS is no longer necessary to enter the country.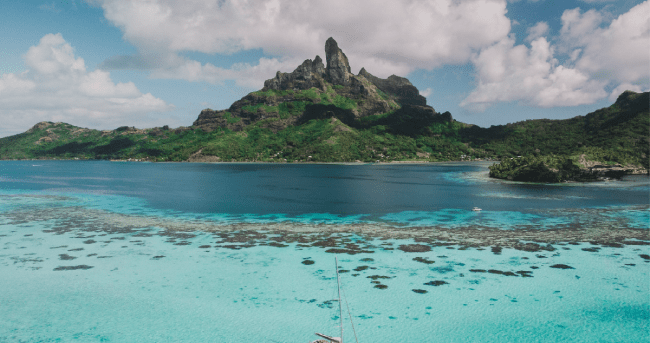 Frequently Asked Questions
Need the citizens of Australia have a test to enter French Polynesia during Coronavirus?
Like many countries around the world, French Polynesia has jumped aboard the testing bandwagon in an attempt to control the spread of the virus. At the moment, authorities require visitors to provide negative results of a Coronavirus test, which must be dated within 96 hours of arrival.Whatsmore, it's not just one test. When travellers arrive in French Polynesia they will be given a further, second test which should be carried out within the first 4 days of arrival on the island. Use the iVisa.com chat function if you're in any way unsure about this essential requirement or still unsure how citizens of Australia can enter French Polynesia during Coronavirus.
How can I get my Coronavirus test?
Conveniently, the health authorities of French Polynesia have issued a list of approved testing centres, which can be your guide to the nearest place to get your test. We know many people are wondering how citizens of Australia can enter French Polynesia during Coronavirus and we're happy to help you with all the information you need.
iVisa.com's Visa Checker is the most useful tool on the market for bringing you directly to the details you need.
Do citizens of Australia need to get a visa to enter French Polynesia?
Australian citizens do not need to apply for a tourist visa to enter French Polynesia, however that's not the end of the story. An additional part of the new Coronavirus-related travel restrictions include the completion of a Health Declaration, which you can now fill out on the iVisa.com website.
Do I need a COVID vaccine or vaccination certificate to enter French Polynesia?
Yes, French Polynesia has been taking steps to restore travel within its borders. In order to enter French Polynesia for tourism purposes, you'll need to display your COVID vaccination certificate. If you are a COVID-19 vaccine certificate holder coming from an approved country, you won't need to follow a quarantine.
Accepted vaccines are Pfizer, Moderna, Janssen and Astrazeneca.
You are considered fully vaccinated:
7 days after your second Pfizer, Moderna and Astrazeneca dose
28 days after the Janssen vaccine
Is it obligatory to take a PCR test before entering the country?
COVID test prior to arrival: PCR within 72 hours or antigen test within 24 hours before boarding.
Do I have to quarantine upon arrival?
Quarantine requirements: There are no quarantine requirements in French Polynesia.
Do I need to pay to enter French Polynesia?
The Health Declaration to enter French Polynesia must be completed by all incoming travellers. This form doesn't have a charge, however iVisa.com charge a small processing fee for carrying out this work on your behalf. You can choose from 3 different options for processing speeds when applying with iVisa.com:
Standard Processing Option (

USD $108.99

): This is the top option for travellers who have time (

5 days

) to spare.
Rush Processing Option (

USD $166.99

): The choice for travellers who don't have quite so much time (

3 days

) to spare.
Super Rush Processing Option (

USD $241.99

): The choice for travellers with no time (

24 hours

) to spare who need to travel now.
What steps can I take to complete the Health Declaration?
iVisa.com prides itself on offering top quality services that don't leave you feeling stressed and confused. Just follow these three standardised steps for a painless paperwork experience. Now you know how citizens of Australia can enter French Polynesia during Coronavirus you just need to get started.
Fill in the form using your personal details and review the processing fee.
Check your answers thoroughly, then make the payment using Paypal or a credit/debit card.
Attach any document scans and submit your form.That's it!
Is it safe to use iVisa.com?
Safety is the number one priority for the whole iVisa.com team. The premise of the business is providing a secure, fast document processing service and without the highest standard of data protection, none of it would be possible. Read our client comments for real-life testimonials.
Where can I read more information?
We hope you now know how citizens of Australia can enter French Polynesia during Coronavirus, but if not, don't delay, click your way over to the iVisa.com homepage for fascinating blogs, detailed information, feedback, reviews and top tips. You can also reach out to a customer service team member using the chat function. They're waiting to speak to you anytime, day or night.