If you've been getting itchy feet after too many weekends sat in your apartment in Tokyo, or are looking for an island adventure with a cultural twist, thanks to the French influence over the region, we're delighted to inform you that French Polynesia has now opened its doors to flights carrying hundreds of eager tourists to this remote part of the word.
iVisa.com is the ideal travel company to get you set up with everything you need to embark on the trip of a lifetime to this stunning island location. Newly weds are often the first to book the iconic bungalow accommodation that floats above clear, blue water. If a wedding isn't on the cards then it's surely time to treat yourself.
The world's not quite the same this year, for obvious reasons, but that doesn't mean you can't relax and enjoy yourself. Following health and safety guidelines is a vital task when you're abroad now, so check out this informative article for answers to all your pressing questions about how citizens of Japan can enter French Polynesia during Coronavirus. Click here to read all the latest updates to make your lunch break fantasy break to this island paradise a dream come true.
Note: Since March 28th, 2022 the French Polynesia ETIS is no longer necessary to enter the country.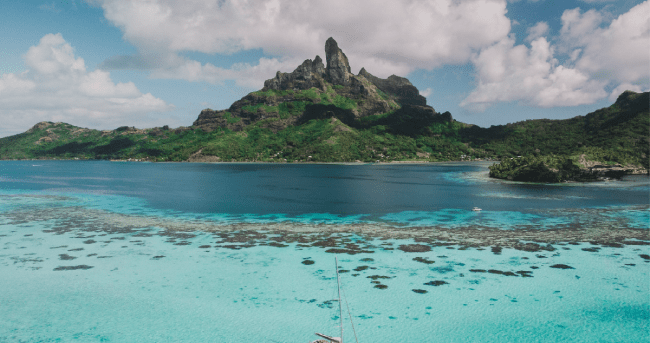 Frequently Asked Questions
What do citizens of Japan need to do to enter French Polynesia?
Now that the borders of the 52 airports in French Polynesia have officially opened for service, we are thrilled to tell you that it's easy to obtain access to this beautiful part of the world. Visitors simply need to show a negative Coronavirus test result, which must be dated within 96 hours of arrival.
Incoming visitors must also complete a Sanitary Entry Form which you can find on any of the official websites.
Once you've completed these vital steps, all you need to do is await the results of a further Coronavirus test which will be presented to you at the airport. It's that easy! Of course, these requirements relate directly to steps taken as a result of the pandemic, so we recommend that you also let the embassy know you're off to French Polynesia by filling out this easy registration form.
Do I need a COVID vaccine or vaccination certificate to enter French Polynesia?
Yes, French Polynesia has been taking steps to restore travel within its borders. In order to enter French Polynesia for tourism purposes, you'll need to display your COVID vaccination certificate. If you are a COVID-19 vaccine certificate holder coming from an approved country, you won't need to follow a quarantine.
Accepted vaccines are Pfizer, Moderna, Janssen and Astrazeneca.
You are considered fully vaccinated:
7 days after your second Pfizer, Moderna and Astrazeneca dose
28 days after the Janssen vaccine
Is it obligatory to take a PCR test before entering the country?
COVID test prior to arrival: PCR within 72 hours or antigen test within 24 hours before boarding.
Do I have to quarantine upon arrival?
Quarantine requirements: There are no quarantine requirements in French Polynesia.
Where can I get my Coronavirus test?
You'll find a list of approved testing centres on the official website. You should choose one of the authorised options as an alternative test result will not be accepted. The second test, which should take place within the first four days of arrival in French Polynesia, will be handed to you at the airport for self-testing. Speak to one of the team using the iVisa.com chat function, which is available online anytime day or night.
Do citizens of Japan need a visa to enter French Polynesia?
The great news is that citizens of Japan do not need to obtain a tourist visa to enter this wonderful country for tourism reasons or for a short stay. Although that doesn't mean that additional requirements such as the Coronavirus tests and sanitary forms aren't still essential.
It's also important to remember that you must also obey local biohazard instructions especially relating to wearing a mask and frequent hand washing. Keep your eyes peeled for the newest updates on the iVisa.com website.
What do I need to pay for?
iVisa.com offers three different processing options for getting your documents when you're travelling abroad. You can find detailed information about iVisa.com's processing times below:
Standard Processing Option (

USD 96.49

): This is the top option for travellers who have time to spare (

5 days

).
Rush Processing Option (

USD 129.99

): The choice for travellers who don't have quite so much time to spare (

3 days

).
Super Rush Processing Option (

USD 184.99

): The choice for travellers with no time to spare who need to travel now (

24 hours

).
Citizens of Japan can enter French Polynesia by fulfilling Coronavirus test requirements. You will have to pay for a standard test in one of the approved centres. Another requirement is to fill out the electronic information form. This is free, so you don't need to worry about the costs involved in this.
Is it safe to use iVisa.com?
If you worry about supplying personal information and copies of confidential details like your passport number, please rest assured that we understand your concerns and put them at the forefront of the business. Read these client reviews to find out why our customers always return to us for their travel documentation needs.
Where can I read more information?
The past few months have been filled with questions. Some of them are answerable, but others are as much of a question for you as they are for us. We will make sure to get to the root of any of your difficult queries so don't delay in reaching out to one of the team through the or by calling the number relevant to your location, which you can also find on the iVisa.com website.