French Polynesia has welcomed visitors to its stunning sandy stretches and clear waters for decades. Most recently, it has become known as the top destination for newly weds and honeymooners, who form orderly queues to book into the water-top bungalows that grace the pages of travel magazines, enticing readers with their paradise-island views of the vast South Pacific Ocean.
The recent pandemic resulted in a shut down of the region, in order to protect residents and workers. Thankfully, borders are open again to international travelers, which means you can put French Polynesia back on your must-visit list again.
New regulations and entry rules mean that its imperative that you know everything there is to find out about the burning questions of how can the citizens of New Zealand enter French Polynesia.
Applying with iVisa.com to complete your Health Declaration is just one of the steps that you must follow in order to obtain access to this wonderful part of the world. You might think that New Zealand and French Polynesia have a lot in common, as they both boast active and dormant volcanoes and desert island lifestyles but a key differentiation is the level of health and safety that is being promoted by the health board of French Polynesia, which couldn't be higher. Take a moment to read our official update on how citizens of New Zealand enter French Polynesia during Coronavirus.
Note: Since March 28th, 2022 the French Polynesia ETIS is no longer necessary to enter the country.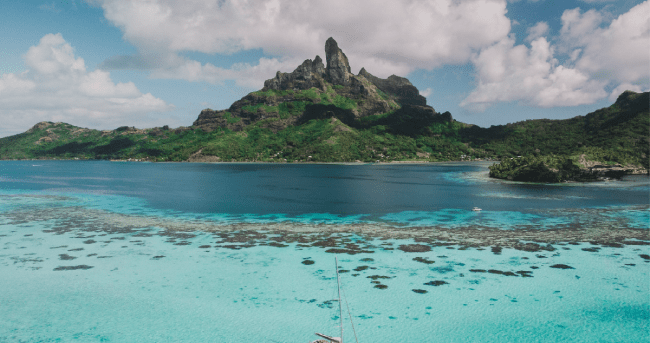 Frequently Asked Questions
How can the citizens of New Zealand enter French Polynesia without delay?
In order to proceed straight through customs when you land in one of the 52 airports that grace French Polynesia's islands, you must have evidence of a negative Coronavirus test to hand. You also must have completed a Health Declaration which provides details about the state of your health. That's not all. You will be given another test on arrival, which must be carried out within the first 4 days of your vacation in order to double check that the virus hasn't sneaked in when you weren't aware.
Can I enter French Polynesia if I have a negative test?
If you already have flights booked and just received the results of your Coronavirus test, you are halfway there already if your results were negative. That's great news because you have overcome the first hurdle. However you are likely feeling dismayed if the test results were positive. Even if you're not suffering from any symptoms, you still won't be able to enter as this is a non-negotiable part of the entry requirements. If you're not sure about what to do with your test results, reach out to a helpful iVisa.com staff member using the chat function.
Do I need a COVID vaccine or vaccination certificate to enter French Polynesia?
Yes, French Polynesia has been taking steps to restore travel within its borders. In order to enter French Polynesia for tourism purposes, you'll need to display your COVID vaccination certificate. If you are a COVID-19 vaccine certificate holder coming from an approved country, you won't need to follow a quarantine.
Accepted vaccines are Pfizer, Moderna, Janssen and Astrazeneca.
You are considered fully vaccinated:
7 days after your second Pfizer, Moderna and Astrazeneca dose
28 days after the Janssen vaccine
Is it obligatory to take a PCR test before entering the country?
COVID test prior to arrival: PCR within 72 hours or antigen test within 24 hours before boarding.
Do I have to quarantine upon arrival?
Quarantine requirements: There are no quarantine requirements in French Polynesia.
Do I need to pay a charge if I want to enter French Polynesia?
The Health Declaration that you are required to fill out in order to enter this slice of paradise is free. You will have to cover the cost of your first Coronavirus test yourself, however the second test which is carried out on arrival will be paid for by the island's officials. Like most free application forms, the process is less clear on the official site and timeframes cannot be guaranteed. We recommend you apply with iVisa.com to receive your documents in a timely fashion without the stress of slow government pages.
How long can I stay in French Polynesia for?
Using the Visa Checker Tool is the best way to find out how can the citizens of New Zealand enter French Polynesia. This feature was built for ease of use and to provide the maximum amount of relevant information for your unique travel situation. If you apply with iVisa.com you're entitled to spend 90 days in French Polynesia with your Health Declaration.
How can iVisa.com assist citizens of New Zealand who want to enter French Polynesia during Coronavirus?
iVisa.com aims to assure travellers of a seamless getaway experience, so its focus is on the paperwork you need to have ready when you arrive at the border. You could apply through the official tourism site, which might be complicated and confusing. Instead, iVisa.com offers a simple and straightforward Health Declaration application.
It's as easy as one, two, three. Let's find out how citizens of New Zealand enter French Polynesia during Coronavirus with iVisa.com's help.
Fill in the application with your personal details.
Pay the processing fee, which guarantees your paperwork is in the right hands.
Upload copies of your documents and submit the application.
Is it safe to use iVisa.com?
The internet is home to a vast pool of service providers who all want to help you, but we recognize that what sets us apart is our dedication to security and safety. Reviews are a great way to see how we fared with previous clients so check them out.
Where can I read more information?
When there's so much false news about, it's time to make sure that you're only reading the most reliable and trusted blogs and updates. You can count on the iVisa.com website to keep you informed, and the customer service team is on hand to provide a personalised service you'll want to return to.