Canadian citizens will be over the moon to hear that they are once more able to visit the awe-inspiring islands that make up French Polynesia.
As a country with its own fair share of French influence, Canadians are sure to be some of the first visitors landing on this slice of paradise. So say bonjour to French Polynesia and start planning your next getaway thanks to this informative article brought to you by the folks at iVisa.com, which will explain exactly how citizens of Canada can enter French Polynesia during Coronavirus and what you need to register your trip through iVisa.com.
White sandy beaches, extinct volcanoes and some of the best surf in the world. It's no wonder that French Polynesia is so popular with waterbabies. It's the ideal destination for lovers of water sports as well as divers who enjoy submerging themselves in the clear blue waters to see the colourful coral that this part of the world boasts.
You may think that it's easy to contain this infectious virus in a place as remote as French Polynesia, and it's certainly true that its location, situated in the middle of the South Pacific Ocean at least 2500 kilometers from the nearest country, should put it in a great position to prevent a massive outbreak. Of course, the only way to control the consequences of reintroducing international travel to this unspoilt corner of the world is by enforcing various requirements that must be followed by citizens of Canada so they can enter French Polynesia during Coronavirus. Let's find out more below.
Note: Since March 28th, 2022 the French Polynesia ETIS is no longer necessary to enter the country.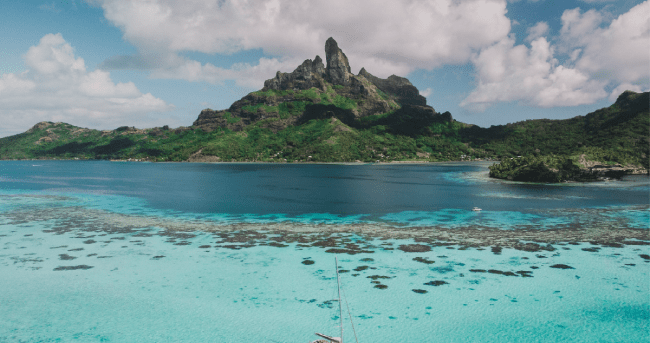 Frequently Asked Questions
How can citizens of Canada enter French Polynesia during Coronavirus?
The new rules that apply for all incoming visitors, including citizens of Canada, are directly related to the risks of entering the country with symptoms of this deadly virus. Before you arrive in French Polynesia, it is essential that you have available to hand the negative results of a Coronavirus test. You must use one of the approved centres, a list of which you can find on any of the authorized websites, and the test should be conducted within the required time parameters of 96 hours before arrival.
The second requirement for entry to any of the 118 islands which make up French Polynesia is to fill in an ETIS form. ETIS stands for Electronic Travel Information System and this document will ask you questions about your health status as well as requiring information about your contact details.
As Canadian citizens can enter French Polynesia during Coronavirus without applying for a visa, we recommend that you register your visit with the embassy. This provides water-tight protection in the event of an emergency, so the relevant authorities know exactly where you are and how they can get in touch with you whilst abroad if necessary.
Do Canadian citizens need to take a second test upon arrival?
When Canadian citizens arrive by air in one of the 52 airports providing access to the area, they will be handed a Coronavirus test to be completed within 4 days of arriving in the country. This is in addition to the test results that travellers must provide in order to board their flight, meaning that it is necessary to take two tests. Speak to a friendly iVisa.com customer service member if you have any further questions about this requirement.
Do I need a COVID vaccine or vaccination certificate to enter French Polynesia?
Yes, French Polynesia has been taking steps to restore travel within its borders. In order to enter French Polynesia for tourism purposes, you'll need to display your COVID vaccination certificate. If you are a COVID-19 vaccine certificate holder coming from an approved country, you won't need to follow a quarantine.
Accepted vaccines are Pfizer, Moderna, Janssen and Astrazeneca.
You are considered fully vaccinated:
7 days after your second Pfizer, Moderna and Astrazeneca dose
28 days after the Janssen vaccine
Is it obligatory to take a PCR test before entering the country?
COVID test prior to arrival: PCR within 72 hours or antigen test within 24 hours before boarding.
Do I have to quarantine upon arrival?
Quarantine requirements: There are no quarantine requirements in French Polynesia.
How can I register my trip with the embassy?
The iVisa.com website should be your first port of call for all your embassy registration needs. All you have to do to perform this vital task is fulfil the following three steps.
Complete the registration form by filling in all the sections that apply to you.
Check your answers thoroughly and pay the $12.95 processing free.
Upload any documents required and click Submit. How easy is that?
What different processing speeds to iVisa.com offer travelers for their documents?
Luckily, citizens of Canada can enter French Polynesia during coronavirus without needing to apply for a tourist visa. If you come from a country that does need a visa to enter then you'll be relieved to see that iVisa.com offers three different processing options for all levels of urgency.
Standard processing (

USD $97.49

): This is the best choice for travellers with a decent amount of time (

5 days

) before they set off.
Rush processing (

USD $147.99

): This option is great for jetsetters who are in a rush (

3 days

), but it's not yet urgent.
Super Rush processing (

USD $190.99

): This is essential for travellers who need their document as soon as possible (

24 hours

).
Is it safe to use iVisa.com?
We know that your passport and identity documents are extremely sensitive information that must be protected to the highest standard. That's why thousands of customers continue to use our services every year for all their border and visa requirements. Citizens of Canada can enter French Polynesia during Coronavirus by following the measures detailed above so all you need to do is register your trip with the embassy. Read through our client reviews to learn more about why it's safe to use iVisa.com.
Where can I read more information?
If you've been left with more burning questions not already covered in this post, then make your way over to iVisa.com's website for handy tools like the Visa Checker. You can also use the chat function for access to the helpful team, who are keen to respond to your queries.