As an overseas territory, French Polynesia is a popular destination for tourists coming from France, as it offers visitors a tropical island experience with the convenience of a shared language. Thanks to new biohazard protocols and sanitary rules, these South Pacific islands have once again reopened to international travellers.
By following the necessary measures, citizens of France can enter French Polynesia during Coronavirus to enjoy the wonders of the Robert Wan pearl museum, the views from Matira Point and the awe-inspiring Tapueahu Canyon. If that's not enough to tempt your senses then you might be more interested in diving down to below the crystal clear waters to glimpse the spectacular coral which is hidden away below the water's surface.
Or perhaps you're just looking forward to lying on the beach with a drink in one hand and a book in the other. The joy of French Polynesia is that the relaxed vibe welcomes all travellers, so don't be shy and get started now with the health protocols that must be completed before you set off. The iVisa.com website has ample information for travellers from countries all over the world, including how French citizens can enter French Polynesia during Coronavirus. We have organised the information in this article s to help guide you through the tricky process. It'll all become clear with just a few clicks so read on to find out more.
Note: Since March 28th, 2022 the French Polynesia ETIS is no longer necessary to enter the country.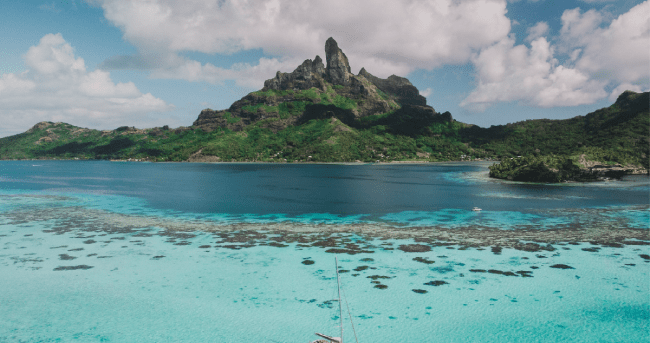 Frequently Asked Questions
Is French Polynesia open to French citizens now?
French Polynesia has been open to international visitors since mid July, and has remained open thanks to the stringent hygiene protocols that have been put in place. It all starts 96 days before you go on holiday, when you have to obtain negative Coronavirus results from one of the approved testing centres.
With your results ready, the next task is to complete the digital Health Declaration which we have already prepared for you on the iVisa.com website. Once that's ready, the final step will involve a second and final Coronavirus test, which must be taken within 4 days of your arrival in French Polynesia.
Do I need a COVID vaccine or vaccination certificate to enter French Polynesia?
Yes, French Polynesia has been taking steps to restore travel within its borders. In order to enter French Polynesia for tourism purposes, you'll need to display your COVID vaccination certificate. If you are a COVID-19 vaccine certificate holder coming from an approved country, you won't need to follow a quarantine.
Accepted vaccines are Pfizer, Moderna, Janssen and Astrazeneca.
You are considered fully vaccinated:
7 days after your second Pfizer, Moderna and Astrazeneca dose
28 days after the Janssen vaccine
Is it obligatory to take a PCR test before entering the country?
COVID test prior to arrival: PCR within 72 hours or antigen test within 24 hours before boarding.
Do I have to quarantine upon arrival?
Quarantine requirements: There are no quarantine requirements in French Polynesia.
What does the Health Declaration form consist of?
Any application with iVisa.com, including the Health Declaration for citizens of France to enter French Polynesia during Coronavirus, has just three simple and clear steps. We've summarised them so you know how easy it is.
Fill in the application form using your personal information. Be sure to complete every section that is relevant and required.
Check back to make sure you haven't made any typing mistakes and pay iVisa.com's reasonably priced processing fee.
Upload any documents that are requested for your application and relax, because once you click submit you're all done.
iVisa.com has custom made these application forms to make them straightforward and understandable so that your document processing experience is painless.
Is the Health Declaration expensive?
The Health Declaration is available to complete for free on the official local government website. If you wish to use iVisa.com's professional document processing services, there will be a nominal fee of 20 USD. This is to cover the costs involved in bringing you a guaranteed service. Apply now!
Can I enter French Polynesia without a Coronavirus test?
Unfortunately you cannot enter French Polynesia without a negative Coronavirus test result, as the health authorities on the island have made this an essential document. If your test result is positive you will not be allowed to board a flight to the island nation. If you recently received a positive test result, speak to one of the iVisa.com team on the chat page about how you can enter French Polynesia.
What processing speeds does iVisa.com offer?
You can get your Health Declaration in less than 4 hours thanks to iVisa.com's top notch processing team. For eVisas and other document requirements, iVisa.com offers three options to process your paperwork in the necessary timeframe.
Standard processing (

USD $102.99

): This is the best value for money, with a longer waiting time (

5 days

) for travellers who don't need their documents anytime soon.
Rush processing (

USD $159.99

): This option is more expensive but you're sure to get your documents that little bit faster (

3 days

).
Super Rush processing (

USD $207.99

): This choice is for travellers in a hurry. They will pay a premium for a fast service (

24 hours

).
Is it safe to apply with iVisa.com?
As a document processing company, the safety and security of our client's sensitive information is paramount to our success. For this reason, you'll see that throughout your application process, our talented customer services team are available at any time to answer your questions and reassure you that your private data will be protected with the highest firewalls at all times.
Where can I get more information?
If this article hasn't fully resolved your queries about how citizens of France can enter French Polynesia during Coronavirus, then we encourage you to head on over to the iVisa.com webpage where you'll instantly have access to an abundance of articles, tools and updates about world travel.