The captivating nation of French Polynesia has been open to international visitors from the middle of July. Whilst other countries have kept their border closed whilst the Covid-19 pandemic unfolds, French Polynesia made the tough decision to take a risk on opening. The reasons for doing so lie solely in the economic status of the country, which relies heavily on income from foreign tourists to support the people who live there.
iVisa.com has been helping travelers to make the journey to these breathtaking islands for many years, and it has gained a reputation as the must-visit location for newlyweds as well as beach-lovers and divers across the world. The iconic images of stunning water bungalows set above the peaceful blue waters of the South Pacific have been even more tempting for guests who have been stuck indoors during lockdown.
If you're feeling the pull of paradise, and you're finding that every time you glimpse a bikini or towel you have to resist the urge to pack your beach bag, then we recommend you take a few minutes for this essential read about the current French Polynesia COVID-19 Test Requirements.
2020 has been a strange year, especially for travellers and holidaymakers who have found their plans delayed or cancelled altogether. The team at iVisa.com are keen to help customers return to a state of normalcy, and that means getting tourists back to the beach. Read these information below to discover what the new normal involves when you visit French Polynesia this year.
Note: Since March 28th, 2022 the French Polynesia ETIS is no longer necessary to enter the country.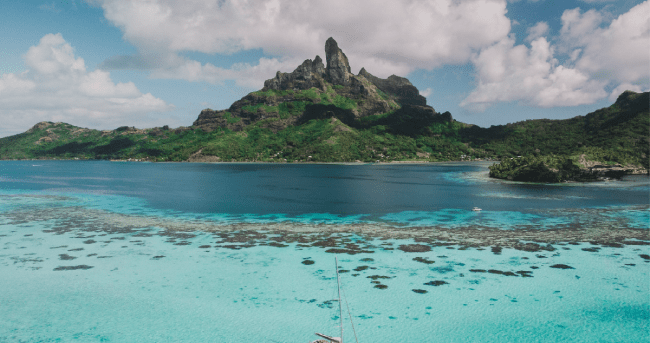 Frequently Asked Questions
What can you tell me about French Polynesia COVID-19 test requirements?
The strict new entry rules issued by health administrators of French Polynesia are grounded in the importance of COVID-19 testing. As French Polynesian citizens rely heavily on tourist spending in hotels, restaurants and bars, it was vital for them to reopen the nation as soon as possible. That's why the new test requirements were brought into place. You may be surprised to discover that there's more than one test involved for each person.
Visitors travelling to French Polynesia must arrive with a negative test result carried out within 96 hours of your flight as well as a second test that is applied within the first 4 days of arrival. The second test will be supplied by local authorities so you don't need to worry about any additional costs.
Do I need a COVID vaccine or vaccination certificate to enter French Polynesia?
Yes, French Polynesia has been taking steps to restore travel within its borders. In order to enter French Polynesia for tourism purposes, you'll need to display your COVID vaccination certificate. If you are a COVID-19 vaccine certificate holder coming from an approved country, you won't need to follow a quarantine.
Accepted vaccines are Pfizer, Moderna, Janssen and Astrazeneca.
You are considered fully vaccinated:
7 days after your second Pfizer, Moderna and Astrazeneca dose
28 days after the Janssen vaccine
Is it obligatory to take a PCR test before entering the country?
COVID test prior to arrival: PCR within 72 hours or antigen test within 24 hours before boarding.
Do I have to quarantine upon arrival?
Quarantine requirements: There are no quarantine requirements in French Polynesia.
What if I can't produce a negative COVID-19 test result?
If you don't have a negative test result, either because you didn't carry out the test or because your result was positive then unfortunately you won't be able to enter French Polynesia. The authorities are being especially strict about this as it is necessary to preserve the health and safety of residents and other foreign tourists. iVisa.com wishes to remind all readers that the French Polynesia COVID-19 test requirements are non-negotiable. If you already have a negative test result and refuse to take the second test on arrival then you may be refused entry or required to submit to a 14 day quarantine period.
Why are specific French Polynesia COVID-19 test requirements in place?
Health authorities for this dazzling island nation have put in place specific requirements in order to guarantee a safe opening of its tourist hotspots. If you thought you could arrive and enter without the need of a test then you're wrong. The new rules regarding entry to French Polynesia require guests to arrive with a negative test result already completed.
The reason behind this is to reduce the number of new cases that enter the country. Of course, it's possible that travellers could have contracted the disease in the small time frame between taking the test before the flight and arriving in the country. That's why authorities also introduced the need for a second test, which is provided at the airport and must be carried out by the traveller within the first 4 days of the vacation. This further limits the spread of illness by identifying within the first week whether any guests are infected.
Is it safe to use iVisa.com's services?
iVisa.com has been putting customer data safety first since the company first started providing visa and travel services. As a document processing company, data protection and the safeguarding of customer's sensitive information is the primary issue and iVisa.com takes it very seriously. We can assure you that the firewalls protecting your information are high enough to withstand any hacker's attempts to access it. If you're still not sure, why not read these client testimonials to find out more.
Where can I learn more about French Polynesia COVID-19 test requirements?
The iVisa.com website hosts a bounty of information about French Polynesia COVID-19 test requirements as well as useful tools like the Visa Checker which provides users with personalised information for their next vacation. If you're keen to speak to a real person then don't delay in reaching out to a team member through the chat function that you can also find on the iVisa.com website.