Before entering Georgia for Business purposes, you should apply for the Georgia Business eVisa, especially because this document can be processed online at iVisa.com. All you need to apply for it is an electronic device and Internet connection. As for the Georgia Business Visa requirements, these are only a few of them, and we can tell you all about them in this article.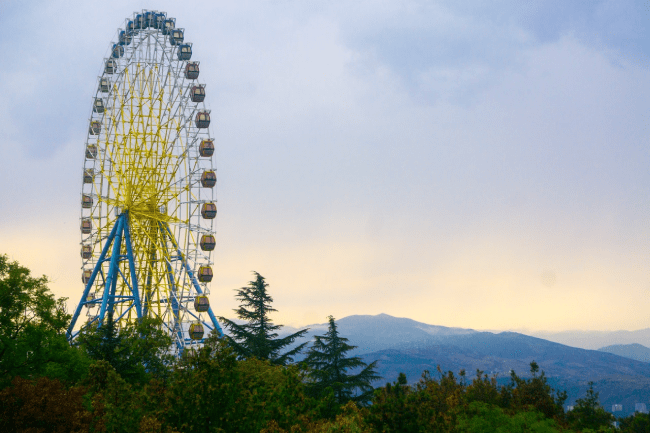 You don't need a lot of things to apply for a Georgia Business eVisa, so keep reading below to learn more about the application process and the Georgia Business Visa requirements.
Frequently Asked Questions
What are the current COVID-19 restrictions to visit Georgia?
Since this information changes often depending on your nationality and other conditions, please refer to our Georgia eVisa page to get the most recent details about this topic.
Learn more about the Georgia Business Visa requirements in the questions below.
What is a Georgia Business eVisa and how do I apply for it?
The Georgia Business eVisa is a short-term visa that grants the right to enter Georgian territory for Business purposes. With this document, you don't need to make an appointment or present original documents to the Embassy or Consular Office.
Applying for this document with iVisa.com is not complicated, these are the only steps to follow:
Step 1: Fill in the online questionnaire and decide which processing speed you prefer.
Step 2: Verify the information so that there are no mistakes and pay for the fees with your debit or credit card.
Step 3: Attach the scanned copies of the documents to the form and click the button that says 'submit' to finish.
Once you're ready, wait for your Georgia Business e-Visa that will be delivered by email inbox.
See the list of Georgia Business Visa requirements below.
What are the Georgia Business Visa requirements?
The list of requirements is very short, and you probably have part of them (if not all) at home. This is what you need:
Copy of passport personal details (your passport's information page).
Your current passport with a valid expiration date.
A valid email address to get the eVisa.
Professional passport photo.
Accommodation details.
Your travel information (plane tickets, for example).
A credit/debit card for payments.
Be aware that upon arrival in Georgia, you will be asked to present the following:
Document proving the purpose of travel.
Proof of accommodation.
Travel and health insurance.
Document proving sufficient financial means.
What are the costs and processing times for the Georgia Business eVisa?
The total price for the Georgia Business eVisa varies depending on the processing option you choose. These are the options we offer:
Standard Processing Option:

USD 73.49

-

8 Business Days

Rush Processing Option:

USD 123.49

-

6 Business Days

Super Rush Processing Option:

USD 165.49

-

5 Business Days
Learn more about the Georgia Business Visa Requirements by reading the questions below.
Is it safe to use iVisa.com?
Do not worry about your private information being in danger with us, we work very hard to keep our system well-protected and updated so that your private details do not end up in the wrong hands. Read our comments section to see what our clients think about us.
Where can I read more about the Georgia Business Visa Requirements?
Feel free to enter iVisa.com to learn more about the Georgia Business eVisa and its requirements, or contact our agents so that you can receive personal attention.
iVisa.com Recommends
Georgia is an interesting country with many contrasts, which makes it an appealing place to explore. From mountain landscapes to impressive lakes and romantic squares, Georgia can be a perfect destination for nature lovers and those who want to enjoy cozy villages.
Speaking about cozy villages, once you arrive in Georgia, be sure to visit Ushguli. It is a tiny collection of villages located in the Caucasian mountain region of Svaneti. It is probably one of the most amazing places to visit not only in Georgia but in all of Europe. Here, you can find numerous watchtowers that guard the entrance to this surreal UNESCO World Heritage Site, which is surrounded by jagged and imposing mountains.
You may start your Georgian adventure in Tbilisi because it's the top city to visit in the country (it is the capital city). Despite being so famous with the traveler crowd, Tbilisi won't disappoint you. It has a cozy old town situated on a dramatic cliff-side, which is great for some awesome views.
These are only a few examples of all the things you can do in Georgia!