Georgia is a small country located on the coast of the Black Sea, surrounded by Russia (north, northeast), Turkey and Armenia (south), and Azerbaijan (southeast). Please be advised that Georgia has two regions (Abkhazia and South Ossetia) that must not be visited due to Russian occupation.
Nevertheless, one of the good things about this country is that there is no presence of Yellow Fever, Malaria, or Dengue so you won't have to worry about getting these vaccines shots nor medications to prevent such illnesses.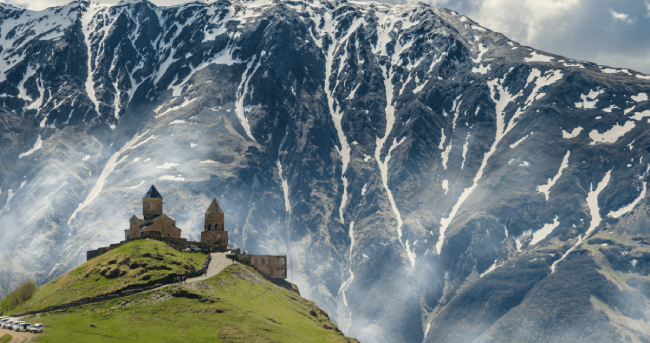 So, if you wish to visit this country of the Caucasus region you will have to request a Pre-Registration. You may order your Pre-Registration through the iVisa.com website by filling out the online application.
You just need to provide your personal and traveling information, upload your valid passport, make the payment (you can use a credit/debit card or PayPal account), and submit. Then sit and wait for the Pre-Registration which you will receive in your email inbox. As simple as that!
Apply for your Georgia Pre-Registration now.
Do I need a vaccine to travel to Georgia?
Yes. Please have a look at Frequently Asked Questions (FAQs) to see the complete vaccine list. Most of them are required, some are recommended.
A Pre-Registration will also be required to have access to Georgia's territory.
With the assistance of iVisa.com, you will be able to get your Georgia Pre-Registration which will be valid for

30 days after arrival

for one single entry.
To apply, fill out the online application with your personal and trip details.
Select a processing speed and make the payment with a credit/debit card or PayPal account.
Upload your passport and any other required document.
Submit to our expert team.
You will get your Pre-Registration right into your email. You can print it or display it from a mobile device to the airport staff.
Request your Georgia Pre-Registration.
Frequently Asked Questions
Do I need a COVID vaccine or vaccination certificate to enter Georgia?
No, you don't. COVID vaccination passports or certificates are not mandatory to enter Georgia. Now if you are a Covid vaccine certificate holder, you are exempted from testing requirements.
Since information may change quickly, we advise you to follow up on the latest Jamaica travel updates and/or contact your local embassy.
Is PCR test (COVID-19) required to travel to Georgia?
COVID testing requirements: There are no testing requirements.
Apply now for your Georgia Pre-Registration.Depending on where you arriving from, you may need to get a COVID-19 test before entering Georgia.
Do I have to quarantine when I get to Georgia?
Quarantine requirements: There are no quarantine requirements in Georgia.
Which are the vaccine requirements to travel to Georgia?
Hepatitis A (recommended).
Hepatitis B (recommended).
Rabies (recommended for long-term travelers and those who may come in contact with animals).
Meningitis.
Polio.
Measles-Mumps-Rubella (MMR).
TDAP (Tetanus, Diphtheria, and Pertussis).
Chickenpox.
Shingles.
Pneumonia.
Influenza.
Get your Georgia Pre-Registration.
Is the Yellow Fever present in Georgia?
No. There's no presence of the Yellow Fever Mosquito in Georgia.
Fill out the application for a Georgia Pre-Registration.
What requirements do I need to apply for my travel documents with iVisa.com?
If you apply using our services, you'll only need the following:
Your current passport, with a scan of the information page. That's the page with your picture on it.
A valid debit or debit card to pay the processing fee.
Your current email address to receive the eVisa.
Start your online application here.
Is there a risk of Malaria in Georgia?
No, there are no risks of Malaria in Georgia.
Apply here for a Georgia Pre-Registration.
Is Dengue fever a threat for travelers in Georgia?
No. There are no threats to the dengue virus in Georgia.
Click here to request a Georgia Pre-Registration.
Can iVisa.com help me with the entry requirements for my travel?
Our services include a swift and steady process to help you get this document. We can help you at any time! All you have to do is to fill out an online form.
What are your processing times and fees?
There are three available processing speeds for this travel document:
24 hours

(Standard)

USD $18.99

8 hours

(Rush)

USD $34.99

4 hours

(Super Rush)

USD $58.99
Order your Georgia Pre-Registration.
Is it safe to use iVisa.com to get my Georgia Pre-Registration?
Certainly! Please refer to our testimonials section to confirm that iVisa.com is your best option. We strive to provide a safe environment where you can easily get all your travel documentation. iVisa.com's mission is to deliver a fast and secure service totally online.
Visit iVisa.com's Georgia information page.
Where could I find more information about Georgia travel documentation requirements?
Simply contact our support team. They are available for you 24 hours a day, 7 days a week for any questions or doubts you may have regarding the Georgia Pre-Registration. So feel free to reach them in case you are still not satisfied with the documentation process.
iVisa.com Recommends
WINTER SPORTS AT GUDAURI SKI RESORT
Gudauri Ski Resort is one of Georgia's top destinations. Located on the south-facing plateau of the Greater Caucasus mountain range in Stepantsminda District reaching 2,200 meters (7,200 ft.) above sea level and with more than 70km of slopes is considered a high quality avalanche-free skiable area.
The best time to go skiing is from December through April. It offers the visitor a wide variety of wintry activities such as heliskiing, ski touring, cat skiing, paragliding, freeriding, and snowboarding, just to mention some. But don't worry if you are a beginner, you can hire an instructor or a tour guide to teach you the art of skiing. There are several hosted and guided tours to choose from.
Gudauri is the largest and highest ski resort in Georgia. Its slopes are FIS (Fédération Internationale de Ski; English: International Ski Federation) certified. They cover all difficulty levels for both skiing and snowboarding. So, if you are willing to travel to Georgia we hope you decide to stay at one of many Gudauri lodgings and enjoy the snow rides.