Applying for a Georgia visa is not as difficult as you think because the Georgian government recently launched the Georgia eVisa system. But, what does that mean? It means that you may be one of the eligible citizens to apply for a Georgia eVisa and enjoy an online Georgia visa application. This way, you can already forget about visiting a local embassy to get a visa and travel to Georgia.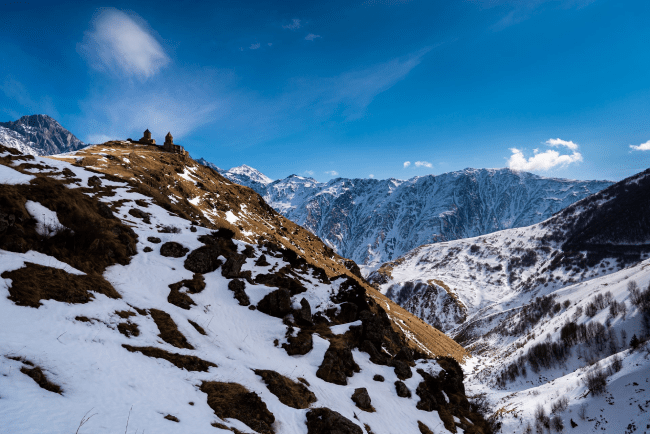 Besides, with iVisa.com, you won't need a long list of items to get the process started. We offer a fast and reliable Georgia visa application. Do you want to learn more about it? Read the questions below.
Frequently Asked Questions
What are the current COVID restrictions to travel to Georgia?
Keep in mind that the Covid-19 restrictions change from country to country and almost on a day-to-day basis. Therefore, we recommend you to head up to our FAQ page to obtain the most important and updated information about this topic.
If you want to learn more about the Georgia Visa Application, then read below.
What is a Georgia eVisa, and how is the Georgia Visa Application online?
The Georgia eVisa is an electronic-based travel item that permits you to travel to Georgia for a short-term visit (90 days per visit). This eVisa is processed with an electronic link in your passport, meaning that you don't need to attend an interview at the embassy.
As for the Georgia visa application online, it is based on these steps:
Step 1: Fill in the online questionnaire on our website and select the processing option you prefer.
Step 2: Review the information you registered in step one to avoid errors and pay for your eVisa with your debit or credit card.
Step 3: Upload the items we ask you for and submit the form when you're ready to finish the 3-step process.
After that, wait for your eVisa in your email inbox, and that would be all!
What are the items required to get the Georgia eVisa?
It depends on the type of eVisa (Business or Tourism). However, the most important items are:
Your valid passport (unexpired) with a physical copy of the information page.
Your current email address.
Your debit or credit card to complete payments.
These documents might also be required while applying, so keep them on hand:
Your medical insurance.
Your travel dates.
Information about the hotel or place you're staying.
A passport-sized photograph.
Travel and health insurance.
See more about the Georgia Visa Application below.
Costs/processing times?
As for the price, it will change depending on how fast you want to get your eVisa. You can get an idea of the price to pay with the following processing speeds we offer:
Standard Processing Option (

USD 40.50

-

9 Business Days

): It's a great option if you have a tight budget and you're not in a hurry.
Rush Processing Option (

USD 50.50

-

8 Business Days

): This option is great if you want to get your eVisa a bit faster.
Super Rush Processing Option (

USD 70.50

-

7 Business Days

): If you prefer to get your eVisa ASAP, regardless of the cost.
Is iVisa.com a safe website to get my eVisa?
Yes, iVisa.com is completely safe. It permits you to apply for your eVisa easily by spending a few minutes on an online Georgia visa application. Keep in mind that we always guarantee the security of your personal data. Get more information about it by heading up to our comment section.
Where can I get more information about the Georgia Visa Application?
Go to iVisa.com to get more information about this eVisa or simply reach out to our agents via chat online!
iVisa.com Recommends
You may know many countries in Europe, but you probably haven't thought about visiting Georgia, and you should consider it. Although Georgia is an underrated country, it is indeed a nation worth knowing.
Georgia is home to the excavated Vardzia Monastery, a large rock complex of caves and tunnels that formed a city of impressive expanse. This place stretches for approximately 500 meters along the mountainous slope of the Samtsje-Yavajeti region. It was built during the time of Queen Tamar in 1185.
Georgia has nothing to envy other European countries when it comes to natural beauties. In Georgia, you can tour the famous Mount Kazbek, a 5,047 m high stratovolcano. It is the fourth summit of the Caucasus Mountains, having its highest summit on Mount Elbrus, and it is the second-highest peak in the country.
If you want to appreciate something closer to the capital city (Tbilisi), then do not forget to visit the Cathedral of the Holy Trinity of Tbilisi, commonly known as Sameba. It is the main cathedral of the Georgian Orthodox and Apostolic Church.