Applying for a Georgia visa won't be as difficult as before because Georgia's government recently launched the Georgia eVisa system. With this system, travelers will be able to apply for a Georgia eVisa and therefore visit the country without taking a trip to the embassy.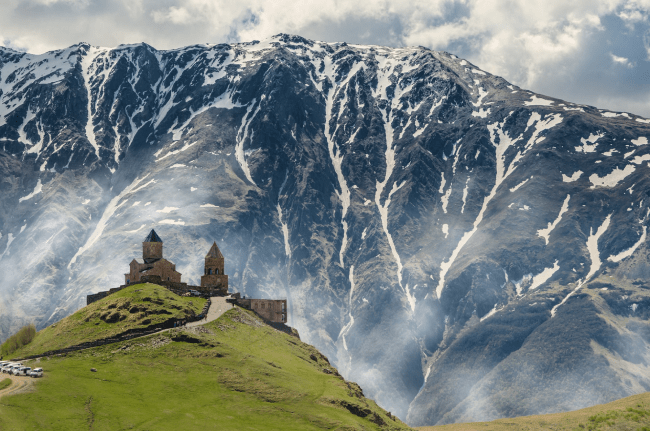 But, you might be wondering: how do I get a tourist visa for Georgia online? Don't worry. We'll explain that to you in the following article, so keep reading!
Frequently Asked Questions
What are the current COVID restrictions to enter Georgia?
This piece of information constantly varies because it depends on your country of origin and other factors. Therefore, we kindly recommend you review our product page so that you can see the most recent information about the current Covid-19 restrictions to travel to Georgia.
To learn more about this question: How do I get a tourist visa for Georgia? Please keep reading below.
How do I get a Tourist Visa for Georgia?
You can apply for a Georgia eVisa online once we launch the electronic service to apply for it! So stay alert to iVisa.com because we will launch that service very soon. Meanwhile, see how the application process is below.
What is a Georgia eVisa, and how can I apply for one?
The Georgia eVisa is a travel document that will be available online very soon. With this document, you will be able to enter Georgia, thanks to an electronic link in your passport.
If you're asking yourself: How do I get a tourist visa for Georgia? Then you came to the right place because here's the application process:
Step 1: Fill in the online application form with your personal details (for example, your passport ID) and pick a processing speed as well.
Step 2: Verify the information you gave in step one and pay for the corresponding fees.
Step 3: Upload and join the items and documentation required. Finally, submit the form to get your eVisa by email.
That would be all! However, if you still have doubts about this question: How do I get a tourist visa for Georgia? Then continue reading below.
What are the documents required to apply for the Georgia eVisa?
The list of requirements varies depending on the type of Georgia eVisa. Still, most of the time, you only need the following:
Your passport with a scanned copy of the first page.
Your email address.
Your debit or credit card for payments.
We recommend you also have the following on hand as they might be necessary:
Medical Insurance.
Your travel dates.
Accommodation details.
A passport-style photograph.
Travel and health insurance.
Learn more about this topic below: How do I get a tourist visa for Georgia?
Costs/processing times?
The price for the Georgia eVisa depends on the processing time you choose. For that, we offer these options:
Standard Processing Time (

USD $68.49

-

8 Business Days

): If you want to enjoy standard processing and have a tight budget.
Rush Processing Time (

USD $118.49

-

6 Business Days

): If you prefer to enjoy faster processing and can spend a bit more on your documents.
Super Rush Processing Time (

USD $150.49

-

5 Business Days

): If you prefer the fastest processing speed, which includes a higher price.
Is iVisa.com a safe website to apply for my eVisa?
Of course! iVisa.com is completely safe, and it permits you to apply for your eVisa by spending only a few minutes. We ensure the security of our database, and we do not make you pay anything without proper authorization. Read more about our services on our comment section.
Where can I get more information about this eVisa?
If you want to keep learning about this topic: How do I get a tourist visa for Georgia? Then visit iVisa.com or simply talk to our agents via chat online!
iVisa.com recommends
Georgia is an underrated nation because it is probably one of the most fascinating in Europe. It is located in the mountainous region of the Caucasus, and it is home to the antique city of Tbilisi and the excavated monastery of Vardzia.
Additionally, Georgia is home to the Gergeti Trinity Church, a Georgian Orthodox church in the Mtskheta-Mtianeti region. This church is located on the right bank of the Chkheri River, left of the Terek area, at an elevation of 2,170 m, under Mount Kazbek. This particular location is what makes the church so famous in the region. Its name, Gergeti, was given thanks to a nearby ancient town that disappeared many years ago. This population was located on the right bank of the Tergui River.
If you prefer something more modern, then don't forget to tour the Georgia Peace Bridge. It is an arched pedestrian bridge over the Kura River in Tbilisi, which extends up to 150 meters. This bridge was created to connect the old Tbilisi with the "new district" of the city, so it's a must-see for any traveler.