Are you traveling to Germany to rejuvenate your mind and body? Have you spent a few days in a high risk area before reaching Germany? You need to understand the requirements about the Germany COVID entry test if you are arriving from a high-risk zone. Based on the Germany COVID entry test, you need to perform a COVID-19 test and submit a negative report upon arrival to the country.
Along with this test report, you need to register your details in an Online Entry Form to help the local authorities.
You can register your details in the Digital Registration Form by yourself, but it can be difficult to provide every detail while planning for your vacation. You can use the unbeatable services of iVisa.com to save your energy and time as every minute is valuable and we understand that. With us, you just have to follow a very simple procedure that takes only twenty minutes of your time.
You can complete these steps at your convenience from anywhere while enjoying your favorite meal or drink. We have created a simple form that needs to be filled in to initiate the procedure.
Go through the below section to get more information about the Germany COVID entry test:
Note: Since March 2022, the German Digital Registration on Entry is no longer necessary to enter the country.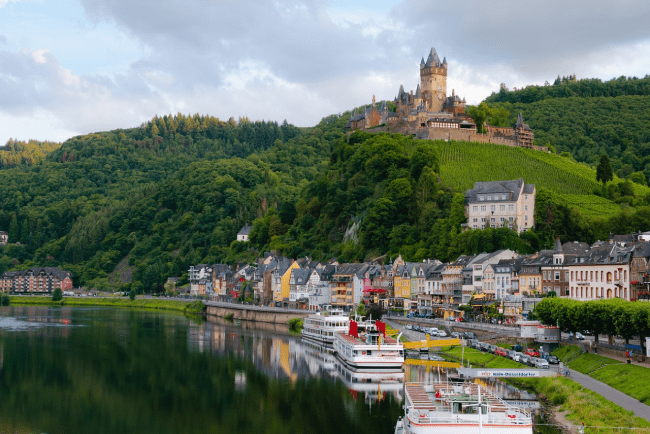 Frequently Asked Questions
What is the significance of a Digital Registration Form?
Considering the current pandemic situation and safeguarding the citizens and visitors of Germany, the government of Germany has introduced several rules that must be checked for every visitor coming from a high risk area. A Digital Registration Form is required to be filled out to provide your details to the local authorities so that they can monitor your quarantine requirements.
Don't wait!! Apply Now if you are also reaching the country from a risk zone.
What else must keep in mind while visiting Germany?
Along with an Online Entry Form, you must self-isolate at home or in a hotel where you are staying for 10 days if arriving from a high-risk zone. Also, you need to present a negative covid 19 test report for Coronavirus in case you have spent a few days in the high risk areas as per the Germany COVID entry test requirements.
Get Started now to learn more about these Germany COVID entry test requirements.
Do I need a COVID vaccine or vaccination certificate to enter Germany?
No, you don't. COVID vaccination certificates are not mandatory to enter Germany at this time. Since information may change quickly, we advise you to follow up on the latest Germany travel updates and/or contact your local embassy.
Do I need to take a PCR COVID-19 test before traveling to Germany?
COVID test prior to arrival: There are no pre-departure testing requirements in Germany.
Do I have to quarantine when I get to Germany?
Quarantine requirements: There are no quarantine requirements.
Can I get some information about the processing options for the registration?
Yes, you can get an idea about the three options for processing the registration when you apply using the services of iVisa.com.
These options are customized in a way that the requirements of every customer can be fulfilled:
Standard Processing Time (

USD $24.49

-

24 hours

): Obtain your Online Entry Form in an average time at a budget-friendly fee.
Rush Processing Time (

USD $44.49

-

4 hours

): Get your document a bit earlier for a more expensive fee.
Super Rush Processing Time (

USD $74.99

-

30 minutes

): Receive your confirmation email in the shortest possible time for the most expensive fee.
Do I need to have several items to initiate the registration procedure?
Yes, you need to have several essential items to initiate the registration procedure with iVisa.com. These items can be arranged easily:
A valid passport and its scanned copy to provide your information.
A valid email address to get confirmation of your registration.
Any type of payment methods like a credit/debit card or a PayPal account for the payment of the processing fee.
Navigate here to learn more about these items.
What are the steps that I need to follow to register for an Online Entry Form with iVisa.com?
Association with iVisa.com is the perfect way to register for an Online Entry Form to visit Germany as we offer the most comfortable way of registration:
First, you have to fill out an application form with the correct data on our website.
Second, you have to pay the processing fee and recheck all the data to avoid any discrepancies.
Third, you have to submit the application form after uploading the required documents.
Is iVisa.com a reliable way to register?
Yes, iVisa.com is a reliable way to register for a Digital Registration Form to enter Germany as we use advanced systems for security to safeguard your data.
What if I have more questions?
If you have more questions, you can go to our webpage or contact our customer care representatives.
iVisa.com Recommends
Germany greets visitors with lots of attractions and picking a few is quite a difficult task. The Saxon Switzerland National Park is a sprawling park that is located near the spectacular Elbe Sandstone Mountains. This park shares its area with the Czech Republic, but that side is known as the Bohemian Switzerland National Park.
You can view gorgeous rock formations, beautiful hiking trails, and deep valleys. If you are interested in seeing beautiful castles, you can visit Schwerin Castle that is located in the city of Schwerin. As this stunning castle is located in the middle of the sea on an island, you can view its unique appeal. You can take guided and self-guided tours to learn about the history of this castle.