Germany is currently welcoming visitors from other countries for tourism or business purposes. If you are planning a trip to Germany from any of the high risk areas, you must follow the latest rules announced by the government of Germany to stop the spread of the Coronavirus.
To understand the high-risk areas, you must know about Germany COVID quarantine countries. If you have spent the last ten days prior to your visit to Germany in a high-risk area, you must follow the mandatory 10 days quarantine after entering the country. Also, you need to fill out an Online Entry Form upon arrival to the country.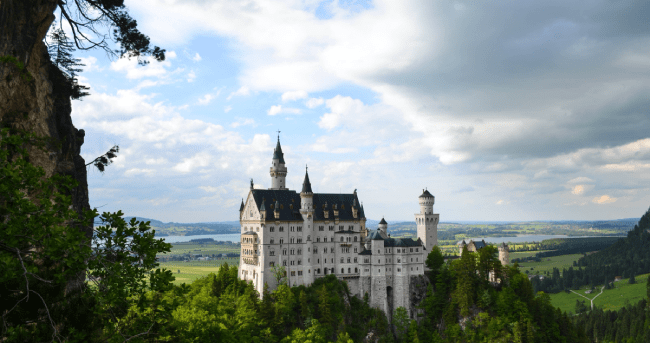 Worried about filling out an Entry Form online on arrival during the pandemic situation? Leave all your worries on iVisa.com and we will take care of your registration. With the utilization of our services, you can sit back and cherish every moment of your trip as we will get your document as soon as possible. We just need some information from your side that you have to fill in the application form that we have created specially to save time.
To learn more about the Germany COVID quarantine countries, you can go through the section given below:
Frequently Asked Questions
What is the importance of a Digital Registration Form?
Learning about the Germany COVID quarantine countries, you will learn about the significance of the Online Entry Form. This form must be filled out when you enter the country if you are coming from a high-risk area. With the utilization of this form, the local authorities can monitor your quarantine requirements.
Apply Now to get your form ready easily and quickly.
Do I need a COVID vaccine or vaccination certificate to enter Germany?
Only travelers from high risk areas must be fully vaccinated to enter Germany.
Approved vaccines: Pfizer, AstraZeneca, Spikevax, Janssen.
Fully vaccinated is when the complete dose of a vaccine against SARS-Cov-2 has been administered at least two weeks before traveling.
Which countries are considered high-risk areas?
High-risk areas: Andorra, Angola, Argentina, Australia, Bahamas, Bahrain, Barbados, Belarus, Belgium, Belize, Bolivia, Botswana, Burundi, Cabo Verde, Cameroon, Canada, Comoros, The Democratic Republic of the Congo, The Republic of the Congo, Côte d'Ivoire, Croatia, Cyprus, Czech Republic, Denmark, the Faroe Islands, Greenland, Dominica, Egypt, Estonia, Eswatini, Ethiopia, Fiji, Finland, France, Guadeloupe, Guiana, Martinique, Mayotte, Réunion, Saint Barthélemy, Saint Martin, Gabon, Georgia, Ghana, Greece, Grenada, Guinea, Haiti, Hungary, Iceland, Ireland, Israel, Italy, Jamaica, Jordan, Kenya, Kuwait, Laos, Lebanon, Lesotho, Libya, Liechtenstein, Lithuania, Luxembourg, Malawi, Mali, Malta, Mauritania, Mexico, Monaco, Montenegro, Mozambique, Namibia, Netherlands, Aruba, Curaçao, Bonaire, Sint Eustatius, Saba, North Korea, Nigeria, Norway, Panama, Papua New Guinea, Poland, Portugal, Qatar, Russia, Rwanda, San Marino, Seychelles, Sierra Leone, Slovakia, Slovenia, South Africa, South Sudan, Spain, Sudan, Sweden, Switzerland, Syria, Tajikistan, Tanzania, Togo, Trinidad and Tobago, Turkey, Turkmenistan, Uganda, Uruguay, The United Arab Emirates, the UK (all British Overseas Territories, Isle of Man and the Channel Islands), United States of America, Venezuela, Vietnam, Yemen, Zambia, Zimbabwe, Albania, Antigua and Barbuda, Austria, Benin, Bosnia and Herzegovina, Bulgaria, Burkina Faso, The Central African Republic, Chad, Colombia, Costa Rica, Djibouti, The Dominican Republic, Eritrea, Equatorial Guinea, Saint Pierre and Miquelon, The Gambia, Guinea-Bissau, Guyana, Latvia, Liberia, Madagascar, Sint Maarten, The Niger, North Macedonia, Peru, The Philippines, Saint Kitts and Nevis, Saint Lucia, Saint Vincent and the Grenadines, Sao Tome and Principe, Senegal, Serbia, Somalia, Suriname, Algeria, Bhutan, Brazil, Chile, Ecuador, India, Japan, Kazakhstan, Kosovo, Maldives, Moldova, Mongolia, Morocco, Nepal, Paraguay, Romania, Saudi Arabia, TunisIa, Uzbekistan.
Do I have to quarantine when I get to Germany?
Quarantine requirement- unvaccinated arrivals from high risk areas only: 10 days with PCR on day 5.
Can I get some information about the options for the processing time and cost for the application for a Digital Registration Form?
Yes, you can get an idea about the three options for the processing that we offer. As this is a newly developed document, we cannot give you the exact detail of these options:
Standard Processing Time (

USD 24.00

-

24 hours

): Pay an affordable price and get your document in a standard time.
Rush Processing Time (

USD 42.00

-

4 hours

): Pay a more expensive price and obtain your document a little earlier.
Super Rush Processing Time (

USD 72.00

-

30 minutes

): Pay the most expensive price and receive your document as soon as possible.
Learn more about these options and the Germany COVID quarantine countries Here.
What is the procedure to follow to obtain a Digital Registration Form with iVisa.com?
Associating with iVisa.com is a perfect way to save your time and effort as we offer the most relaxed way of getting your document from the comfort of your home or anywhere. To complete the procedure, you have to follow three simple steps that are:
First, go to our webpage and fill out an application form with the required data.
Second, review all the data you have given in the form to avoid any mistakes and pay the processing fee.
Third, upload your documents and send the form to wrap-up the procedure.
Do I need to have certain items to apply for an Online Entry Form?
Yes, you must have a few items for the application for an Online Entry Form:
A scanned copy of your valid passport with a minimum of six months of validity from your departure date.
To obtain your document, an email address.
To pay the processing fee, bank cards or a PayPal account.
Don't wait!! Apply Now.
Is iVisa.com a reliable option?
Yes, iVisa.com is a reliable option to obtain a Digital Registration Form as we assure the safety of your data with our advanced security systems.
Where should I get more info?
To get more info, you can visit our website or contact our friendly customer care representatives anytime.
iVisa.com Recommends
Planning a trip to Germany and confused about where to go? Don't worry and see our recommendation to prepare your travel itinerary. If you love visiting mountains, you can add the Harz Range to your travel itinerary and make your trip a memorable one. This is one of the highest mountain ranges in Germany that greets visitors with picturesque scenery.
You will be mesmerized to see the beautiful homes, panoramic views, peaceful rivers, and snow-covered peaks. Many writers visit this place to write some of the amazing stories based on the stories of this mountain. For hikers, this is the perfect destination as this mountain offers stunning trails to hike.
Also, you can enjoy the authentic steamed train ride through the valleys and mountains. Another beautiful attraction of Germany is Bamberg to learn more about the history of Bavaria and see the fascinating architectural landmarks. Get Your Application Form Here!!