Did you know Germany had a royal past that left plenty of palaces all over the country? Visit the marvelous Charlottenburg Palace in Berlin and indulge in the luxurious rooms and unique architecture. The over-the-top gardens will make your royal dreams a reality. iVisa.com can be your partner on this incredible journey to Germany!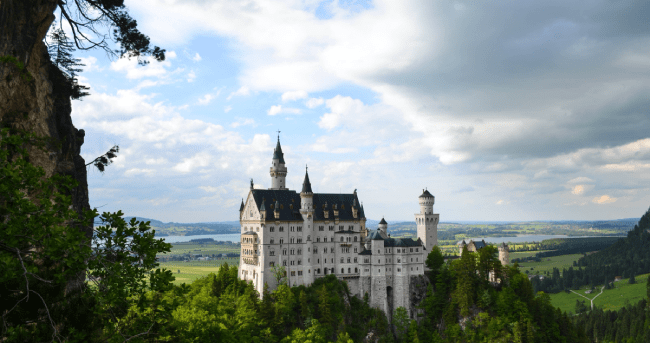 Citizens of Dominica must comply with a new entry requirement called ETIAS from 2022 onwards. The Germany ETIAS for citizens of Dominica only requires an online process.
iVisa.com has a fast, simple, and reliable service for your Germany ETIAS. Check all the information about the Germany ETIAS for citizens of Dominica below.
Frequently Asked Questions
What is the ETIAS?
ETIAS is the European Travel Information and Authorization System. Due to security concerns, the European Union decided to establish the ETIAS system as a way to safeguard the European countries. EU immigration will pre-screen incoming visitors before they can access the European countries.
Go to the application page and review details about the Germany ETIAS for citizens of Dominica.
I'm a citizen of Dominica. Can I apply for ETIAS?
Yes! Citizens of Dominica must obtain the Germany ETIAS before entering Europe. Dominica is part of the group of countries that are exempt from the Schengen visa. Therefore, citizens of Dominica are eligible to apply for the ETIAS authorization.
Can I visit other countries with Germany ETIAS?
Yes! The Germany ETIAS for citizens of Dominica allow entry to the 26 countries in the Schengen zone. In case you don't know what countries in Europe belong to the Schengen area, then use our Visa Checker. We can tell you all the travel documents you need for any country in the world.
What is the validity of the Germany ETIAS?
The Germany ETIAS for citizens of Dominica is valid for up to 3 consecutive years. As well, visitors can stay up to 90 days within a 6-month period in the Schengen zone.
What are the requirements?
Citizens of Dominica must complete an electronic form with personal information and details about their plans in Germany. Also, they must provide data about security matters, such as previous visa denials.
Make sure to have the following:
A scan of your passport with a clear view of your photo and details.
A valid email address to receive the ETIAS authorization electronically.
Payment methods, pay for the professional service with a Paypal or use a credit/debit card.
What are the processing times and fees?
The Germany ETIAS for citizens of Dominica offers alternatives:
Standard processing service, in case you can wait a reasonable time, then go for the cheapest option.
Rush processing service, acquire the Germany ETIAS in less time as our teams will work faster.
Super Rush processing service, if you are in a hurry, we recommend going after the fastest service.
What is the ETIAS process?
The process is simple. Follow the next three steps:
First, fill out the online application with personal details and choose a processing time (Standard, Rush, or Super Rush).
Second, review your details and pay with a credit/debit card or a Paypal account.
Third, upload a copy of your passport.
Reach out to our customer support team if you need help!
How will I receive the ETIAS authorization?
Travelers will receive Germany ETIAS in their email inbox. Our experts will use the email address detailed in the application to send the ETIAS document.
Upon arrival, make sure to show your travel documentation to the German authorities so you can have a smooth entry.
How safe is iVisa.com?
Super safe! iVisa.com has been working with travel requirements for years and countless travelers continue to trust our services. Head to the comments page and confirm our excellent results.
The Germany ETIAS for citizens of Dominica will only take you a few minutes to complete with iVisa.com!
Where can I find more information?
Connect with our customer service team that is available 24/7. We are waiting to answer all your questions, so we can send you on your way to enjoy Germany.
iVisa.com is the best ally for your next holiday! Travel to Europe with iVisa.com! Germany is only a click away!